Abuse and Post-Partum Depression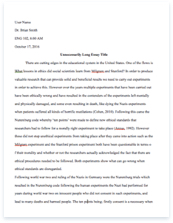 The whole doc is available only for registered users
A limited time offer! Get a custom sample essay written according to your requirements urgent 3h delivery guaranteed
Order Now
The article that was selected by Clinical Group B is Risk factors for postpartum depression among abused and nonabused women. The authors are Patricia A. Jensen PhD, from the Child and Family Research Institute in Vancouver, BC, Canada; Maureen I. Heaman PhD, Canadian Institutes of Health Research (CIHR) Chair in Gender and Health; Marcelo L. Urquia PhD, Postdoctoral Fellowship at St Michael's Hospital, Toronto, ON, Canada; Patricia J. O'Campo PhD, Alma and Baxter Ricard Chair in Inner City Health at the Dalla Lana School of Public Health, University of Toronto, Toronto, Canada; and Kellie R. Thiessen MSN, graduate student. The purpose of the article was to document the findings of a research study of post-partum depression and abuse. In this article the authors identified two main research questions. The first being, did the risk factors for postpartum depression, differ according to postpartum women who did experience violence from an intimate partner or family member during the previous two years versus those who did not? And secondly did the timing of the violence exposure during the perinatal period influence postpartum depression? Prior to data collection, potential respondents were mailed an introductory letter and a survey pamphlet requesting their participation.
Interviews were conducted by female Statistics Canada employees by telephone or in person. Responses were obtained from 6421 women, 77.9% of those identified for participation. Babies of participant mothers were between 5 and 14 months. (Janssen et al., 2012) Recent violence exposure was evaluated using a series of questions that addressed both threatened and actual violence. Depression was assessed using the Edinburgh Post-Natal Depression Scale (EPDS), a 10 item screening tool designed to identify postpartum depression at the time of its administration. (Janssen et al., 2012) The study found that women whose abuse began with the pregnancy and ceased after were least at risk for postpartum depression. The women whose abusers gave them a break from abuse during pregnancy, but soon resumed after birth were at risk three fold with postpartum depression. The women who are experiencing abuse before and during the pregnancy were at the highest risk for postpartum depression.
Exhaustive measures were taken to ensure that this article was as encompassing and unbiased as possible. Researchers interviewed both women exposed to violence and those who were not exposed to violence. They took into consideration the timing of the abuse, whether before pregnancy, during pregnancy or post-partum. Consideration was made as to whether the abuser was an intimate partner, the partner's family, or the woman's own family. Age, marital status, education, employment, income, wantedness of the pregnancy and prior depression were all factored into the results. The information obtained from this research is one of the largest population based samples and incorporates comprehensive information on socio-demographic characteristics. (Janssen et al., 2012) This research indicated that 7.7% of women reported abuse and 7.5% reported post-partum depression. (Janssen et al., 2012) The information contained in this article is appropriate for any professional research and can be confidently assured of its completeness and accuracy. In our practice we need to be mindful of abuse and be even more vigilant at both mother's checkups and at the babies checkups and screenings to observe the mother for postpartum depression.
References
Janssen, P. A., Heaman, M. I., Urquia, M. L., O'Campo, P. J., & Thiessen, K. R. (2012). Risk factors for postpartum depression. American Journal of Obstetrics and Gynecology, 207, 489.e1-8. http://dx.doi.org/10.1016/j.ajog.2012.09.022
Related Topics