About The Sexual Health Education Task Force in New York City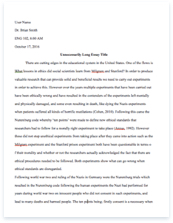 The whole doc is available only for registered users
Pages: 6
Word count: 1340
A limited time offer! Get a custom sample essay written according to your requirements urgent 3h delivery guaranteed
Order Now
This year, 10 million young adults between the ages of 15 and 24 will contract a sexually transmitted disease in the United States. That seems like an extremely high number considering how effective Sexual health educational programs are at preventing these diseases, as proven by the education required in some advanced European countries. New York City Public schools have a population of 1.1 million students, and there is no current policy regarding sex education. A student will only have two semesters total of general health that is required, one in middle school, and one in high school. Sex ed does not need to be included in this health class, only HIV prevention. This is the current New York State policy, and New York City does not have their own legislation in place to ensure that Sex Ed and other related topics are covered for students.
The New York City Department of Education's response to these issues was to create The Sexual Health Education Task Force. This was created to examine all aspects of sexual health among teens and students in New York City. They published their findings in a letter and a document to the Mayor in July of 2018. They put out some startling findings about sexual health education, or the lack thereof in New York City. They found that New York City youth have some of highest rates of intimate partner violence in the country, and that 12% of teens experience some form of this violence throughout their teen years. They also found that the poorest neighborhoods in New York City experience the highest level of teen pregnancy and STDS, which can be directly linked to the quality of public education that teens are receiving in their school.
The CDC actually offers whole programs and curricula free of charge to any educational institution that requests them. Within the CDC there is a department called "DASH", which stands for Division of Adolescent and School Health. This was created in 1988, mainly as a response to the rise in HIV and AIDS. So obviously America has been concerned about safe sex for teens and young adults for quite some time. This part of the CDC is now more broadly focused on promoting environments for students to access educational materials about safe sex, STDS, and pregnancy prevention
For people who don't believe or trust in the advocacy for sex ed, there are many countries in Europe who teach sex ed from a young age that have numbers to back up the claim that sex ed works. By law, all kindergartners in the Netherlands must receive some form of sex ed, and they have open and honest conversations about relationships and sex ed, to prevent sexual abuse and to give children some form of bodily autonomy. This does not mean they are having direct "birds and bees" conversations, but rather are talking more about what safe and happy relationships look like. They actually refer to it as "sexuality education". When kids get to be about 11, they are exposed to classes and literature that talks about sex and, respect, intimacy, and safety.
Dutch teens are the highest users of birth control, with 9 out of 10 using some form. This is backed up by their very low teen pregnancy and STD rates, some of the lowest in the world.
In contrast to the Netherlands, the United States does not have any unified educational policy in place to cover the topic of sex ed in schools. Instead, it is left up to each state to decide for themselves if and how sex ed will be taught in schools. New York State only requires that HIV prevention is taught, and that the use of condoms must be included in the educational material. While this is important information for students to have, it is the only requirement and I think lacks a comprehensive solution. The State does not require sex ed, or if sex is taught that the material covered be medically accurate.
In New York City, the Department of Education's official Policy regarding Sex Ed, is that it "expects" Sex Ed to be taught in schools, however there is absolutely no policy in place to make sure that this happens, and no curricula guidelines in place to guide teachers about what should be included, if anything in the class itself. There is only one semester of general health required during middle and high school each, and there is nothing to make sure that the class includes sex ed. Importantly, within the sex ed topics are Consent and LGBTQ awareness, which are two of the biggest issues surrounding sex ed that are not included in most sex ed even today.
Having no policy in place means that there is no enforcement of sex ed, and also that there has been no money allocated to enforcement.
There is no current measurement used by the Department of Education to tell what kinds of sex ed material is offered, or if the students have access to this material. This means there is no way to tell if or how many students are receiving any of the critical material that is so needed to help develop autonomy and trust.
In 2015 the CDC included a question about LGBTQ issues in it's local survey for teens, and they found that in New York City teens that identify as LGBTQ are much more likely to be bullied, depressed or attempt suicide compared to their peers. Leaving this group of vulnerable teens out of any sex ed curriculum is a huge oversight that needs to be corrected by the department of education. This is not the same in places where teens are exposed to proper education surrounding LGBTQ issues and education.
Adding to the frustration of getting this material to teens, in July of 2018 the Department of Health and Human Services decided to pull all funding for the Teen Prevention Program, and the Personal Responsibility Education Program, both of which are important to keeping the national teen pregnancy and STD rates low. The administration is going to focus on an abstinence only sexual education program instead, which studies have shown are much less effective at keeping both pregnancy and STD rates down.
My first recommendation for this issue would be to put in place a policy within the NYC department of education that requires sex ed be taught in every single health class, that a comprehensive sex ed curriculum be established as part of the dept of ed policy, and the instructors take an online certification through the city or even offered through planned parenthood. An online certification is free to implement, and would require very little additional funding from the state.
Planned parenthood of New York City currently offers workshops for schools, with age and appropriate material for students in a school setting. It is unclear how many schools have currently taken advantage of this. At the very least, I would recommend that students have access to and are given the educational pamphlets that planned parenthood makes specifically for teens regarding sexual health and identity issues. This would be good because planned parenthood also has a lot of information about consent, abuse, and LGBTQ issues which many health class instructors fail to include in their course, if they offer sex ed at all. Having a government pair with planned parenthood could create some issues within the department of education, as a lot of people still view planned parenthood as controversial. This can be partially solved by the law that allows parents to opt out of any and all sex ed. These parents would likely not allow their children to receive any form of sexual education, regardless of who the provider was, or who the school was pairing with to provide the educational material. It is essential that kids in New York City be provided with the tools to make informed decisions about their health and their future, and I think that planned parenthood is the best possible short term solution until proper policy can established and enforced by the city or state.
Related Topics