Writing at a Graduate Level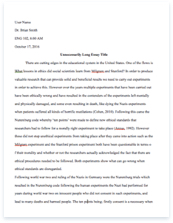 The whole doc is available only for registered users
A limited time offer! Get a custom sample essay written according to your requirements urgent 3h delivery guaranteed
Order Now
Writing at a graduate level is a major part of a student's coursework when entering into a Master's program. Throughout a person's college career, they have written many papers in their undergraduate studies, but writing papers at a graduate level differs from previous styles of writing. There are very distinct characteristics in graduate writing. If the basic outline and rules are followed correctly, the paper will come together in a clear and precise manner; grabbing the audience's attention, and making the point of the paper undeniable to the reader, while using facts and references to support the thesis. Critical thinking skills are a very important part of graduate writing. Critical thinking allows the writer to see all the different sides of the argument. The writer will question any assumptions that are made all while avoiding the use of commonplaces.
The writer, according to "Graduate Level Writing" (2011*2014) "develops a clear argument from the available literature on the subject. This type of writing always establishes a purpose while addressing a specific audience. Often, graduate level writing also provides suggestions for further research and development beyond the limits of the course assignment". Another important part in writing at a graduate level is using an in depth analysis, of the subject being discussed. This writing is based solely on empirical evidence therefore; statements should be objective rather than subjective. The use of and distinguishing between primary and secondary sources gives the writer the ability to base their writing on the information obtained from such sources. If the writer sticks to the facts, rather than opinion, the use of subjective writing will be avoided.
Research is an important characteristic in graduate level writing. Without research, there is no topic. When using information obtained from research it is important to cite any and all references. Use quotation marks where word for word statements are placed and use in-text citations where paraphrasing has occurred. Giving credit to all these references will help the writer to avoid plagiarism. Plagiarism is an inexcusable offense when writing papers. It is considered stealing and simply not citing references could lead to the rejection of the paper, not including the various penalties the student will have to face from the University. Research helps the writer to support any ideas in the paper and full access to any and all references should be given to the reader through citations and a reference page that is to be included at the end of the paper.
A graduate level paper will address a specific audience with a clear and comprehendible purpose. It is important that the writer has a true and clear understanding of what is being asked from them for the assignment before taking on the writing task. If the task is unclear, the writer's point will be lost as will their audience. One of the most important factors of any paper is the tone. At a graduate level, the tone is set in formal writing. The use of informal or conversational wording should be avoided. This includes using clichés, contradictions, and generalizations (Graduate Level Writing, 2011*2014). "Graduate level writing demonstrates an awareness of the assignment's guidelines, purpose, audience, format, and constraints" (Graduate Level Writing (2011*2014)). Organization is another important factor to consider when writing a paper at a graduate level.
The information should be organized in a logical manner so that the writer can build their case around the original thesis. When a paper is properly organized, it will flow from section to section making the transitions easy to follow. The whole paper should be connected as a whole and any details, examples, or specifics will logically develop the main idea of the paper. A graduate level writer will also possess the ability to interpret material. This entails the ability in deciphering between an analysis and a synthesis, and then chooses one or the other. The synthesis is a combination of an idea that leads to a theory and an analysis is the separation and breakdown of these elements. Writing Strengths and Weaknesses
When writing a paper, everyone has strengths and weaknesses. My personal strengths that I feel I possess are editing, free-writing, and organization. My grammar skills are not weak, but there is room for improvement. One of my biggest weaknesses in writing graduate papers is APA formatting. Although I have not had any issues with plagiarism, I have trouble with properly citing source specifics from books to articles, to web pages, and magazines. All of my strengths and weakness can be worked on and improved because while I feel I possess the ability to write naturally, writing within guidelines is something that is learned. Managing Time, Stress, and Finding Balance
The process of learning in order to improve can be a stressful time. Life's general responsibilities are not put on hold for the student. Everyday happenings continue to occur all around them, while striving to successfully complete their education and ultimately obtain a degree. I personally, have my own struggles with balancing home life and school life. My family is just as important to me as school is, therefore I have learned to prioritize; stick to a strategy that works and execute my schoolwork within an outline. I find that writing in a quiet place helps me keep my focus. I also do my schoolwork during times when my daughter is in school and my son is napping. The silence gives me a clear mind and I am able to process my thoughts. When I get off track and lose my train of thought, I take a break, relax my mind, and allow the inspirational juices to naturally come flowing back. In my experience, I have found that forced work is incompetent work. Conclusion
Writing a paper at a graduate level is a process that has to be learned. There are many different characteristics of graduate writing that are not found in other forms of writing. A graduate level paper's main focus is the thesis and the paper works as a body of information to prove the argument of the writer. The writer's main purpose is to provide their readers with information and use ideas and valid research to prove the purpose of the paper. Throughout the development of a paper, all writers find that they have strengths and weaknesses in writing.
It is important to understand that improving ones writing skills is always an option and many resources exist to help the writer get to the level they want to be, which is to write successfully, clearly, and intelligently, at a graduate level. Evaluating ways to improve, by identifying weakness, is just as important for the student in identifying what is best for them in managing their time and the stress that comes along with balancing school and home. For this, there are also resources; professors and classmates are great aides. Sometimes all it takes are few words of encouragement or hearing that others are struggling with the same issues as you are, to make the balancing act a steady one.
References
Graduate Level Writing. (2011*2014). Retrieved from http://academics.umw.edu/writing-stafford/printed-resources-and-links/resources/mba-students/graduate-level-writing/
Related Topics