Why I want to be an officer?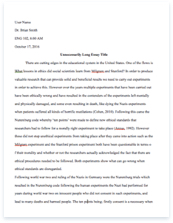 The whole doc is available only for registered users
A limited time offer! Get a custom sample essay written according to your requirements urgent 3h delivery guaranteed
Order Now
When I first joined Army I made a commitment to serve United State of America as a Soldier. My goal is to be in a leadership position in the Army, to command and control operations, as well as organize and equip Soldiers for a variety of missions. I want to lead Soldiers in combat and bring them home safely. Moreover, I want to help soldiers with their daily life, with health, finance, family, etc. I want to make a difference in Army. I believe the Army is about doing my best to help Soldiers and I would like to be a part of making the everyday life of the Soldiers below me a better one so that they can be motivated and excited about their duties as a Soldier. In my civilian life I was a leader. I started working at the age of 13. I was employed in many different jobs.
After graduating from the university at the age of 22 I started working under my brother at his ISP Company for 3 years as a manager. Finally I decided it was time to own my own company at the age of 25. I managed my company for 6 years. During that time, I learned to take responsibility for my decisions and to learn from my mistakes as well as build on my better decision-making skills. I am willing to take risks because sometimes you have to take risks for the betterment of the company as well as the worker.
I was an employee, manager, and business owner all at once. I believe I can apply my knowledge and experience to a leadership position in the Army as an officer. In addition to that I believe that my experience on the enlisted side of the Army has given me more knowledge and know-how of the duties and responsibilities of being an officer. It has also given me the knowledge of knowing what the Soldiers are going through and knowing what they need. It is my goal to be a strong leader in the Army and I see myself being of more value to the Army as a commissioned officer.
Related Topics