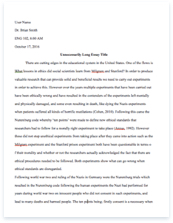 The whole doc is available only for registered users
A limited time offer! Get a custom sample essay written according to your requirements urgent 3h delivery guaranteed
Order Now
Domestic violence and sexual assault are two major problems that are killing the nation. According to the National Domestic Violence Hotline, over twelve million women and men around the United States experience rape, physical violence, and /or stalking in their lifetime, typically from a significant other. However, these predicaments can occur to people of all ages from family members, co-workers, neighbors, law enforcement, and even strangers. The NO MORE Project, a campaign created to bring domestic violence and sexual assault awareness, designed a commercial as a message for everyone to help and support those victims. This movement uses both ethos and pathos to encourage everyone around the nation to pledge to support this awareness, learn more, and talk openly to others about these issues.
The commercial uses ethos to encourage listeners to help support. It gives credibility to its argument by including an example of a secret 9-1-1 call from a victim. The call is inserted to allow the audience to witness one of the scenarios of how victims express their safety. This commercial starred a woman making a secret 9-1-1 call from home after being abuse from her significant other. During the 9-1-1 call, she is acting as if she is ordering a pizza for the home. Without giving away her true purpose, she tries to give the dispatcher hints that something is wrong. As the dispatcher tries to get her to reveal her emergency, she continues to order the pizza. Afterwhile, the man followed with "Okay ma'am, is everything okay over there? Do you have an emergency or not ?" and then she is able to acknowledge the dispatcher that she is in danger. Throughout the commercial, as her voice is a background, the audience is also able to view her home as it is destroyed.
The NO MORE campaign commercial also uses ethos in another way. It uses the voices of real people to persuade the audience to realize that domestic violence and sexual assault are serious matters. The creator was able to direct its characters to react with a calm tone. Also, the absence of the actual characters allowed the message of this video to be much more powerful than it is presented. With no characters being shown, the commercial is able to acknowledge that domestic violence and sexual assault can happen to anybody. In addition to that, a real-life scenery is created. The commercial is filmed inside a destroyed home, perceiving to the audience that the woman has experienced some kind of violence. The bedrooms and the kitchen are very messy and there are many broken furniture and picture frames. Including real characters and real scenery allowed the audience to connect with this commercial.
Another strategy this commercial uses to support the awareness of domestic violence and sexual assault is pathos. While viewing the home, the commercial is able to tap into fears of the audience. The small hole in the wall, the unmade bed, and the shattered picture frames can signify anything. There are so many different scenarios that come in mind when watching that commercial. It allows the audience to feel the emotions of the abused character. The empty destroyed home also creates a terrifying mood. The use of pathos throughout the entire commercial was used to allow the audience to sympathize domestic violence and sexual assault victims.
The intended audience of this commercial is victims and non-victims. The text included in the moving image reads, "when it's hard to talk, it's up to us to listen" (NO MORE 00:00:53-00:00:55) in white font with a black background. The simplifying of the sentence reveals the true message behind the decrypted scenery. It signifies to the audience that sometimes it can be difficult for victims to speak up, but it is up to non-victims and victims to try to help when there is a wrong feeling involved. Domestic violence and sexual assault are serious situations around the world. More than one in three women and more than one in four men around the nation have experienced domestic violence and sexual assault. These situations have even decupled the homicide rate in the United States, surpassing many other leading nations.
Domestic violence and sexual abuse survivors are subject to experience difficulty effects after undergoing their abuse. Everyone handles situations differently. It may take one person years to recover from their abuse. Sometimes it can just affect someone for a few months. Recovering and from these forms of harassments and adjusting to a safe environment again may result in a plentiful amount of time. Anyone who has relations of these victims should understand that overcoming this issue can take time Addressing the pain they are enduring can be difficult. However, speaking on the situations and opening up to others can speed up the healing process. While it can be considered overwhelming, it can also be a benefit.
The NO MORE Project first introduces an example of how victims are forced to handle their situations. The arrangement of this video is to acknowledge the audience of what they have to experience. The overall purpose of this commercial is to persuade everyone in the world to help end domestic violence and sexual assault. Sometimes it can be difficult for the victims to come out with what they are going through. When they try to decrypt their true messages, it is up to us as listeners to at least try to get to know what is occurring. This commercial is both responding to and addressing a major issue. Domestic violence and sexual assault are major issues around this world. Many relationships have ended and people even died from these situations. It is addressing everyone to help the victims and responding to the predicaments they are facing.
The creator gives credibility to their argument by including an example of a secretly 911 call from a victim. This example was inputted to reveal to the audience of how it is feasible to indicate when there is a real problem. The creator also structures their piece so that they build to their most significant point of supporting victims of this such predicament. The entire video including the words at the end where placed to make it known the seriousness of this message. They are also able to evoke sympathy for domestic and sexual abuse victims by inserting a cautious tone throughout the entire commercial. The "No More Project" wants their audience to pledge to support the movement of domestic violence and sexual assault movement.
Related Topics