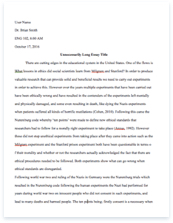 The whole doc is available only for registered users
A limited time offer! Get a custom sample essay written according to your requirements urgent 3h delivery guaranteed
Order Now
Plagiarism is especially repugnant in the west because it is considered a form of Fraud. By claiming the work of another author a plagiarist is claiming to possess the knowledge, insight and academic skill of the original author. Due to the gravity of plagiarism American universities wrote harsh polices to prevent it. The Eagle guide is Califonia State's anti plagiarism policy. According to the Eagle guide, the most extreme form of plagiarism is to use someone else's work for a written paper. For example, taking information from a commercial source or a public domain like Wikipedia and claiming it as ones' own. Taking from other works without properly acknowledging the source can be a form of plagiarism. Even rephrasing someone else's work into your own words can still be considered plagiarism. Given this strict interpretation on plagiarism its seems nearly impossible to avoid it. To avoid plagiarism one has to know its major forms; turning in someone elses paper, the Internet `Pastiche and Improper Paraphrasing
The first, form is relatively easy to detect and prevent. Asking someone else to write a paper is the mark of sloth and dishonesty. Not only is the school defrauded but the student as well, since he is claiming learning and skill that is in fact not his own. Fortunately, this form of plagiarism is very easy to detect and prevent. Instructors are usually very proficient at determining the writing style and skill of individual students major deviations from their accustomed levels is usually the first and most obvious sign of this form of plagiarism. Finally, because this form is so easy to detect it carries a high risk of failing a student and even marking him for life as a plagiarist.
            The second form is called Internet Pastiche. As the name suggest, this involves copy-pasting the bulk of the paper from internet sources. This form is somewhat harder to detect than the first form. It is possible to copy-paste information from many sources and just use connectors and linking words to make the paper look like it is a cohesive piece of work. In fact an Internet Pastiche can actually be the preliminary step of paper writing. During the research stage copy-pasting from multiple websites is in fact done. However, in the strict sense it is still a form plagiarism. After all the only original input that 'author' provided was the linking and connecting phrases. The rest of the paper is still not his.
            Internet Pastiche is still fairly easy to detect. Internet sites like Turnitin.com specialize it determining how much of a paper can be traced to internet sources. Obviously this kind of paper will be replete with plagiarized line from the internet. Also, the paragraphs of an Internet Pastiche can clash with each other's viewpoints and styles. An especially rushed paper can even have paragraphs that totally contradict each other. If a paper like this is turned and detected it will still result in an F although some lenient professors may just ask that the paper be rewritten.
            The final form of Plagiarism is improper Paraphrasing. Even a well made paper can be replete with this form. This requires the most skill and cunning to pull off since paraphrasing requires at least a working knowledge of the topic and a sufficient vocabulary to hide the original phrasing. However, simply paraphrasing even coupled with proper footnoting is still frowned upon since the writer is too dependent on the source material. Still, this is a step in the right direction.
            In sum, to avoid all forms of plagiarism there are three steps that must be followed. The writer must actually write the paper himself. He must do more than just copy paste information from other sources. Finally, he must also properly footnote his sources and more than just paraphrasing insert personal input into the paper.
Related Topics