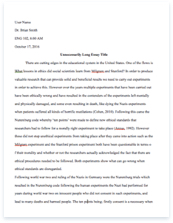 The whole doc is available only for registered users
A limited time offer! Get a custom sample essay written according to your requirements urgent 3h delivery guaranteed
Order Now
Misogyny means a hatred of women. In every country misogyny happens. Women are insulted, discarded or torched by men.
In today's world whatever the men do is everything fine, and if women do the same thing then women were kicked out from the house. Misogyny takes place at each corner of country. There are many pictures, cartoons, magazines, etc publishing year that show many examples of misogyny.
One of the examples of misogyny was a picture of two dogs on the cover page of Snoop Dog's pop album which is expressed in Freedom Writers Diary. That was a picture of one male and one female dog. "Throughout the cartoon, the female dog is called a hoochie and a ho, and they even kick her out of the dog house in the last illustration."(165 FWD) That means female dog was degraded by male dog for some reason.
When I was in 10th grade, I saw a cartoon of one man and one woman who was strongly apologizing to that man in cartoon. She was supposed to be kicked out from his house and life. When I read the whole story I understand that the man was her husband and why she apologizes for. Actually he had a little doubt about her wife character that she has a boyfriend. However her husband had a girlfriend for like 2 years before after their marriage. But she did not start refusing him. She was as good with him as she was before after come to know that her husband had a girlfriend. She gave him a chance to get off from his extra marital affairs.
However afterwards he suspected that her wife have boyfriend, but truly she does not have any. Now for him, he was not giving her a chance to say something for her defense. This is called Misogyny. This is not only applicable for only dog or a cartoon, while this happens in modern human life too. Very few men in this world who are giving respect to women. If wife came to know that her husband had a sex with other woman, she still gives a change to her husband to be a good man. However if the same mistake was made by his wife her husband is going to give her a chance to recover. He dishonored her or kicked her from his home. If woman lost her virginity, everybody look at her like a tramp, while on the other side, man was congratulated by others.
In the past, men could do anything whatever they wanted, while women had so many restrictions. If by mistake, female did something she has to suffer either by separating for her family or according to rule of religion. Today, the world is much more modern than before, but still at some places, women are in under pressure of men or landlords. No matter how much respect a man have for her wife, but woman is always respectful for their husbands. In fact, males are more suspicious than the females.
Thus the thing is that males have more freedom than females on this world. Women have some restriction, while if some woman breaks the restriction she is denied by general public of society or is dishonored. In some developed country, misogyny is one of the major problems, is soon getting inactive in this world, as women start respecting themselves. This is not going to change until the women start respecting themselves first. Women should have to know their own importance in present life. Women are equally capable and self independent as men.
Related Topics