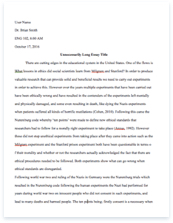 The whole doc is available only for registered users
A limited time offer! Get a custom sample essay written according to your requirements urgent 3h delivery guaranteed
Order Now
It is important to follow legislation, codes of practice and policies, as all of our works are governed by these acts. Employers must have written policies in place to enable social care workers to meet the codes of practice when relating to positive behaviour, i.e. mental health, equality and diversity, safeguarding, equal opportunities, this ensures individuals and staff members are protected and all care plans are followed. Legal and organisational policies, procedures and guidelines need to be in place to guide and protect both service users and staff members when dealing with behaviours. Define what is meant by restrictive interventions, physical interventions, the use of control and restraint, the use of passive holds to inclusion techniques ensure these are only used due to severity of behaviour or incident to prevent injury to their selves and others.

These interventions are only to be used to stop an individual hurting themselves or others. Restrictive interventions may be used if in service users Behaviour Support Plan. De-escalation must be used first to try and calm behaviour, if this fails and if someone is aggressive, disruptive they may injure their selves, or others, or their environment. Restrictive interventions may not be used unless it is written in individual Behaviour Support Plan or either the service users or others are in imminent danger. Document and record in care plan, Behaviour Support Plan, fill in accident and incident report forms, ABC charts and service user's daily notes. Report to manager and if necessary safe guarding and police. Isert team could be contacted if Behaviour Support Plan needs to be amended or changed if behaviour escalates. Ensure all documents are signed, legible and dated. Always try to de-escalate behaviour using distraction techniques, only as the last resort use physical intervention with passive holds. If behaviour escalates go into control and restraint but staff must always ensure to follows individuals Behaviour Support Plan. The use of physical interventions must always be written up in Behaviour Support Plan. Staff must be fully trained in using physical intervention.

De-escalation must always be used before physical intervention. All relevant paper work to be completed and team leader, professionals or outside agencies informed of incident also other staff members and ensure care plan is up to date and have regular reviews. Incident reports must be completed including triggers, what events led up to the behaviour; a trauma chart must also becompleted to document any marks or injuries sustained during the restraint procedure. Proactive strategies are de-escalate, distract, speaking in a normal tone, using a calm manner this may prevent behaviour escalating, ask individual what the problem is and if they would like to go to a quiet place to talk or to be on their own to calm down, taking them away from a situation, find out what triggers these behaviours and how best to support the individual to control behaviours. Reactive strategies are a physical intervention that is used to control an individual's behaviour, staff have to use these strategies to keep individual's safe from their selves and to keep everyone else in their environment safe. These could include control and restraint or loose arm holds. Proactive strategies are used within my work role, staff use de-escalation techniques to try to prevent behaviour. Also reactive strategies are used i.e. loose arm holds, control and restraint but only as a last resort when no other techniques have worked and behaviour are escalating. Behaviour Support Plan must always be followed and updated regularly and staff to be consistent and work together as a team when behaviour occurs, staff must be aware of what can happen and how behaviour is triggered and how best and work to support individuals. It is important to know the individual and follow their care plan, behaviour support plan and always be up to date with any changes and to know any patterns and triggers which can result in challenging behaviours. Staff should always use distraction techniques to ensure support, and try to de-escalate behaviour, staff must be aware of the situation as it develops and react accordingly.

Knowing these triggers or patterns and identifying them as soon as behaviour begins can help de-escalate a situation and reinforce positive behaviour. Maintaining a person-centred approach when establishing proactive strategies is important as it builds a relationship with the individual, they are at the centre of the plan and this revolves around the individual, person centred planning reflects the individuals capacities and skills and specifies which support they need when trying to control behaviours, staff would put strategies in place to best support these needs and promote independence. Reinforcing positive behaviour enables individuals to feel more in control of their behaviour, anxiety's and emotions. It also enables them to manage a situation better and helps others to see them as an individual and support them and their needs.

Always speak to individual to explain the importance of positive behaviour i.e. being able to go out in the community and do activities, socialising and being independent, all these things can happen when individual promotes positive behaviour but would have to stop if behaviours occur. Staff supports each other in achieving best practice in incidents of challenging behaviour as sometimes it can be a very stressful situation for staff. Staff members using reactive strategies only as a last resort to protect the individual and other people in their environment who could be involved or hurt. As the individual can become challenging they can become aggressive, disruptive or verbally abusive. To ensure their own safety reactive strategies are put in place to control the situation and always follow Behaviour Support Plan. Factors associated with challenging behaviours could include: •Communication/verbally abusive/aggressive in their manner •Environment/anti-social or illegal behaviour

•Power imbalance
•Excessive demands. Repetitive/obsessive
•Boredom becoming withdrawn or disruptive
•Inconsistent approaches
•Lack of boundaries or goals
•Emotional expression
•Sensory needs
•Physical health
•Mental health
•An individual's past experiences
•Age and gender.
Others may include:
•The individual
•Colleagues
•Families or carers
•Other professionals
•Members of the public
•Advocates
If staff are proactive they have to look for triggers and patterns and try to de-escalate, calm down a situation before it escalates. Work out how best
to support individuals to deter challenging behaviour. Always follow Behaviour Support Plan which would be person centred. Always give praise and support which helps promote positive behaviour, be positive in your approach to individual, trying to understand their behaviour and see them and their behaviours as separate things. Give praise and support for completing tasks relating to positive behaviour. Staff always work together as a team using person centred approach and follow care plan with staff consistency, have regular staff meetings and reviews highlighting any areas to be changed or adapted in Behaviour Support Plans and care plans which helps to support individuals in their behaviour.

Individuals may have certain behaviours which could include: •Repetitive/obsessive
•Withdrawn
•Aggressive
•Self-injurious
•Disruptive
•Anti-social or illegal
•Verbally abusive
All of these could affect behaviours
Always work consistently with staff members following agreed ways of working or guidelines, so as not to confuse individual service user. Enable individual to have the correct support to change their behaviour's i.e. the use of communication aids if needed. When responding to incidents or behaviours first try proactive techniques i.e. de-escalation, distraction, tries to calm a situation before behaviours escalate, remove the individual from environment to a quiet place where they can discuss their anxieties. Ensure all staff record incident in care plan, ABC chart, health and daily notes and incident report form are completed. Always follow Behaviour Support Plans and company policies and procedures. During incident ensure dignity and respect is maintained making sure clothing is not removed, try to move other service users away from the incident so they do not get upset. Ensure a safe environment by removing any dangers in the area. Speak in a calm manner and be non-confrontational. After incident always make sure service user and staff involved are counselled regarding incident.

And all staff that is involved is debriefed, and everything is documented and recorded in care plan and incident report form is completed. Write and complete ABC charts, incident report forms and accident report forms. Document what happened leading up to behaviour, how they were best supported and if intervention was used, what staff members were present and what role they played, time of restraint and how long it lasted, how long it took service user to calm down and the conclusion of what happened afterwards. Ensure all records are accurate, factual, legible, dated and signed. All company policies and procedures were followed. Spend time with individual away from other service users to discuss behaviour, choose a quiet place i.e. their bedroom and talk in a calm manner, ask why they behave this way and explain if they had any problems or anxiety's they could talk to staff members. Give an individual time on their own if they wish to listen to music, watch T.V or quietly sit in their room away from distractions. Ask the individual to seek support from staff in the future if they are not happy about something or a situation, if they are starting to feel anxious, talk to individual about these triggers and ways to avoid repeating situation. Have discussions with individual covering how they felt before behaviour or incident occurred, why they behaved and reacted the way they did, and what the consequences of their behaviour would be i.e. not going on an activity or visit. How they felt after incident and if they had calmed down now and were feeling more settled. Following an incident on challenging behaviour people could be frightened, become aggressive, nervous, withdrawn and have fear of incident being repeated.

This could result in other behaviours escalating. Make sure that they are supported and that their views and worries are clearly represented in any reviews about incidents which they witnessed or were involved in through no choice of their own. Also individuals could be anxious of becoming involved in incidents when they did not want to be or become targeted and bullied by another individual. Ensure people are protected from other people's behaviour by removing them from situation and speaking in a calm manner. Give reassurance and support and record any concerns in daily notes and discuss these at reviews. Always ensure staff follow Behaviour Support Plan, talk to the individual involved in incident and other service users and staff members. Give reassurance and support, talk calmly in a positive and clear manor and ask how they feel and why they behaved this way. Work out ways which best support them and always document discussions in personal notes, date and sign all paper work and inform all staff members and any other agencies involved.

Ask individual how they feel, ask if they would go with you to their bedroom or bathroom so staff could check for injury in private, always ask permission from individual to do this and if possible to have two members of staff present. Check for cuts, bruises and swellings or any other injury and if needed go to A&E department or ring ambulance and inform anyone else involved i.e. family or outside agencies. Make sure everything is documented, signed and dated. Have regular reviews with manager, staff members, family members, isert team, psychology or any other professionals or outside agencies involved. Ask advice from isert team when compiling a Behaviour Support Plan, have staff training and discuss with team leader any triggers that happened before the behaviour or if you think anything could be changed, or adapted to best support individual and staff. Ensure everything is documented and all staff follows Behaviour Support Plan so as to have consistency. Reflect on your own behaviour throughout the incident, if you could have done anything different or tried to de-escalate behaviour more or in a different way, have debriefing with team leader and staff members involved, discuss if behaviour could have been prevented, changed or adapted to best support individual.
Related Topics