Two Poems with the Same Message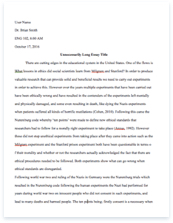 The whole doc is available only for registered users
A limited time offer! Get a custom sample essay written according to your requirements urgent 3h delivery guaranteed
Order Now
Langston Hughes's poem, "I, Too," was written in 1932. Claude McKay wrote, "The White House," in 1937. The authors are describing how white people treat African-American people back in the Harlem Renaissance, a period in the early 1920s and 1930s,
In Langston Hughes, "I, Too," line three he says, "They send me to eat at the table to eat in the kitchen when company comes." The speaker is denied a seat at the table to eat with white people. The speaker goes and sits in the kitchen alone to eat.
In Claude McKay's poem, "The White House," in line one says, "Your door is shut against my face." The speaker of this poem is referring to how white people exclude African American people from the American dream. Claude McKay doesn't refer to 1600 Pennsylvania Avenue, where the President of the United States of America lives. He is trying to refer to The White House as a symbol of equality, and where the President lives, which is meant to symbolize and show its importance as traditional ties to the United States of America as a historical symbol.
"Hughes was forever critical of the so-called "American Democracy" and the shibboleth of the American Dream, particularly when it came to the masses of black people and to poor people in general. Running beneath the strident lines of "Let America Be America Again," there is the murmuring of, "America never was America to me." (Hughes and Bontemps p.193)
In Subjecting Pleasure: Claude McKay's Narrative's of Transracial Desire, Smita Das writes, "McKay's texts showed his desire to wield an authentic "artistic consciousness" fuled by a revolutionary stance against a narrative of Black racial uplift and Western literary national form." (Journal of Black Studies p.44)
When Langston Hughes published his poem, it was first distributed in the book, "The Weary Blues" in 1926. Hughes still hit a crude nerve which helped open up the prickly issue of social equality.
McKay's poem shows a fondness for fire symbolism. In his poem, he specifies inline-five, "The pavement slab burn loose beneath my feet." "The White House" is the exemplification of McKay's verse. He shows disturb towards White-America's hypocrisy, utilizes fire, symbolism, and advances a flexible picture of the colored man in Africa. Alain Locke edited a magazine in 1925 called Harlem, Mecca of the New Negro, which he had picked three of McKay's poems. "The White House" was one of these poems. Locke was afraid to publish McKay's poem, fear that it might be read as a charge of the real Presidential White House. The FBI order agents not to allow McKay into the United States, since he was a Jamaican born. He traveled to and from the United States all the time. Locke had asked McKay to remove the poem rather than change the name of it. McKay explained how African American's were barred as a group from the American Industry. Eventually, Locke would publish McKay's poem in the Survey Graphic.
Langston Hughes poem " I, Too", uses a mix of formal and informal language by using clear words, contractions, and a lot of commas to make up a full (series of words that make sense and that have a subject and a verb) until it gets to the period. The main theme of this poem is the acceptance of African-Americans into the modern world. The poem gives off a clear message of how we need to celebrate culture, specifically African-American culture, even within the cruel world of how white people treat them. Everyone needs to power the African American community and to help them better themselves, show off their talent, and take their struggles head-on with all the power, courage, and God in them. As it is seen today, much progress is still needed to accomplish or gain with effort for African-Americans in all areas. I know many African-American, they try to make a successful living for themselves working at factories facility in order to provide for their families while doing schoolwork in college to find a career that suits their interests and can better improve skills that are good at or what they are willing to learn to be good at. Langston Hughes is my personal favorite book-related/writing-related poets and always has been full of knowledge, smart human beings when reading his poetry works.
McKay's speaking style is discomforting. Unlike Hughes, McKay uses a wide variety of figurative language and poetic devices He uses Similies and Personification of "America" is described as a metaphor. The authors of these two poems have some differences in America, that is pictured in their minds. These two poems may have a different form, but their speaking style comes to the same meaning.
The Harlem Renaissance Days may be gone, but African Americans still struggle for equality today. African American people face hate crimes, white supremacy groups, and to be accepted by white people. In the times of Langston Hughes and Claude McKay, they didn't have the freedoms they have today. The end result will be that America will no longer treat African American people with shame, because change has happened a lot of the years, and will continue.
Related Topics