Benefits of the development of self-awareness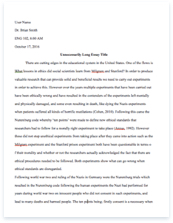 The whole doc is available only for registered users
Pages: 7
Word count: 1732
Category:
A limited time offer! Get a custom sample essay written according to your requirements urgent 3h delivery guaranteed
Order Now
Tom Bourner stated that the development of self-awareness contributes to an effective manager, leader, in other word, and the success of the leader's organization. (1996. P5) Self-awareness will help an individual make wiser career decisions. Mendemu Showry and KVL Manasa define self-awareness as "an exact estimation and evaluation of one's own personality and lucid understanding of how others perceive one." To start off the planning of my career, I first considered my future career goal: Establish myself as a prepared accountant until I graduate and can get involve quickly into the workplace and team.
I then integrated the opinions from my peers, past group members, and my self-awareness as a basis for recognizing my strengths and weakness in order to develop the developmental plan. I started think of my last semester experience, the 2.5 courses work-load which included average 2 assignments and quizzes every week, group works required from each course and I put myself in a very work intensive situation. Under such pressure, I survived from every single tasks. Thanks to the reflected-self exercises, I have the opportunity to consult my group members and peers from last semester to see if any of them would mention my leadership skills.
Unsurprisingly, all of my three peers perceive me managing time efficiently and well-organized. A good time management, defined as planning and effective regulation of time by Rafael et al., is one of the strengths that I possessed. Supported by myself putting effort on understanding all members' availability in my group, including myself and integrated google docs for ensuring each member had task assigned. Any urgent edition will be my prioritization, I always force myself send out the draft on the next day if not the same day to prevent any procrastination.
Additionally, I also set up a planning sheet for keeping several groups are on track step by step to make sure the project could be finished with enough time to edit it and to ask professors or TA questions before submitted. Most of my group projects were done effectively and efficiently. Gary F. indicated that planning is a crucial part of the good time management as a leader and is helpful for enable the ongoing process working toward goals. Also, Rafael examined the predictive capacity of the time management skill for academic achievement with the adaptation of Time Management Questionnaires on a sample of high school students. As such a crucial strength to possess, I should integrate my time management skill to advance my academic success and future career.
To make a plan for capitalizing the maximum of my time management skill, I read a literature written by Tom M. He suggests several secrets of developing a good time management; 1) Establishing goals and priorities. 2) Making time to do planning 3) Delegating unnecessary work and allocating time to important and priority activities. According to these useful suggestions, I started to make my plan for my future career. As a future accountant or auditor, other than spending time working on the tasks on regular basis, e.g. daily bank reconciliation, month/quarter/year-end preparation, etc. there must be many adhoc tasks coming in on an ongoing basis.
Therefore, in my future career, I have to establish goals and prioritize for myself when each periodic project started to ensure I would finish every single task before deadline and my working quality is not decreasing with the time passing. Delegate about 15 to 20 minutes per day to plan the tasks in hand – review those and make sure there is no unnecessary or unreasonable tasks assigned to me by mistake – and the possible duties in the near future. Mark each entry of tasks with the importance level label or list them in priority order. Discuss the completed duties and planned task list with the supervisor or manager on a weekly status meeting to see whether those completed ones are at no problem at all and recognized future duties are comprehensive.
Changing the weekly status meeting with manager to biweekly meeting after the first 4 months adaptive phase. Until the feedback from manager become lesser regarding my planning of tasks, the status meeting can be decreased to monthly meeting. Then I will allocate time first on those tasks with higher priority label and cross each of them out to indicate the completion. I believe this.
Dependability, the second most mentioned strength by my peers, refers to a tendency toward planfulness and discipline in carrying out tasks to completion. (2006. P8) James et al. presents a hierarchical model of team member personality combined with the Big 5 trait domains. (Figure 1) Associated with my HEXACO-PI-R results, the score for conscientiousness is the highest among the other dimensions.
It was displayed well during my second co-op work term, there were scheduled team meetings for an ongoing project of the acquisition transition. I was assigned a crucial part of the project which is at the initial level, conversion of the currency for all past years accounting entries since the inception year (about 10 years). I always came to meetings with preparation, ensure that I finished the previously assigned works and setting up the following template in order to exchange my idea on a timely basis and pass my work to other team members for next phase processing. Showing the dependency in the workplace has proved by Borman et al. that it was related to higher performance and it also counted as one of the positive leader attributes displayed in both charismatic leadership and transformational leadership. (2013. P49)
Northouse described charismatic leadership as possessing strong moral values and encouraging the subordinates to overcome difficulties for working at a higher level. Transformational leadership is concerned with satisfying subordinates' needs and contributes a high moral value as well. Therefore,
Frustration to underperforming team members
Based on the comments from my peers, I have realized most of them recognized me as a responsible, hard-working and dependable person. However, Witt & Ferris indicated that an individual who is more dependable is often perceived as rule-bound, rigid and inflexible. (2003) According to Doris et al., a high-performance leader usually possesses the ability to innovate and integrate strategic thinking and most of the organizations have the tendency to ensure their employees possess the required characteristics for strategic thinking. (Bonn I, 2005) Whereas I perceive myself a person lacking creative and divergent thought when solving problems, in terms of, lacking strategic thinking which could have potential negatively impacting my future career plans as indicated by my past experience with my first co-op work term.
That is the first time I stepped into a workplace as an accounting assistant and all I know was to finish the work assigned by supervisor according to the requirement. At the beginning, I did everything following the instruction without thinking. However, when the second month-end approached, supervisor spoke to me and let me think how to make the current template easier to use which shocked me. I possess the excel skill at a proficiency level but how to make everything I know efficient and effective gave me a hard time. One of the senior accountants gave me some clues by showing his past template and I was surprised his work was quite flexible to use and was built-up with creativity. I learned that this is the area that I really need to develop for my future career.
In developing a plan to improve my strategic thinking, several literatures supported that a representational system, a mental representation that guide thinking and direction of decisions, can improve strategic thinking. In other word, an individual combines a large amount of research data into frames, cognitive map, scripts, and plans in mind to guide his or her action. (Bonn I. 2005.) Before the combination, a simple step needs to take first which is thinking. I will make a commitment of taking 2 hours every day for exercising the thinking process. During the process of creating connections between all research data, divergent thinking and convergent thinking are both needed and are changed intertwined which is hard to utilize.
I plan to try out Dr. Edward de Bono's Six Thinking Hats, a thinking technique that let an individual solve a problem by wearing different hats and each hat contain different types of thinking that can help the mind become more flexible. (Figure 2) It will be hard for me wearing all hat at the same time at the very beginning, the developmental plan that I designed for myself is making a check card with 6 colors of hats drawing on it and start thinking, the content can be anything happened around me such as the cases assigned by professor or movie topic. I will set a goal to wear at least 4 hats at a time when I am thinking within one-month practice and wear all 6 hats within 40 days.
It will be measured as the checked mark on how many hats that I achieve after each time thinking until all 6 colors of hats are checked. I believe this goal is achievable for me as 3 of the hats is easy to have; Blue – already got a plan to share 2 hours thinking every day; Yellow – I always think the good side of a thing first; White – the contribution of time in gathering data and info. This method of brainstorming has been found using in some UK innovation sector and offer to some companies to utilize, therefore, I believe my convergent and divergent thinking skill would have improvement to some extent after I achieve this goal. To connect creative ideas within my mind, it is a good idea to broaden my views related with my career in order to gaining more experiences.
I will make myself reading one CPA magazine per week and absorb new ideas from it by summarizing the good one down as the accumulation. Review it by leafing through during the everyday 2 hours thinking period to keep them in mind for future utilizing.
References:
1. Bourner, T. (1996). Effective management and the development of self‐awareness: A plain manager's guide. Career Development International,1(4), 14-18.
2. Mendemu S. & KVL M. (2014). Self-Awareness – Key to effective leadership
3. Tom McConalogue, (1984) \"Developing the Skill of Time Management\", Leadership & Organization Development Journal, Vol. 5 Issue: 1, pp.25-27, https://doi.org/10.1108/eb053545
4. Driskell, J. E., Goodwin, G. F., Salas, E., & Oshea, P. G. (2006). What makes a good team player? Personality and team effectiveness. Group Dynamics: Theory, Research, and Practice,10(4), 249-271. doi:10.1037/1089-2699.10.4.249
Related Topics