Til it happens to you by former American artist Lady Gaga about being raped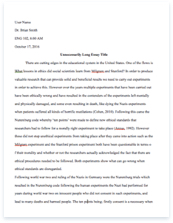 The whole doc is available only for registered users
A limited time offer! Get a custom sample essay written according to your requirements urgent 3h delivery guaranteed
Order Now
Music is loved and enjoyed by all people around the world in different ways. Its pleasant sound and sometimes inspirational lyrics can make it an important element in a person's life. One song, in particular, that was trending during the year of 2015 was, "Til it happens to you," by former American artist Lady Gaga. The song was made for "The Hunting Ground," which is a documentary film that documents the lives of young people affected by rape on college campuses and the school administrators who fail to help survivors and/or try to cover it up. Gaga herself has a connection to the cause, having spoken about being raped by a record producer when she was 19. Throughout the song, Gaga portrays the aftermath of trauma that unfortunate individuals undergo while raising awareness about sexual assaults as she tries to cope with her audience.
Lady Gaga's career has been defined by memorable music videos."Til It Happens to You" is a rock ballad about the aftermath of trauma from sexual assault, with Gaga embodying someone who's told that everything gets better, but in reality, they do not know what it feels like. A couple of years ago, Lady Gaga opened up about being a rape survivor, channeling her personal experience into the song. In the video, Gaga captures how sexual assault can happen in different ways and what individuals picture as sexual assault or rape doesn't quite reflect reality. All of the survivors in the video struggle with the aftermath of their assaults. To show the impact of the emotional trauma of assault, their thoughts and feelings are written in marker on different body parts. When they end up finding comfort in their friends, they transform. They go from shame and self-loathing to hope and self love. 'Til it happens to you, you don't know how it feels.' (Lady Gaga, Til It Happens to You). The video takes lyrics that could be applied to all kinds of life challenges and associates them with a very specific one: campus sexual assault.
Lady Gaga has always been known to shock the public with her crazy outfits, music videos, eccentric performances, and songs. It is a big deal that a major pop star is using her platform to call attention to the fact that sexual assaults don't just happen in darkly-lit back alleys late at night or at alcohol-fueled parties. She is raising awareness of a social issue that affects millions of women each year. Disturbing portrayals of women being sexually assaulted convey how truly awful sexual assault is. It is supposed to be graphic. It is supposed to make the audience feel uncomfortable. It is supposed to spark conversation and eventually find relief for survivors of sexual assault. Not only does the music video portray sexual assault, but it also shows the crippling effects that survivors face. The opposite side may argue that raising awareness is completely useless since there has not been much progress done when it comes to sexual assault issues; however, by raising awareness and sharing individuals stories with other survivors can help them find their own voice so they can tell their story, heal and seek justice.
It is common for victims to stay silent. But the tide is beginning to change, thanks to survivors, like Gaga herself, who are speaking up. The song is her way of speaking out in an effort to help other rape victims heal. "I'm here because when I look out onto the sea of beautiful young faces that I get to sing and dance for, I see a lot of people who have secrets that are killing them."(Lady Gaga, TimesTalks). She copes with the audience through her experience and delivers a sense of comfort to other victims who went through similar situations. Gaga has openly talked about this topic for a few years now. She addresses not to be ashamed by it and persuades other survivors to raise their voices the way she did. They are not alone and never will be.
"Til it happens to you" had an impact on many people's lives, especially on Gaga's. The song helped her portray the aftermath of trauma that unfortunate individuals undergo while also raising awareness about sexual assaults as she tries to cope with her audience through a similar situation that she was in. Victims are sharing their stories and now it's time for college campuses and the government to listen to what they have to say. The best way to combat sexual assault is to believe survivors. To stand beside them when they share their stories. To make sure their voices are heard.
Related Topics