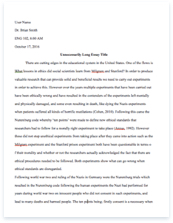 The whole doc is available only for registered users
Pages: 5
Word count: 1045
Category:
A limited time offer! Get a custom sample essay written according to your requirements urgent 3h delivery guaranteed
Order Now
After working for five months as an account executive, Thomas Green was directly promoted as the Senior Market Specialist by the vice president of the company, Shannon McDonald, because of immense potential exhibited by him. However, Frank Davis, Green's boss, did not intend to choose Green as the new senior market specialist. Green and Davis disagreed on work styles and market projections. Green believed that the sales goals set by Davis are based on "creative accounting" and he grossly overstated the existing market environment. A mood of silent conflict developed quickly between them. Davis was very unhappy about Green's performance and working attitude even after three months of his promotion. Green was concerned that Davis was building a case to fire him.
Green, after learning that Davis had sent a mail to McDonald regarding his performance, was very worried about the situation and did not know how he should explain his perspective to McDonald. In order to salvage his professional carrier, Green could either compromise by changing his work style and working in conformity with Davis' requirements or escalate to McDonald the problems and concerns faced by him and prove his point with credible data. We recommend that Green should choose to compromise as he was appointed as senior market specialist despite being less experienced. He was also under heavy financial burden. In order to become a successful manager, he should learn to deal with this kind of situations in his professional life.
Contents
1. SITUATION ANALYSIS
Thomas Green, a 28 year old account executive at Dynamic Displays, was promoted to the position of Senior Market Specialist by Vice President Shannon McDonald. Green was proactive, dynamic, enthusiastic and hardworking but was inexperienced in managerial skills. His immediate boss, 45 year old Frank Davis was promoted as Marketing Director and wanted to bring in a person of his choice to the position vacated by him. However, McDonald, due to the instant bonding that she had with him and also because of the immense potential exhibited by him, promoted Green. Green and Davis had fundamentally different working styles. Green had a directorial approach whereas Davis was an analyser. Within two weeks of Green's promotion, Davis complimented Green on his ideas, but did advise him to concentrate more on preparing for client meetings, developing significant support details for market analysis, which Green ignored.
In a Budget plan meeting, Green openly challenged sales projections presented by Davis, making him visibly upset. In the monthly performance review, to Green's surprise, Davis listed out a number of problems he had encountered with Green's work. Davis also mentioned his perception of Green having a conservative and negative outlook to McDonald. After the performance review, Green started working independently on developing a new up selling and cross selling software to airline passengers, which won him accolades from other marketing specialists and various clients. During the course of time, Green avoided meetings with Davis and also continued allegations on Davis for deliberately holding the firm with his upbeat projections. In the next performance review, Davis alleged Green of continued deficiencies in his work and attitude. Later, Davis complained the same to McDonald in response to which she sent a short mail to Green asking for justification. Green is now under the impression that he is about to be fired by Davis.
2. PROBLEM STATEMENT
What Steps should Green take in order to salvage his professional career?
3. OPTIONS
1) Compromise: Change his working style as per Davis' requirements
2) Escalate to Shannon McDonald: Explain his perspective to McDonald
4. Criteria for Evaluation
1) Job Security
2) Job Performance
3) Work-Life balance
4) Self Esteem
5) Professional relationships
5. Evaluation of Options
Compromise:
Green could let go his current working style and start working in conformity with Davis' requirements. He can try to build relations with Davis instead of challenging him. He also should not voice his concerns to his colleagues. Later on, these actions might even convince Davis to provide a little more flexibility to Green in terms of his working style. Escalate to McDonald:
Green could directly raise his problems and concerns regarding Davis to McDonald. With credible data, Green could try convincing McDonald that Davis is projecting inflated figures. He should also establish that it is necessary for him to have flexibility and freedom for his way of working to succeed. But this might put Green in a very negative light and further spoil his relations with his seniors, thus, threatening his job. The following table represents evaluation of options and criteria on which they have been evaluated. Options
Job Security
Job performance
Work-Life balance
Self Esteem
Professional Relationship
Compromise
Yes
May Be
Yes
No
Yes
Escalate to McDonald
May Be
May Be
No
May Be
No
6. Recommendation
In view of the below mentioned reasons, we recommend the option of Compromise allowing Green to salvage his professional career. At 28, despite of having no managerial experience, Green was appointed as Senior Market specialist with a lucrative salary of $125K. He is not likely to find such an opportunity elsewhere. He is crippled by mortgage and other major expenses, hence he cannot afford to forego his position and salary which is already much higher than the industry standards. Further on, Green currently has no substantial data to prove his performance since his promotion. But he has a good rapport with McDonald, which on effort can be further improved thus aiding his future career.
7. ACTION PLAN
1. Green's response to McDonald's mail should be brief and should mention that Green was working hard to achieve and was experimenting with what he considered to be correct. He understands the current situation and is ready to work hard and learn.
2. In the formal meeting with McDonald and Davis, he should state his willingness to change his working style and learn from his superiors.
3. Green should patch up with Davis.
4. Green should stop raising concerns against Davis to his colleagues.
8. Contingency plan
Green could get in touch with head hunters. There is a high probability that Davis has personal issues with Green. In that case, Green's job would still be under a threat even if he changes his working style to match Davis' requirements. He must have a job ready for him because his financial baggage is massive. As much as possible, Green should not change his job unless and until necessary.
Related Topics