This essay is about whistleblowers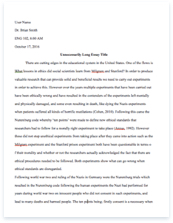 The whole doc is available only for registered users
A limited time offer! Get a custom sample essay written according to your requirements urgent 3h delivery guaranteed
Order Now
What is a whistleblower? The dictionary defines a whistleblower as one who reveals wrongdoing within an organization to the public or to those in positions of authority. Whistleblowers are often misjudged. People view them as traitors when all they really want is to fix the problem or the injustice. Seemingly, a whistleblower tends to be the kind of person who has to do the right thing, which is telling the truth. Many whistleblowers did not set out to risk their lives. They know the telling truth will have consequences. They must first investigate and collect enough evidence before deciding to blow the whistle. The act of investigating, analyzing, and considering solutions is the activity of critical thinking. Therefore, whistleblowing, is an act representative of critical thinkers.
Whistleblowers take huge personal and business risks to blow the whistle on what went wrong inside an organization. For instance, there is Dr. Jeffrey Wigand, the tobacco company researcher who exposed his employer on "60 Minutes" for lying about the dangers of smoking. There is Randy Robarge, a former radiation protection supervisor at Com Ed?s nuclear power plant in Zion. He blew the whistle in 1996 on alleged procedural violations he feared could lead to a catastrophic event. There is Karen Silkwood, a chemical technician at the Kerr-McGee's plutonium fuels production plant in Crescent, Oklahoma, and a member of the Oil, Chemical, and Atomic Workers' Union. She was also an activist who was critical of plant safety. Wigand and Robarge were both fired. Karen Silkwood died on November 13, 1974 in a fatal one-car crash. Their jobs, their health, their privacy, their sanity, their life?they risked all of them to bring us badly needed word of trouble inside crucial institutions.
When examining Jeffrey Wigand, it is clear that whistleblowing is an act representative of critical thinkers. Following the definition mentioned earlier, whistleblowers are critical thinkers when they analyze their problems. In the case of Dr. Wigand, a Brown and Williamson VP of Research and Development whose conscience compels him to blow the whistle on the industry. He claims that Big Tobacco has been covering up scientific research that proves nicotine is addictive and harmful. He was forced to take the money and benefits that the company offers him in return for silence. After all, he has a family to look out for. But then Wigand is tortured over his passiveness, wondering if he should take a more aggressive stance with his potentially damaging knowledge. As a critical thinker, Dr. Wigand has to balance out everything around him. He has to make a choice whether to go public or not. He has to choose between the safety of his family and with the gravity of what he knows. As shown in the move while he was arguing on the phone with Lowell Bergman, the journalist, Wigand states: ?I have to put my family's welfare on the line here, my friend! And what are you puttin' up? You're puttin' up words!?. Clearly, Wigand, with his statement is trying to weigh and consider the importance of his decisions. And both weighing and considering the importance of a decision is an act representative of a critical thinker.
Similar to Dr. Wigand, Randy Robarge worked as a radiation protection supervisor. ComEd fired him in 1996, after he complained that supervisors were ignoring safety problems. "There are shortcuts, there can be cover-ups. I've seen both," he says. To Robarge, raising concerns about the improper storage of radioactive material at ComEd's Zion power plant on Lake Michigan was just part of doing a good job. So he never expected that speaking up would end his career. Robarge investigated and found that whistleblowers are protected under the Energy Reorganization Act. Robarge sued Com Ed and won a settlement. What he did fits the definition of a whistleblower, a person who reveals a wrong doing within the organization and set out to do the right thing. Robarge investigated, then considered a solution for the problem. Again, an act representative of critical thinkers.
This is also supported when examining Karen Silkwood, during the week prior to her death, Silkwood was reportedly gathering evidence for the Union to support her claim that Kerr-McGee was negligent in maintaining plant safety, and at the same time, was involved in a number of unexplained exposures to plutonium. The circumstances of her death have been the subject of great speculation. Again, the act of gathering evidence (investigating) by Karen Silkwood in order to support her claim, is an act representative of critical thinkers.
By examining the whistleblowers, it is quite obvious that each of them committed to their own constitution, telling the truth. Each decided to blow the whistle because they believe that injustice has been done. Dr. Wigand, Robarge, and Silkwood all investigated, analyzed, and considered the problems and solutions before blowing the whistle. They perfectly demonstrated critical thinking.
In discussing the definition of ?whistleblower? and ?critical thinkers?, it seems that one follows the other. Meaning, in order to be a ?whistleblower? one must be a ?critical thinker?. Thoreau, in ?Civil Disobedience? states: ?A wise man will not leave the right to the mercy of chance, nor wish it to prevail through the power of the majority?. This is exactly what a whistleblower will not do, ?leave the right to the mercy of chance?. A whistleblower will tell the truth no matter how the society will view them. The whistleblower has the courage to fight the injustice. A whistleblower has to investigate, analyze, and consider the solutions , which is an activity of critical thinking, before they expose the truth. Again, this proves that a whistleblower is a critical thinker.
In ?allegory of the cave?, Plato believes that a person who is ?enlightened? must again go back to the den. He states:?they must be made to descend again among the prisoners in the den, and partake of their labours and honours, whether they are worth having or not?. The ?enlightened? is the image of the whistleblower. A whistleblower is the one that knows the truth and tells the truth. The whistleblower must investigate, analyze, and consider the solutions so the others can also be ?enlightened?. Again, a this proves that a whistleblower is a critical thinker.
Upon examining these examples of ?whistleblowers? and comparing them to the act of critical thinking, it seems clear that whistleblowing is an act of critical thinkers. A person who chooses to blow the whistle must investigate and analyze the problems to uncover the truth. Then he or she should consider and weigh the solutions. A whistleblower is a critical thinker because he or she fights for the truth.
Related Topics