"The Yellow Wallpaper" by Charlotte Perkins Gilman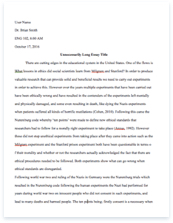 The whole doc is available only for registered users
A limited time offer! Get a custom sample essay written according to your requirements urgent 3h delivery guaranteed
Order Now
            Literature criticism witnessed various interpretations of Charlotte Perkins Gilman's "The Yellow Wallpaper." Some audience perceives this story as a ghost story, while others focus on heroine's mental illness. From the critical perspective, although such interpretations can be justified, careful analysis reveals that the yellow wallpaper is not merely an obsession of a deranged woman, but a metaphor for masculine society, which constrains and degrade women.
            Charlotte Perkins Gilman illustrated husband John as an embodiment of patriarchal culture of the eighteenth century America. In Gilman's grotesque setting, John is a caring and provident man. In his endeavor to protect the health of his wife, John insists writing is detriment to her health. From the critical standpoint, the essence of writing represents permanency, and the permanent character of thoughts constitutes a significant threat to John's hegemony. Furthermore, the audience learns that "John laughs at [his wife], of course, but one expects that in marriage" (Gilman, 1). The primary objective for John in the relationship with his wife is to maintain his control over her, to keep her within this "haunted house" (Gilman, 1). As a wife points out, "he is very careful and loving, and hardly lets me stir without special direction."  Both husband and wife are located in mutual disconnection. The figure of John gradually distances from his wife as she studies the yellow wallpaper in her bedroom. Finally, John becomes an antagonist for his wife, her social enemy, and she notices, "The fact is I am getting a little afraid of John" (Gilman, 7).
            Paradoxically, Gilman keeps the heroine anonymous till the very ending, which logically symbolizes her spiritual and mental awakening. From the beginning of the story, the audience observes weak and impotent woman, who is trying to challenge the ideology of his husband, but as she notices "I did write for a while in spite of them; but it does exhaust me a good deal – having to be so sly about it, or else meet with heavy opposition" (Gilman, 1). Moreover, woman not only is unable to free herself from John's domination, but her antithetic expectations actually result in the feeling of guilt, which runs her health and her mind. In the model developed by Gilman, woman obtains the only chance to acquire necessary mental and spiritual equilibrium in her bedroom by watching the yellow wallpaper. The wallpaper is described as being stripped off in patches, "dull enough to confuse the eye…and when you follow the lame uncertain curves for a little distance they suddenly commit suicide – plunge off at outrageous angles, destroy themselves in unheard of contradictions (Gilman, 2).
Although patterns of the wallpapers seem to be innocent, they represent a significant metaphor for oppressive patriarchal culture and oppression. Gradually, John's wife starts identifying herself as the woman behind the wallpaper though she still remains uncertain if women per se are potent and confident to keep their true identity. However, the woman is prepared that she now is. "… in the very bright spots she keeps still, and in the very shady spots she just takes hold of the bars and shakes them hard." The awakening of John's wife begins with getting to the present moment as she remarks, "He [John] asked me all sorts of questions, too, and pretended to be very loving and kind. As if I couldn't see through him!" The audience witnesses the culmination of heroine's awakening as she postulates directly to John "I've got out at last… in spite of you and Jane. And I've pulled off most of the paper, so you can't put me back!" By obtaining her real identity transformed Jane altered the patterns of oppression and masculine culture, making men to faint.
            "The Yellow Wallpaper" illustrates the dynamic character of feminine and masculine interaction in the society. Such a perspective to Gilman's story offers more territory for speculation in terms of symbolism and other literary elements. Paradoxically, the ending as articulated by Gilman in the form of a fainted man serves as author's evident statement for what the society should be and where it is moving to.
Bibliography
Gilman, Charlotte Perkins. "The Yellow Wallpaper." The Yellow Wallpaper and Other
Stories. Mineola, NY: Dover, 1997
Related Topics