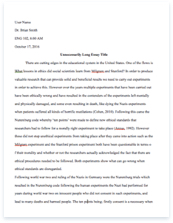 The whole doc is available only for registered users
Pages: 4
Word count: 928
Category: Behavior
A limited time offer! Get a custom sample essay written according to your requirements urgent 3h delivery guaranteed
Order Now
The main purpose of this report is to investigate how the theory Word of Mouth of reference group reflect the personal consumer behavior. This report based on four reliable scholarly journals and one text book.
Reference group has a vital role in the Consumer Behavior study. Reference group refers to those groups that usually have a direct or an indirect effect on consumer's attitude and decision. Also, individuals are affected by reference group through consumer's evaluation, aspiration and behavior (Babin and Harris 2015, 156).
In reference group, the information of a product or service, which is conveyed by consumer to consumer, is known as Word of Mouth (WOM) (Babin and Harris 2015, 160). Typically, WOM spreads out directly to the consumers which makes the information more reliable and trustworthy. WOM in reference group may help the local market influencers, tastemakers and trendsetters to promote their marketing. There are two types of Word of Mouth which are organic and amplified. When customers are satisfied with the product, they are likely to express how much they like about the product and share it naturally. That is called organic WOM. Besides, amplified word of mouth occurs when the company desires to promote its new products by having some attractive campaign (Babin and Harris 2015, 161). In order for the customers perceive the new menu, McDonald launches a lot of advertising campaign such as released a new video on Youtube and increased advertisements at every bus stops. WOM is also a factor that can impact consumer's decision, thoughts as well as views.
The consumers' behavior and decision react positively or negatively based on how they receive the message and consume the product. If they are satisfied with the product, they are likely to transmit a positive WOM to the people around them. On the other hand, when consumers feel unhappy with that product or service they will share the unsatisfactory experiences which are referred to negative WOM (Wang 2011, 253). Customers who are involved in negative WOM attitudes are likely to feel dissatisfied rather than taking no action or complaining about that service or product (Kim 2016, 44). To demonstrate, most of the time, after going to the beauty salon, girls may have both positive and negative WOM about the beauty services. Some customers may feel joyful with their new hairs, otherwise, some customers will be dissatisfied because their hair is not reached their expectation like too dry or not stay curly. Furthermore, for the value of WOM, the more customers satisfy with the value they receive, the more they want to share the products or services to their friends and family members (Babin and Harris 2015, 156).
For the conventional WOM, people usually had face to face meeting in the past. Thanks to the advancement in technology, these days customers can know more knowledge about the product or service through online WOM such as mail, instant messaging and social media. The eWOm has changed the way people communicate with others. Customers can now express freely and actively how they think about the product or service through blog, forum and social networking. For instance, Facebook is the biggest media site for customers share and discuss about the new commodities. On Facebook. customers also see some suggestions or recommendation from their friends. (Kucukemiroglu 2015, 3).
Most of the time, when I buy expensive items such as Canon camera, Dior perfume and Ukulele, I tend to utilize WOM. There is a reason why I use WOM when I purchase luxurious commodities. With WOM, I can seek for information as much as I can in order to make the best decision. To illustrate, before I decided which brand to buy for the camera, I had asked my family members, friends or relatives for the information about the camera such as the camera's modern, design and some special features.
By asking acquaintances, I felt completely trustworthy since they would give me honest opinions. Moreover, since the digital technology has changed the way people convey the information, I went to not only Facebook but also some camera forums to take a look at the suggestions and recommendation for which brand I should buy from other users. In addition, in order to make the decision of purchasing Miss Dior perfume, I would like to collect the experiences from others who already consumed that perfume because the Miss Dior has three versions which represent for different scents. Also, I may know how the smell of Dior perfume is and how many hours the fragrance can last when I use it. By doing so, I will feel confident to make to purchase decision. Furthermore, I used to search a lot of information when I bought the Ukulele for my entertainment. I checked from the instrument's website for the quality, design and price. I also went to some instrument stores so as to hear the sound quality to make the final decision.
WOM can reflect whether I react positively or negatively after consuming products. For example, after I bought flat shoes from Rubi at 313 Somerset, I felt satisfied because it is very comfortable to wear, did not hurt my foot and reached my expectation as well. I would like to recommend my friends to buy Rubi's shoes due to the reasonable prices and various designs. Besides, I also reacted negatively for the products I bought before. To demonstrate, I disappointed about the quality of car sunshade did not reach my expectation. This is because the smell of the plastic is quite strong when the car parked under the sun and the suction part is not strong enough.
Related Topics