The Temperature Preference of Woodlice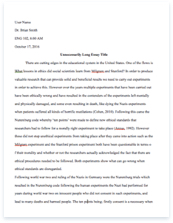 The whole doc is available only for registered users
A limited time offer! Get a custom sample essay written according to your requirements urgent 3h delivery guaranteed
Order Now
The aim of this laboration was to see what temperature woodlice preferred in the range of 21C-25C.
Hypothesis
As woodlice burrow and prefer moist environment they are likely to prefer cool places over warm places, so they will probably seek away from the light.
Variables
Independent: Temperature. The temperature was changed via a heat lamp which warmed one end of the plastic box evenly.
Dependant: The number of woodlice present in different temperature zones.
Controlled:
Moisture. Equally moist pieces of paper were placed evenly over the bottom of the box.
Lighting. The lighting in the room was even and the box was placed in a location were there did not occur any major shady spots within it. The light of the heat lamp was filtered out by a piece of paper.
Soil distribution. An even layer of soil was spread over the surface.
Size of zones. The size of the 8 different zones was all measured to be 5 cm in width.
List of materials
40×20 cm Plastic box
Paper towels
Heat lamp
8 Thermometers
Procedure
A plastic box that was large and shallow enough was selected and an infrared heat lamp was put on the short side. The area was divided into 8 zones of 5 cm width. A thermometer was placed within each zone. Moist paper towels were put into the box and a thin layer of soil was spread over it. The initial temperature of each zone was measured and 10 woodlice were caught and placed within the box. The number of woodlice and temperature within each zone was counted and measured after 5 minutes, 15 minutes and 30 minutes.
The closer to 1 or -1 the larger correlation the values of temperature and woodlice density have. In chart 1 and 3 there is a weak correlation, and in chart 2 there is none. This can be seen in the shape of the graph, as chart 2 is the only chart with a large outlier of woodlice in the warmer temperature zones.
Conclusion
The results indicated a weak correlation between temperature and woodlice density. They were more abundant in cooler regions of the box. Therefore they seem to prefer cooler temperatures within the range of 21C-25C. The hypothesis was incorrect and upon further study, it is apparent that as wood lice live in dark and moist habitat it is natural for it to be cool. Apparently woodlice can tolerate most temperatures between -5C and 32C1
Evaluation
The independent variable fluctuated, and it might have been avoided by having let the heat lamp have more time to warm the inside of the box sufficiently. Also, the fluctuation could have been due to inaccuracy in the thermometers used. They were unreliable and shut down often by themselves in the middle of the experiment. This weakness was compensated by constantly noting the temperature while counting the woodlice. However, more reliable thermometers would be better. They could also have been better designed to be put down on a smooth surface and been easily read. The thermometers used were formed like sticks, so it was hard to place them in their zones without them falling down, or their number display being unreadable.
They were primarily designed to be able to measure soil temperatures, so an air-specialized thermometer would be better. The range of temperature was perhaps too small for the woodlice and a more extreme range of temperature in 20C-30C might give clearer results. This would require a cooler room with a stable temperature of 20C and a much more powerful heat lamp which could raise the temperature inside the box sufficiently. The number of woodlice was fairly small due to lack of available specimen, but to get sufficient result a larger population of woodlice would be needed.
Around 20-30 woodlice would be sufficient to read their collective preference more clearly. The major weakness in this experiment was the ignored behavior pattern that woodlice have more specifically their tendency for positive thigmokenesis i.e will to have their body in contact with other objects.2 As the box contained moist paper towels there was a notable tendency for the woodlice to try to crawl under it. This might have had a large impact on their migration habits within the box as they would seek tight spaces more than a preferable temperature. Furthermore, there was not enough time to properly see if the woodlice would settle down and stop most movement in specific areas. Several hours would be needed to sufficiently observe what their favorite area in the box was. On a positive note, no woodlice were harmed while executing this experiment.
References:
1G.J.Mckenzie, Woodlice Homepage, http://www.geocities.com/~gregmck/woodlice/habitat.htm Middleton Grange School,Christchurch NZ, accessed 2008-03-11
2 G.J.Mckenzie, Woodlice Homepage, http://www.geocities.com/~gregmck/woodlice/habitat.htm Middleton Grange School,Christchurch NZ, accessed 2008-03-11
Related Topics