The Psychology of Love according to James V. McConnell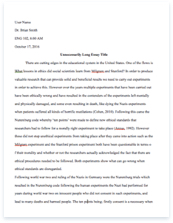 The whole doc is available only for registered users
A limited time offer! Get a custom sample essay written according to your requirements urgent 3h delivery guaranteed
Order Now
This review is intended for people who are desperately in search for love. McConnell is one of the psychologists who can provide a sense of optimism for people who are taking a hot pursuit for love in their lives.  He shared the objective of behavioral psychologists to explain and control human behavior.
The issue of love had been a relentless and never ending debate among people of all ages, profession, culture, gender, etc.  People generally regard "love" as an emotion or feeling however they have different and sometimes even opposing or conflicting views in defining it.  Sentimental people consider love as "instinctive" or even beyond the faculties of rationality.  In this essay, McConnell's attempts to investigate the relationship between thinking (mind) and acting (behavioral i.e. love) to better understand the complexity of human beings.  We think what we act and we act what we think. He used monkey love as a comparative analogy for his conclusions.  Incidentally, the use of monkeys in studying "love" had been utilized by many behavioral psychologists because the basic responses that relates to affection (e.g. nurturing, tending, touching, and embracing among) are fundamentally similar among (rhesus) monkeys and human children. He concluded that that love is an "intervening behavior" as it serves as an explanation for reactions and behaviors as demonstrated by the monkeys.
While love can be regarded as an emotional feeling or a subjective experience in the consciousness that is internally recognized by the individual, it is nevertheless aroused by a stimulus.  And because love is a behavior, it can therefore be learned, controlled and modified.  Under these premises, McConnell adhered that there exists processes by which certain behavioral activities can be started, directed, and achieved so that physical or psychological needs or wants are met.  In practical terms, this translates to a belief or hope that people can adopt practicable ways and means to generate love, find love or make people fall in love (to them).
Relating the essay to the other studies of McConnell, this also reveals the author's adherence to the potential use of love potions to cast love spells to people.  In his earlier studies on learning and memory transfer, McConnell believed that there is chemical basis for memory or learning (i.e. RNA memory). (Popular Science, 1960, p84) Integrating this conclusion with the subject at hand, he may support that that a human behavior such as love can be utterly controlled through shrewd manipulation of reward and punishment and perhaps by injecting "RNA memory of love". Drugs can provide a compelling variable in learning (love) and memory. Thus, one can make somebody fall in love with him or her by injecting the correct RNA memory (love potion) or by performing activities that generates love.  It must be noted though that his findings were commonly discredited by psychology experts.
McConnell's claims were clearly intriguing or ludicrous for some experts.  It seemed absurd that people can get learning injections or take pills that convey knowledge when taken.  Some religious critics moreover may find his experimentations dehumanizing.  Using animals or microorganisms to study human behavior depersonalizes or reduces humans to ordinary creatures without freewill, rationality and dignity.  Regardless of his conclusions and recommendations, a better way to evaluate McConnell's works is by understanding his objectives and intentions.  In a critic to other essays about brainwashing criminals, "Professor McConnell has only the best of intentions at heart. His purpose is to learn how to force people to love one another" (Chase, 2004, p60)
The organization of the essay is as follows:
Introduction
Target Audience for the Review
General understanding of Love
Behavioral Psychology of Love
Body
McConnell's Theory of Love
Implications and applications of  McConnell's Theory
III.      Conclusion
Evaluation of McConnell's Works
Works Cited:
Chase, Alston. A Mind for Murder: The Education of the Unabomber and the Origins of
Modern Terrorism. W. W. Norton & Company, 2004
Popular Science. Now! A Drug that May Make you Smarter. Nov 1966 Vol. 189, No. 5,
Bonnier Corporation, 1966.
Related Topics