The Process of Adjustment in Communication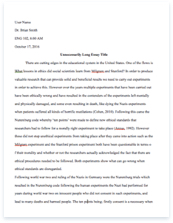 The whole doc is available only for registered users
A limited time offer! Get a custom sample essay written according to your requirements urgent 3h delivery guaranteed
Order Now
Communication is regarded as a continuous process of adjustment. This process can be explained by looking at the recent repeal of the military's Don't Ask, Don't Tell policy. This policy restricts the equal rights of homosexuals which has been a topic in heated debate for many years. Over the course of United States history, there have been numerous attempts at equalizing the rights among homosexuals, especially those in the military. As history progressed, the amount of attempts for equality had increased. A final ruling from a judge in 2010 ordered the military to change its policy on homosexual applicants, and allowed them to join. The principle that interpersonal communication is a process of adjustment, shows that individuals and groups must adjust their communication methods towards those of the individuals they are communicating with. The recent repeal of the D.A.D.T. policy is an excellent example of this interpersonal communication principle.
Interpersonal Communication Is a Process of Adjustment
Joseph A. Devito states that interpersonal communication is a process of adjustment. The concept behind this principle is that in order for interpersonal communication to take place, the people that are involved must share the same communication system. To easily understand this, an individual who speaks American Sign Language, will have a difficult time communicating with someone who speaks German. This includes both verbal and non-verbal communication, which can vary across different cultures.
In order for interpersonal communication to function correctly the individuals who are involved in the communication must adjust their methods of communication accordingly. Because of the continuous process of adjustment, the individuals must learn new techniques and ways of communicating so that their communication methods best match the communication methods of all individuals involved in the conversation. This includes learning and becoming accustomed to changing values and beliefs that develop within a culture as well.
By learning new values and beliefs, individuals who are within a specific culture, can understand and adjust their communication to match those individuals within their culture who embrace those changing values and beliefs. This allows individuals to communicate effectively in any situation. A theory surrounding this is the Communication Accommodation Theory. This theory states that speakers will adjust their communication methods to gain approval from the audience. This explains that learning the values, beliefs, and norms of a specific audience will gain approval and acceptance among the crowd.
Don't Ask, Don't Tell Military Policy
In 1993, Bill Clinton introduced a compromise measure that followed his campaign to allow all United States citizens to join the military. This compromise measure allowed gay and lesbian citizens to join the military without issue. Previous laws and policies regarding the ban on gay and lesbians stemmed from a particular discharge from the military in 1778.
Lieutenant Gotthold Frederick Enslin was the first man to be discharged for sodomy in 1778. The next major action taken by the military was during World War II. During this time, the military began to add psychiatric screening to its induction process. At the time, homosexuality was regarded as a psychiatric illness, and all members who were found to be gay or lesbian within the military, were sent to a psychiatric hospital and discharged. This led to a system of denying all gay and lesbian applicants. Fast forwarding to the early 1970's, the gay and lesbian rights movement emerged. They began targeting the military for their several anti-gay policies. In response, the military issued a policy in 1982 that stated that homosexuals were found to be incompatible with military operations.
The military argued on several occasions that inducing homosexual applicants would be a disruption to the function of the military. At the time, beating of gay and lesbian military personnel became frequent, and the military urged that their policy not only preserved the function of the military, but also provided safety from possible violence. Not long after, Allen R. Schindler, Jr., fell victim to a brutal anti-gay murder conducted by a Navy shipmate. This event brought homosexuality in the military to a major spotlight, and congress was pressuring to enact the previous policy into federal law before the recently elected Clinton Administration could act.
Bill Clinton, during his candidacy for president, campaigned on the promise to allow all United States citizens to join the military. Congress refused to repeal any policy that allowed homosexuals to join. As a compromise measure, Bill Clinton issued Defense Directive 1034.26. The Directive stated that military applicants could not be asked about their sexual orientation. This was designed to allow gay and lesbian citizens to join the military, but they could not display any acts of homosexuality or they would immediately be discharged. This was the policy that stayed in effect until 2010.
Until the repeal of the policy in 2010, there had been several major lawsuits against the Don't Ask, Don't Tell policy. All of these cases ended with the courts upholding the policy. It wasn't until 2010 when a lawsuit filed by Log Cabin Republicans, went to trial challenging the policy. The federal judge found that the policy along with the military's ban on all homosexuals violated the First and Fifth Amendments of the constitution. On October 19, 2010, recruiters were finally given permission to accept openly gay and lesbian applicants.
The D.A.D.T. Policy and Communication as a Process of Adjustment
The Military's Don't Ask, Don't Tell Policy is an excellent example of the Communication as a Process of Adjustment Principle. Just as the principle states, Congress as well as the Military had to adjust their ways of communication to effectively communicate and gain approval from the United States citizens.
When you look at the history of this policy, we can see that the military as well as congress have appropriately reflected the opinions of the American society. At first, society thought that homosexual was a psychological disorder, so the military acted and communicated appropriately by discharging and hospitalizing all homosexual military personnel.
Starting with the gay and lesbian rights movements, the United States has been on a constant upward slope to accepting homosexuality. In recent years homosexuals have moved from a sub-culture, to an accepting mainstream America. We now have homosexuality on television being portrayed as a normal part of life, and gay marriage has become more of an important topic than ever before. These new values and beliefs have caused a vast amount of change in the equality of homosexuals in the United States. When looking at the military's still intact Don't Ask, Don't Tell policy before 2010, they had completely opposite values and beliefs than what was being portrayed by our American culture. As the Don't Ask, Don't Tell policy was once again challenged in the courts, the congress had no choice but to communicate to our society that they accepted and honored our new values and beliefs by repealing a once accepted policy. They had to adjust their ways of communicating to better reflect our new communication methods and values.
Other alternatives to the recent repeal of this policy could be that the definition of the constitutional rights of U.S. citizens has become much more directed towards equality of everyone regardless of the situation. Congress is supposed to monitor violations of constitutional rights and when looking at the Don't Ask, Don't Tell Policy, they found it to be a clear violation of our constitutional rights. Either theory is adequate, but the most appropriate would be to apply the Communication as a Process of Adjustment Theory because it reflects the change and resolution of communication methods by the Congress and United States Military to adjust and adapt to the values and communication methods of the United States culture.
Whether or not larger ramifications of this event will have an impact on the future methods of communication amongst our society, will depend on how long it will take the military, as well as the rest of the opposing United States population to adjust. Already there have been increasing amount of awareness towards the topic of gay rights which gives insight to the effects of the repeal.
Personal Reflection
I have always viewed the Don't Ask, Don't Tell policy as a constitutional violation. So when I originally heard that the policy had been repealed, I was positive that Congress had made the right decision. This event will prove beneficial in many different ways.
The direction our society has been moving in recent years shows that gay rights are becoming more of a concern for those that weren't aware or weren't concerned before. In recent times, as I have noticed the change myself, that being gay or lesbian is more socially accepted than it has ever been. There are more openly gay government officials and celebrities than ever before. There have been numerous campaigns which involved many celebrities to promote the acceptance of gay marriage. The gay subculture how now gone mainstream America and has embarked on the path to a social norm. I feel that the recent repeal of the Don't Ask, Don't Tell policy was necessary to adjust to our changing values and beliefs.
Another benefit I see by repealing the policy is the increased amount of recruitment that the military will acquire. Even though there have still been reports of anti-gay violence, I believe that there could be gay violence almost anywhere, and it will just promote the military to find new ways of handling situations of anti-gay violence.
The final beneficial factor is that this repeal promotes the removal of gay stereotypes within our society. The gay stereotypes in our culture have hindered the abilities to succeed in many gay and lesbian individuals. By allowing gay and lesbian military personnel, we will begin to see the view of gay men shift from a more feminine view to a more accurate equally masculine and feminine portrayal.
Related Topics