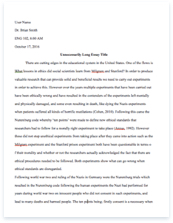 The whole doc is available only for registered users
A limited time offer! Get a custom sample essay written according to your requirements urgent 3h delivery guaranteed
Order Now
Once upon a time not long ago, there was these two dudes named carlos and cholo,Carlos was thirty-four and was skinny and like `to have fun and get into action. Cholos was thirty-one and was a fat guy that loved all types of mexican food and is funny when he is sad, They were the best of friends. They moved to columbia from mexico to try and start over but it didn't go well, Columbia was a nice city place with alot of buildings,cars and people, Carlos and Cholo loved it there. They didn't do good in school and it turned out to be as they were older they couldn't provide for their families and couldn't get a job nearby because they were dropouts. So carlos and cholo met up and made a plan. Carlos says "yo cholo we need the money" Cholo replies "yeah man we do, let's rob the taco shop that wouldn't accept are job applications" a day later cholo and carlos pull up to the taco shop they rob it successfully and then they hop in the car and drive off. Later on that day they have a little part on celebrating the robbery.
About a week later cholo says to carlos "Ay man the robbery was successful dude, I say we go for something bigger eh!!" Carlos replies " yeah let's go rob the band on two notch road". "I agree" says cholo. It takes them two weeks to get prepared for the big heist. two months later they pull up to the bank. They shoot the cameras out and tell all the hostages to lay down on the ground. Cholo says to the bank teller "Where the heck is the safe eh". The bank teller says "it's in the back the hall. Carlos and cholo run down the hall and connect some remote explosives to the safe. "You ready" say carlos. "Yeah" says cholo. Carlos presses the button and the safe goes BOOM! They grab the money put it in their bags and run.
About five mins later carlos and cholo hear the police sirens. Carlos sticks his head out the window and starts to shoot the cops. They turn into a unknown alley and escape from the cops. They ditch the car and run the rest. They make it to the warehouse and celebrate with beer shouting across the room. "I'm gonna use this money to go back to mexico and start my own business says Cholo " Ahavend im gonna use this money so I can eat all the mexican food in the world" says cholo. They soon realize that there is only enough money for one person to . They have a huge fight about the money that led to them holding guns up to each other's head. Carlos pushes cholo and cholo shoots carlos. "Dang man I just shot my best amiga". Cholo says to himself. Cholo says to himself.
Cholo decides to split the money between both families and he felt good. About two months later cholo was really depressed even though he had a lot of money to himself it would never feel the same without carlos. A few hours later carlos goes to eat out with his friends and family. The tells him the news about carlos. "Hey everyone I have some bad news was that carlos is dead, somebody shot him and I don't know who." He began to sob, "I almost peed my pants when I saw that he was dead". Everyone at the table began to laugh. " your kidding right? His cousin marco said. " No im no kidding, i should slap you in the back of your head for not believing me " Cholo said. Cholo the explains the good news.
"The good news is that were going to have a funeral, It will be big. 2 weeks later cholo, marcos and the rest of the family get the funeral ready and got carlos in the cashet( Cholo didn't see carlos in the cashet) after that the limo's went to pick everyone up from mamasitas house and headed to the funeral. The funeral was very sad for cholo. Cholo missed carlos
Related Topics