The Heart of the Matter: My Philosophy of Education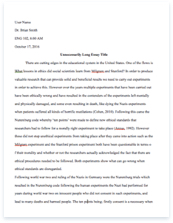 The whole doc is available only for registered users
Pages: 7
Word count: 1594
A limited time offer! Get a custom sample essay written according to your requirements urgent 3h delivery guaranteed
Order Now
Abstract
Let us get to the heart of the matter. I believe wholeheartedly that every child, no matter how diverse, is capable of learning. The key to successful learning is fostering a positive teacher-student relationship, displaying patience and grace, having endless amounts of compassion, and giving appropriate instructional guidance. In doing this, I know that I can uncover a child's distinct way that he or she learns best. When I have given a child all that, I then know that I have set a great learning foundation that they can grow from.
We as educators need to realize that as we grow in our careers, our philosophy of education evolves with time. I know mine has changed some, but as I mentioned above, my "why" or purpose of being an educator is because I believe wholeheartedly that every child, no matter how diverse, is capable of learning. That is one of the main constants that remain the same… the belief that every student is capable of learning, as well as wanting what is best for my students and my willingness to give my all to help them obtain it. A teacher's heart of the matter is to build their students up so that they can be the best individuals they can be, in the present and in their future.
Philosophy of Schools and Learning
"Education is not an end in itself; it is a means to develop a response to our calling in life" (Graham, 2009, p. 49). The why of education, our calling in life, is an intriguing question. There is a wide gamut of views from so many differing theorists and founding fathers in education. To choose just a few is difficult. However, if I had to choose two individuals that had views that aligned with some of my educational beliefs, it would be John Dewey and William Heard Kilpatrick. These men both had an experimentalist educational philosophy. Dewey believed that all humans were educative (Gutek, 1995, p. 484). He also believed that students educational practices should be guided by the teacher and be enriched by using cooperative experiences of working with others to problem-solve (Gutek, 1995, p. 485). Kilpatrick followed in Dewey's footsteps and took it further and believed that the educational experiences should arise from the individual learner's interests and needs (Gutek, 1995, p. 489).
As a teacher of almost eleven years, I see the benefits to this style of teaching and learning. Long gone are the lecture-style classes where the student sits there taking notes and being bored. I believe that state-mandated curriculum/standards can be delivered in a way that peaks the interests of the learner and be differentiated so that all learners can be educated at their instructional level. Learning through cooperative experiences can be very beneficial for the high- and low-level learner. Working together can bring so many positive outcomes and create many "aha" moments. Through my own teaching experiences, problem-solving allows for long-term retention of skills taught and this in turn has a long-range impact on individuals in society. Through these styles of teaching that I practice and believe in, I feel that I am doing God's intended purpose for my life and that I "reflect His character through the process of doing His work with Him" (Graham, 2009, p. 49) when I am teaching my students.
Instructional Practice
There are many personal beliefs that I hold close, as a teacher, on how to effectively deliver instruction to my students. Teachers have an imperative task to "serve wholeheartedly" (Ephesians 6:7, New International Version), and we can do that by delivering our best to our students every day. As an educator the key to giving our best is by offering a positive learning environment, having good teacher/student relationships, incorporating constructive classroom management, being well-prepared, offering differing styles of teaching strategies to keep learners engaged, and provide proper guidance in finding a student's distinct way that he or she learns best using differentiated instruction. When students are given all these key components to succeed in the classroom, then they are prepared for learning to occur.
How do learners come to know truth in their learning? It is difficult to pinpoint an exact answer to this question because it is different for each person. In an article by Elias (2015) he states that there are four areas of truth for students to build their academic and moral values and integrity throughout their educational experience. They are: to seek the truth, speak the truth, stand by the truth, and stay with the truth (bullet point 2). As students' progress through their educational career, it is important that they develop their own point of view on many differing topics involving academics and morals. By doing this, over time, they will develop their own truth of how their learning will occur.
Navigating students to define their own personal truth of what their points of view are is vital to the development of their individuality. Lastly, as their teacher, I feel that the appropriate foundation to guide my students in discovering their truth is to daily display the Fruits of the Spirit such as love, joy, peace, patience, compassion, gentleness, and self-control (Galatians 5:22-23, New International Version). A great teacher lives out this scripture to help learners come to know truth. An effective teacher that lives out the belief that every individual is capable of learning, allows for his or her students to understand the truth and the importance of learning. When I have given all of this and then some, I know that I have set my learners up for success and a great learning foundation to take with them into their adult lives.
Teacher-Learner Relationships
The teacher-student relationship is a vital piece for success to occur in the classroom. Once a teacher's role is obtained, then the learner's role takes shape. To acquire my role as a teacher, I intentionally incorporate my beliefs of what I think instructional practice looks like, as mentioned above, and foster a progressive learning environment that allows for positive and meaningful relationships to be established with my learners. One way I build meaningful relationships is using teachable moments that will benefit my students morally, socially, and emotionally. Throughout an instructional day, many events occur that allow for team-building to happen in my learning environment.
This allows me "to create classroom practices that support positive socioemotional development and minimize unnecessary social comparisons or unhealthy competition" (Slavin and Schunk, 2017, p. 65). When my students can observe and model my expectations that I have for them, I feel that they are developing their own self-efficacy by becoming engaged and motivated in their learning. From there, the learner's role blossoms because trust, respect, and compassion grow for one another. Once the learner and the teacher's relationship reach their optimal potential, then successful learning can take place in the classroom.
Diversity
In today's times the classroom is extremely different than it used to be. So long is the mindset that all students fit into a "one-size-fits-all" package. We now must look at the individual learner and how can we meet their diverse needs, so they can succeed academically. Ackerman (2012) states that, "Teachers have to believe that all students' deserve a chance at success in our classrooms, regardless of the students' backgrounds, learning styles, and/or disabilities" (p.6). This can be a constant challenge for teachers, but it is important that we educators work hard to overcome our own difficulties in doing this, so that we can be effective in reaching every learner, no matter how diverse.
Kellough and Jarolimek (2005) state, "Your challenges lie in seeing that every student succeeds in school, so no child is left behind. Your opportunities can be found in making sure that the lives of all children are enriched through contact with classmates whose cultural and ethnic backgrounds may be quite different from their own" (p. 13). Psalms 127:3 says "Children are a gift from the Lord; they are a reward from Him" (New Living Translation). To educate children is an honor and privilege, because they are a gift from God. It does not matter what makes a child diverse, whether it be their ethnicity and cultural differences, styles of learning, and/or disabilities. All these differing areas of diversity is what impacts how a learner experiences and takes in their instruction. For example, a student may have both a learning disability and a language barrier to overcome in the classroom. The impact a teacher could have on that student regarding how content is taught could be life-changing for that student. To understand this, educators need to be fully invested and engaged to meet the individual needs of the diverse learner so that success can be obtained.
Conclusion
The heart of the matter are the students we have the privilege to teach and mold into future citizens of society. As educators, we wear many hats in our students lives. We at times wear the hat of parent, advocate, counselor, nurse, as well as many other roles. We strive to live out truth and to teach our students truth by building positive relationships with our students, giving patience, grace and compassion, as well as meet their individual needs academically. The Bible states, "In everything set them an example by doing what is good. In your teaching show integrity, seriousness, and soundness of speech that cannot be condemned" (Titus 2:7-8, New International Version) Our job as educators in today's world is very different than what it looked like centuries ago. Yes, we still have the awesome task of delivering the academic curriculum, but we also must be that example of what is good and right.
Related Topics