The health care organization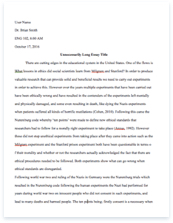 The whole doc is available only for registered users
A limited time offer! Get a custom sample essay written according to your requirements urgent 3h delivery guaranteed
Order Now
The health care organization I am affiliated with, Staten Island University hospital, is part of the North Shore –LIJ Health System. "The North Shore-LIJ Health System strives to improve the health of the communities it serves and is committed to providing the highest quality clinical care; educating the current and future generations of health care professionals; searching for new advances in medicine through the conduct of bio-medical research; promoting health education; and caring for the entire community regardless of the ability to pay" (North Shore LIJ health care, 2014). In 2007, as part of their commitment to quality clinical care, North Shore LIJ began implementing health information technology and electronic medical records in the hospital system. "
The North Shore-LIJ Health System announced today it is subsidizing up to 85 percent of the cost of implementing and operating an Electronic Health Records (EHR) system in the offices of its more than 7,000 affiliated physicians in New York City and Long Island — part of a $400 million investment to strengthen the quality of care throughout the region by automating inpatient and outpatient records in all medical settings, including 13 hospitals" (PR Newswire, 2014) .The reasons for this include: Facilitate coordination of care and communication across practitioners, improve the quality of care and the overall patient experience, connect patients and practitioners in the community, more effectively manage entire "episodes of care" across practitioners and care settings, and to support participation in quality-of-care initiatives. Compliance with government regulations and reimbursements also played a role with the implementation of electronic medical records. The healthcare system allocated $400 million as part of the initiative to implement the EHR program. The cost of the computer systems purchased were $40,000 to $60,000 per system installed.
Upgrading computer software. Electronic Medical records are vital resource in the healthcare industry. Advances in medical technology, communication, and in marketing have made electronic medical records a necessity. The technological environment is constantly changing and improving. These changes are having a direct impact on our healthcare delivery system. People are using technology as a tool for gaining knowledge. The internet is being used by patients to gather information about their health issues and healthcare providers. This creates competition in the healthcare system. The U.S healthcare system is also changing. According to Kazley and Ozcan (2007)" The federal government has called for EMRs for most Americans by the year 2014 .EMRs are expected to drastically change health care by making care more efficient while also improving quality through the automation of care and the more complete documentation and dissemination of individual medical records" (p. 375-76).
The implementation of the Affordable Healthcare Act is requiring efficient and thorough documentation for financial reimbursement. Recognizing need for change is the first step toward implementing the change. Developing and implementing an EMR system (Kumar & Aldrich, 2010)" would significantly reduce clinician workload and medical errors while saving the US healthcare system major expense." The capital purchase I proposing is a computer software system that can be used throughout the hospital system. The hospital I currently work in has three different types of computer software in use. The emergency room, endoscopy, labor and delivery, and electro physiology lab use computer software which is not compatible with the software used in other inpatient units. This causes difficulty in following the process the patient has gone through when they are admitted to other units.
Medication errors have occurred as a result of poor communication between providers. Implementing software that is used in all units is imperative to improve communication between healthcare providers, decrease medication errors, increase cost effectiveness and reimbursement for procedures and competition in the marketplace. In order to implement these changes certain delivery methods are used. According to (Borkowski, 2005) "virtual integration, which emphasizes coordination of healthcare services through patient management agreements, provider incentives, and/or Information systems, has increased. This virtual integration has evolved to meet the need for better information infrastructures that allow for information sharing patient care management, and cost control." (p.6) Upgrading the existing computer software requires management to perform analysis of the both the current program and the new program being considered. Continuous assessment of existing programs, analysis of new programs and expenditures are necessary to help the organization achieve their goals and provide the services necessary for the community.
Capital expenditures are defined as "… the expenditure of funds or assumption of a liability in order to obtain physical assets that are to be used for productive purposes for at least one year" (Accounting tools, 2010). Department managers are responsible for presenting budgets and resources available to continue with existing programs or add new programs. Proposing changes to existing programs as well as proposing new programs involves decision making and analysis concerning budgets and resources required to implement the changes. Health care organizations have more complex objectives than other organizations. There are also more people involved in the decision making aspect of program implementation and changes in health care organizations. These participants are divided into external and internal participants. External participants include: financing sources, rate setting and rate control agencies, third party payers, and planning agencies. Internal participants include: board of trustees, planning committee, finance committee, chief executive officer, department managers, medical staff, controller, and treasurer. Each of these entities have a role in the analysis and approval of budgets and programs.
Management Goals The management goals for upgrading the computer software would include quality assurance, improved productivity, and employee development. Quality assurance is the use of programs and activities designed to promote the requirements needed to achieve quality results for a product or service. One of the goals of the North Shore Health Care System is to provide quality medical care and educating the current and future generations of health care professionals. Improving the computer software will assist the organization with achieving this goal through continuity of care and improved communication throughout various units and departments. Each department (nursing, radiology, and lab, dietary) will be able to access the patient's information. Continuity of the patient's plan of care can be maintained. Changes to the plan of care can also be made available to other services involved. Improved productivity amongst staff members can be a result of updating the computer software. With the current system in use nurses have to rely on verbal or written reports when patients are admitted to units throughout the hospital. For example when a burn patient is admitted through the emergency department the burn unit staff has no way of knowing if standard burn treatment protocols have been used and, if used, when the protocols were started.
This information is crucial to know when caring for a burn patient. Having compatible computer software will enable the nursing staff to provide care for the patient without repeating steps that may have originally been initiated, such as fluid resuscitation with burn victims. Employee development is another management goal. By providing compatible computer software systems employees will have the necessary tools available for patient teaching and care. Employees in various units and departments will have the ability to build on the teaching of other disciplines and will be able to evaluate the results of patient teaching. The system currently in use does not provide access to teaching and evaluations performed in the units using the other computer software. Enhancing the economic environment "Increased revenue comes from multiple sources, including improved charge capture/decrease in billing errors, improved cash flow, and enhanced revenue" (Menachemi & Collum, 2011) . Providing the organization with computer software that is compatible throughout all units will increase revenue due to avoidance of duplicate procedures such as lab work and x-rays.
Third party payers, such as HMO's, private insurance companies, and government insurance (Medicare/ Medicaid) provided financial incentives to organizations that implement EHR's in meaningful ways. Computer software that is compatible throughout the hospital will enable the organization to provide optimal care and decrease costs associated with duplicate orders and medication errors. Cost saving measures and financial reimbursements will provide the organization with opportunities to expand and improve current programs. Financing sources and rate control agencies will be more agreeable to lend money to the organization when cost saving measures evident. Upgrading the computer software may initially increase costs due to the financial expense of the program. These expenses may be mitigated by using products from the computer technology source already in use. The company used may provide discounts, technical support, and upgrades to software purchased. Productivity may decrease initially due to the time it takes to train employees on the updated system.
The long term benefits to the organization outweigh the initial expense and possible losses. Organizational goals The organizational goals of the hospital include to providing the highest quality clinical care, promoting health education, caring for the entire community, promoting health education, and educating healthcare professionals. Providing the best patient care is the primary goal of the organization. Implementing compatible computer software is one way to ensure quality care. Patients are often admitted through units and outpatient clinics which use systems non-compatible with the admitting unit. For example, patients are often admitted to the Burn ICU directly from the outpatient wound clinic. These patients are required to go to the E.R for admission to the hospital. The computer system differs from the clinic to the burn unit. Many of the patients will decline to go to the E.R or leave the E.R due to long wait times. A compatible software system can make a direct admission to the burn unit possible which can lead to patient compliance and improved patient outcomes.
Providing care to the community is also an organizational goal. Outpatient clinics and community outreach programs provide a valuable and cost effective service. Computer software systems which are compatible to the hospital systems can provided continuity of care for patients using these services. For example, women utilizing the prenatal clinic services will be entered into the computer system. The care received, along with any complications experienced, will be available for the caregivers to access when they are admitted for delivery. Having access to this information can assist hospital personnel in providing the best care for the patients and community. Compatible computer software systems enable the organization to provide effective, timely communication with various units and departments. Healthcare organizations may offer physicians incentives to implement similar computer software in their offices. This help maintain continuity of care and improve communication between physicians and hospital services. For example medication reconciliation can be easily accomplished with integrated computer systems.
Patients will have interactions with primary physicians and consulting physicians. Using compatible computer systems will enable the physicians to assess medications prescribed and avoid duplicate orders. Effective communication is vital for patient care. Patients enter the healthcare system (hospital) with co-morbidities, medications, and treatments. Relying on paper and verbal communication can lead to missed or lost information. The current systems in use requires all patients admitted from the emergency room, endoscopy clinic, and ambulatory surgery center to be discharged from those areas and be re-admitted to the new unit. Nursing and other ancillary departments cannot view the care received from those previous units. Medications and other orders can easily be missed. Medication errors are a serious and costly occurrence in today's healthcare system. Medication errors account for mild to severe reactions ranging from mild allergic reactions (itchiness, hives) to severe allergic reactions such as anaphylaxis. Medication errors can also lead to bleeding disorders, amputation of limbs, and death.
Medication errors are costly to the hospital and to the patients and their families. "Over 770,000 people are injured or die each year in hospitals from adverse drug events (ADEs) which may cost up to $5.6 million per year per hospital depending on hospital size. This estimate does not include ADEs causing admissions, malpractice, and litigation costs, or the costs of injuries to patients (Kass, 2001)." Implementing an EMR with compatible software throughout the hospital system would reduce the instances of ADE's by providing a computerized checking system and the ability for personnel to view orders and medications given. Patients also complain about having to repeat information previously given to other personnel. Using computer software that is compatible with all units of the hospital can help in avoiding these. Information can be readily accessed by the healthcare providers. Departments involved in the patients care (dietary, physical therapy, and radiology) would be able to coordinate the care of the patient in an effective and timely manner. Using compatible software throughout the hospital would also be an effective way to coordinate the patients care with the primary and consulting physician.
Another goal of the organization is promoting health education, and educating healthcare professionals. Technological advancements occur rapidly. Healthcare professionals need to be educated concerning changes in technology for the organization to remain vital and meet their goals. Some functions of computer systems include CDS tools, health information exchange (HIE) and CPOE) systems "A CDS system is one that assists the provider in making decisions with regard to patient care. Some functionalities of a CDS system include providing the latest information about a drug, cross-referencing a patient allergy to a medication, and alerts for drug interactions and other potential patient issues that are flagged by the computer" (Menachemi & Collum, 2011) . The use of these software systems in the healthcare organization are essential for meeting government standards to receive reimbursement. By providing compatible computer software the organization can easily educate healthcare professionals while providing continuity of care to the patients. Purchasing and implementing a compatible computer software system will enable the healthcare organization to meet their needs and goals by eliminating instances of medication errors and duplicate ordering.
The organization will also benefit financially through government incentives and third party payer reimbursement. Another benefit to the organization is the time healthcare professionals will have to perform patient care. Studies have shown an increase in nurse productivity with the implementation of EHR. The current system in use requires nurses to repeat health assessment questions previously asked and document medications and past history that was previously documented but not available for viewing. Nursing time is then spent on obtaining pertinent health care information. This causes some frustration to patients. Patients who are admitted due to trauma or emergency surgery may not have the historian present when they are admitted to other units. This can cause vital information to be missed. Using compatible software can decrease the instances of these occurrences. Justifying the expense Healthcare systems are large organizations with many stakeholders who have vested interests in the success of the organization.
The external stakeholders include banks, loan companies, third party payers (insurance companies), government programs (Medicare/Medicaid) and the community served by the organization. The internal stakeholders include executives, managers, physicians, nurses, other employees, and patients. Implementing computer software which is compatible with all hospital units and departments will have the benefit of increased patient satisfaction, decrease in errors and duplicate orders, and improved communication with various departments and physicians. Increased patient satisfaction improves the reputation of the organization which can lead to increased revenue from referrals. Decreased instances of errors can lead to increased financial reimbursements and avoidance of fines or penalties. Improved communication between departments and physicians leads to continuity of care and avoidance of delay in treatments.
References
Accounting tools. (2010, August). What is capital expenditure? Retrieved from http://www.accountingtools.com Cleverly, W. O., Song, P. H., & Cleverly, J. O. (2011). Essentials of health care finance (7th ed.). Sudbury, MA: Jones and Bartlett Learning.
Menachemi, N., & Collum, T. H. (2011). Benefits and Drawbacks of Electronic Health Record Systems. Risk Management Health Care Policy, 4(10), 47-55. North Shore LIJ health care. (2014). Mission Statement. Retrieved from http://www.northshorelij.com PR Newswire. (2014, Sept). North-Shore LIJ System investing $400 million to connect up to 7,000 physicians, 13 hospitals with Electronic Health Records System. Retrieved from http://www.prnewswirecom
Related Topics