The critique symbolism of "A Worn Path"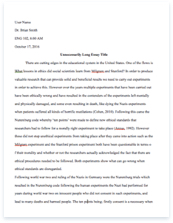 The whole doc is available only for registered users
A limited time offer! Get a custom sample essay written according to your requirements urgent 3h delivery guaranteed
Order Now
The worn path usually expresses the old way. Normally, the most of people do not want to pass by a worn path in their lives. Nevertheless, the people should experience such as this way more than one time. Eudora Welty's story "A Worn Path" is a short story that is symbolic of Phoenix Jackson's life. The symbolism of "A Worn Path" represents unless Phoenix Jackson's life exists unfair treatment and the struggle for freedom, she uses power of wisdom to weather the crisis, and racial discrimination.
The "A Worn Path" is a story of journey of Phoenix Jackson. Phoenix Jackson goes through the woods because she needed to get to the hospital where her grandson was because he is sick of the throat. Then her journey began to go to hospital. However, she did not expect her trouble. Thus, her journey is smoothness that people treated her to segregation. It has more difficult than she wants to get.
Eudora Welty symbolizes Phoenix's path seems to the chains in her feet. Her path was so painful that the wild animals disturbed her way and the hills made her feeling like a prisoner: "Seem like there is chains about my feet, time I get this far," she said, in the voice of argument old people keep to use with themselves. "Something always take a hold of me on this hill—pleads I should stay."(Welty 1) Through this journey, she experiences discriminative treatment, but she overcomes many difficulties to use her wisdom to the best advantage. As such her journey, the black people did not receive freedom and fair treatment.
The most significant symbolism in "A Worn Path" is Eudora Welty who described the journey of Phoenix Jackson representing the struggle led to civil rights. When she met a hunter, a hunter treated Phoenix to uses his gun, but she overcame this difficulty to use her wisdom. The end of her journey, she noticed something from her journey: "This is what come to me to do," she said. "I going to the store and buy my child a little windmill they sells, made out of paper. He going to find it hard to believe there such a thing in the world. I'll march myself back where he waiting, holding it straight up in this hand." She lifted her free hand, gave a little nod, turned around, and walked out of the doctor's office. (Welty 9) This period of black people had struggled whole lives for their freedom, equality, and civil rights for all black people. They should fight to the other people for their freedom.
Consequently, "A Worn Path" symbolizes her struggle for freedom, equality, and shows that her experience helps to overcome the difficult situation.
Related Topics