The Corrosion of Character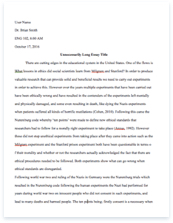 The whole doc is available only for registered users
Pages: 7
Word count: 1632
Category: Character
A limited time offer! Get a custom sample essay written according to your requirements urgent 3h delivery guaranteed
Order Now
As the 1990s have progressed, increasing attention has been given to the unprecedented changes that have transformed the nation's social landscape over the past three decades and that hold profound implications for twenty-first-century America: the decline in high-paying manufacturing jobs, the emergence of a service economy, women's taking advantage of higher education opportunities, the rapid entry and continuous full-time participation of married women with children in the labor force, corporate "downsizing," escalating divorce rates, changing perspectives on the welfare system, and "the squeeze" for middle-aged women between child care and eldercare. In this context, the long-standing assumption that work (economy) and family are distinct spheres has been challenged, as these competing forces disrupt and question the legitimacy of what was perceived to be the "normal" or "usual" ways of doing things.
The demands placed on all levels of workers in capitalist, economic organization are making it more and more difficult for both managers and workers to survive, let alone to have full lives and thrive. This work makes reference to Richard Sennett's (1999) argument in The Corrosion of Character: The Personal Consequences of Work in the New Capitalism about the ways in which many of today's middle class are sensing a loss of control over their lives. The claim is complex because of the inter-connectedness of work and family, which has — it would appear — been transformed in a single generation. So the very values that continue to drive many of today's middle class in their work lives — insecurity, flexibility — prove also to be the greatest worry in their family lives.
In his book The Corrosion of Character (1999), Richard Sennett's argues that we are not simply witnessing an 'onward and upward' phenomenon of renewed gentrification. He suggests that the globalization that is driving the economy is having a dramatic and potentially malign influence on many of those who might be generally seen as its beneficiaries. Many of these people, the international service class, operate in a world that is without boundaries, where traditional rulebooks have been torn up, where space and time have become compressed and distorted. Even if this group is in a minority, it influences the lives of many more whose lives remain more bounded by constraints of time and space. At the same time as they are 'transrupting' traditional boundaries at work, they are often desperate to lay down some parameters in their personal lives.
We borrow here from Richard Sennett's book, in which he considers the human consequences of the move to flexibility, downsizing and reengineering not in relation to its 'normal suspects' (those dispossessed by these changes) but those whose almost missionary zeal is driving them. Sennett suggests that many of the most devoted functionaries of the new economy develop some uneasiness about the consequent loss of structure and stability in their personal lives — especially in families where there are children and more than one breadwinner. Lack of security distinguishes this new economy from the old one, and for many it is this that creates the frisson which drives them on. However, according to Sennett, many have begun to recognize some strengths in the old household forms and employment relations where their parents put up with the present in the expectation that their children would lead a very different future — as indeed they have. In particular they fear for the effects of this on their own children — one respondent described them becoming 'mall rats' — who of course take their parents' privileged status as a given.
Rico hates the emphasis on teamwork and open discussion which marks an enlightened, flexible workplace once those values are transposed to the intimate realm. Practiced [sic] at home, teamwork is destructive, marking an absence of authority and of firm guidance in raising children. He and Jeannette [his wife], he says, have seen too many parents who have talked every family issue to death for fear of saying 'No!', parents who listen too well, who understand beautifully rather than lay down the law; they have seen as a result too many disoriented kids. (25–6)
His respondent, Rico, the son of a janitor that Sennett interviewed extensively in a previous study, has been upwardly mobile. He has worked his way through a number of jobs in the 'new economy' until he runs his own consultancy, which is apparently successful although he clearly struggles both to retain employees who are constantly being hired away and to keep up with the technology in a fast-moving field. His wife — Jeannette — has a parallel career in financial services and they have moved for both their careers. The real problem that Rico identifies is that there is 'no long term', so that 'behavior which earns success or even survival at work thus gives Rico little to offer in the way of a parental role model' (26). He felt that he was unable to make up homilies from his own work, as his father had done to him, for the moral and spiritual guidance of his own children.
In fact, for this modern couple, the problem is just the reverse: how can they protect family relations from succumbing to the short term behavior, the meeting mind-set, and above all the weakness of loyalty and commitment which mark the modern workplace? In place of the chameleon values of the new economy, the family — as Rico sees it — should emphasize instead formal obligation, trustworthiness, commitment, and purpose. They are all long-term virtues. (26)
Sennett summarizes Rico's dilemma in the following terms: 'Short-term capitalism threatens to corrode his character, particularly those qualities of character which bind human beings to one another and furnishes each with a sense of sustainable self' (27). Sennett describes the nature of the change that has taken place in work and family over one short generation. Today's successful managers were raised in the post-war decades in families in which fathers worked and mothers nurtured and where the life course was planned through until retirement and there was a high level of certainty about outcomes. Many of these children despised their parents for their lack of entrepreneurial spirit and their commitment to a particular place and occupation. However, despite their own often successful careers, many have begun to reflect not altogether favorably on the contexts in which their children are growing up compared with (no doubt nostalgic) recollections of the ones in which they were raised. This produces considerable anxieties about the downside of their success and mobility.
Since coming to the US, my family is working in stressful and demanding jobs where long hours and travel are part of the culture. A major work-family problem in the United States is having no time for family caring. My father works 2 jobs and my mother takes any available overtime on the weekends. I work daily and am taking 5 classes this semester. This is because we recently bought a house and the mortgage is very high. The `American Dream` that we came here for has enslaved us. I have a little brother who gets into a lot of trouble and we are not there daily to set a positive example.
The example we set is the need, desire and the means in which we are earning money. Sacrificing ourselves for a dream that may never be realized. The organization of the modern industrial system has not "caught up" with the reality of most people's lives, nor acknowledged or honored its own potential for creating more reasonable life-styles for most people rather than the extremes of wealth and poverty. The business community seems increasingly driven solely by the profit motive. Finally, the elimination of many working people may eventually curtail the capacity of the population to consume the goods produced. As technological and social change race on at an ever more rapid pace, it will be up to corporate and community leaders to redirect the priorities of work organizations to benefit the workers as well as to generate profit and capital.
Programs and policies such as family leave, child care, part-time opportunities, and flexible work schedules are significant ways to create a culture of family support. Corporate culture and philosophy powerfully influence the work environment, which in turn affects outcomes at work and at home. For example, Sennett found among dual-career couples that men who have flexible work schedules indicate significantly lower marital, parental, and professional stress as well as fewer distress symptoms. He also found that perceived organizational support is related both to job commitment and to family support for job commitment. Family support also is directly related to job commitment. Such results suggest that organizational and family support work together to influence job commitment, and, ideally, productivity.
The Corrosion of Character speaks to a specific issue of the importance of integrating work and family more thoroughly in our thinking, in our theoretical and practical approaches to innovative social structures, and in our behavior as individuals. The interdependence of economy and family has been the dominant theme in the book focusing on family over the last decade. The book has unashamedly had the goal of raising the consciousness of scholars, managers, and community leaders about the need to think of work organizations and families as institutions more thoroughly integrated with one another. Only with this approach can people in the twenty-first century be whole people free from feelings of being divided into work and family selves. This approach can contribute to homes becoming healthier environments in which to live and raise children and work organizations becoming more productive and less wasteful of human resources.
References
Sennett, R. (1999). The Corrosion of Character: The Personal Consequences of Work in the New Capitalism. London, Norton.
Related Topics