Summarise the main points of legislation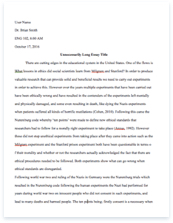 The whole doc is available only for registered users
A limited time offer! Get a custom sample essay written according to your requirements urgent 3h delivery guaranteed
Order Now
Summarise the main points of legislation and procedures covering confidentiality, data protection and the disclosure of information. There are many legislations and procedures put in place to protect the privacy and welfare of children. This can be in schools, playgroups or any situation where information may be held about a child in order to ensure they receive the right care to best suit their needs. The UNCRC (United Nations Convention on the Rights of the Child) is a list of 42 promises made by governments from almost all countries in the UN to children and young people, including the right to education, equal treatment and the right to an opinion. Article 16 protection of privacy ensures that no child shall be subjected to unlawful interference with his or her privacy, this means that any information the school may have about a child must be kept private. If the school has been informed of a medical problem or there is a situation at home that may affect the child in school it is the child's right that this information remains private. The data protection act of 1998 means schools which collect and process personal information must comply with a set of 8 principles.
These principles include making sure the data is adequate, relevant and not excessive, the data must be up to date and it must not be transferred to other countries without adequate protection. The act also states that schools must notify the Information Commissioner about data being held and failure to notify is a criminal offence. This protects the child making sure that only information relevant to the their needs are kept and if a child's situation changes this must be updated. This means the child gets the best care while also protecting their right to privacy. For example if a child's parents have split up and the parents inform the school this information must remain private.
The child's teacher may need to know so they can properly deal with the child it if their behaviour has changed however children in the class or other teachers in the school do not need to know this information. SENCO (Special Educational Needs Co-ordinator) will co-ordinate additional support for pupils with Special Educational Needs. It is not a confidentially document itself but the SENCO will only liaise with a child's parents, teachers and other professionals who are involved with them. This means that anyone who does not need to know about the needs of a child will not be informed of them and it will only be disclosed to professionals who deal directly with them to ensure they get the support that they need.
3.2 Explain the importance of reassuring children, young people and adults of the confidentiality of shared information and limits of these. All information about a child or young person should be kept confident, this can be a medical issue e.g. diabetes, a personal issue at home e.g. a break up or bereavement or a special need the child may have e.g. autism or dyslexia. Who this information can be share with depends on the needs of the child and who should know in order for them to get the best help and guidance to best suit their needs. While most children with a learning disability will get the support they need from their class teacher, some may still need extra help. In this case an assessment is completed, a legal document called a statement of special educational needs will be drawn up. The teacher and teaching assistant will need to know about the needs of that child as well as the SENCO for that school.
However this information may not be shared with class members or their parents. All Staff may have access to their own personal records and this can be accessed through the head of the school. Staff also have the right for information stored to remain private and details such as their home addresses, telephone numbers or references should not be disclosed to children or their parents. 3.3 Justify the kinds of situation when confidentiality protocols must be breached. Sharing information is vital for safeguarding and promoting the welfare of a child and in certain situations the confidentiality protocols must be breached. This is when there is a risk of serious harm to any individual, including where a child (under 18) is judged to be at risk of sexual, emotional or physical abuse. If a child approaches you to tell you about a situation which may constitute as abuse it is vital that this information is passed on. Even if the child asks you not to it is important that you reassure them but that you do not make any promises to keep the information a secret.
Related Topics