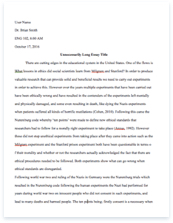 The whole doc is available only for registered users
A limited time offer! Get a custom sample essay written according to your requirements urgent 3h delivery guaranteed
Order Now
Beverages are different types of drinks made for human consumption to quench thirst. Sugary drinks or soft drink is one type of beverage, which is added with sugar such as Coca Cola which is a common soft drink. Energy drinks are also known as sugary drinks. Sugary drinks have many reasons for and against regulating it. Although sugary drinks are in favor of many people, it is also important to note that it is in opposition to others in a nation at large which gives use to the question of whether sugary drinks should be regulated or not. This essay will discuss the reasons why the government should not and should regulate sugary drinks.
To begin with, a reason against regulating sugary drinks is that it generates employment opportunities for the nation. Sugary drinks companies will need a high manual labor component in its various manufacturing process, therefore locals based near the factory are mostly recruited. For instance, as shown in the annual reports, "Coca Cola Amatil Limited employs approximately fifteen thousand people across the group" (Coca Cola Amatil Limited 2013, p.75). Ultimately, unemployment rate in an economy is maintained which further leads to economic growth.
In addition, alongside employment, a few sugary drinks are beneficial for the people. Such drinks are energy drinks which contain vitamins and proteins in it such as Powerade, V-drink and Mother. Players consume these energy drinks while training, before playing and also after playing to be energized. In the case of Fiji Marist 7s tournament, "Coca Cola Amatil Limited providing the Powerade dinks that replenishes electrolytes, carbohydrates and vitamins during physical activity" (Kumar 2013, p.45). Hence, sugary energy drinks are highly valuable for the strength of the players.
Furthermore, choice of drinks is sighted as a personal right. Every citizen of a country has the full rights and freedom to choose what they want to consume regardless of the drawbacks. In other words, a person cannot be turned away from others decisions. To illustrate, according to David, "I criticize Conly's defense of the soft drink ban and offer my own view of the justification for paternalise food and beverage policies" (Resnik 2014). Therefore, choosing between the various types of drinks to consume is entirely dependable on a person itself.
However, there is another side to this argument. It is evenly important to recognize the arguments against regulating sugary drinks. This essay discusses the arguments against sugary drinks. Equally, a major reason for regulating sugary drinks is to prevent non-communicable diseases among children. Daily consumption of sugary drinks leads to weight gain, poor diet and health and tooth decay in children. Meanwhile, there is less control of sugar level which leads to diabetes. Children are too young to suffer from such non-communicable diseases. For example, A thoughtful redesign of a school environment with changes to school dietary options, implementation of reduction of access to sugary soft drinks resulted in a deadline in the prevalence of overweight from 20.8% in the 2004-2005 school years to 20.4% in 2005-2006 (Environmental Health Perspective 2009, p.159). Thus, making amendments to access of sugary drinks in schools will avert non-communicable diseases.
Moreover, another reason for regulating sugary drinks is to reduce pollution in an economy. A greater manufacturing process of soft drinks in a factory produces toxic wastes into the community which harms the lives of the people living near the factory. This includes environmental as well as marine pollution. It can cause skin rashes, ulcers and respiratory problems. Also, food from marine sources will affect the health such as upset stomach. An example would be that "The Non Government Organization found high levels of toxic chromium and other pollutants in the soil and water around five Coca Cola and Pepsico plants in northern India" (Googleschorlar 2010). Thus, regulating sugary drinks reduces the risks of ones life that is affected by pollution.
Finally, regulating sugary drinks helps a government minimize its health care costs. Higher health care costs directly cause increase in health insurance, hence minimizing the costs, helps the government use the remaining funds in the other ministry departments. As revealed by the Vice President of Fiji, Ratu Joni Madraiwiwi, in a recent announcement that "the government expenditure has steadily increased over the years to an alarming level and at a cost of two million dollars to health services" (International Journal of Productivity and Performance Management 2007, p.538) As a result, the expenditures of the government need to be adhered to and decreased.
In conclusion, the essay discussed the reasons for and against sugary drinks and why the government should not and should regulate it. In contrast, regulating sugary drinks are more important. Regulating sugary drinks is of more importance because it creates non-communicable diseases, pollution and adds costs to the health care system. The government should make sure that its citizen is ardent in taking care of their health. If the public continues to limit their consumption of sugary drinks, then the nation would be able to combat the tribulations of sugary drinks.
Related Topics