Succeed In Life, You Need To Overcome Difficulties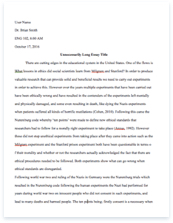 The whole doc is available only for registered users
A limited time offer! Get a custom sample essay written according to your requirements urgent 3h delivery guaranteed
Order Now
There are over six million people in this world, yet everyone has a different style and better quality than the next individual. When asked what my greatest quality is, I never know what to say, but I should know myself the best right? I feel as if I am very different from individuals my age. I believe in working hard for what one wants, so an individual cannot sit there and expect everything to be handed to them. When it comes to life, I am very optimistic, everything happens for a reason. When one feels as if their life is taking five steps back just think of the outcome when their life takes ten steps forward verses the five steps back. I do not often show anger or sadness I always smile because I am so optimistic towards life. I look at life as if something bad comes along, no need to dwell on it you cannot take it back, so just move-on, I am not up for a pity party.
To succeed in life, one must conquer the challenges life presents and work to overcome these challenges to be the best possible person that one can be. While I was growing up I was always taught to work hard for what you want in life, I will never settle for less than I deserve. I do not depend on handouts from anyone nor, do I expect handouts from anyone. Hard work comes in with believing in yourself, if you do not believe in yourself no one ever will. An idle person can never gain anything if they sit and wait for the better opportunity to come. Nothing is easy to be achieved in life without doing any hard work. I can testify to the idea of hard work leading to success in my own life. I am a first-generation college student, I am willing to admit that college is difficult, but it is rewarding because I strive to make myself better than those around me.
I am going to college for nursing because I have always had a passion for helping others. As of now I work as a certified nursing assistant, so therefore I do have experience in the medical field. I know it is not an easy field, but it is the most rewarding knowing that you are doing something with yourself just to help others. No doubt, hard work is the key for success. We must learn to work hard to satisfy our goals we set within ourselves- rather they are short term goals or long-term goals. If one is not feeling the wheel power to accomplish the goals one has sat for themselves, I think it is time to rejuvenate. Because in my life, every day I want to feel as if I am getting closer to accomplishing my goals, one must see success within themselves. No matter what our goals are, one must be enthusiastic to sacrifice our time, body, and mind to work as hard as we can to be the best that we can be.
Related Topics