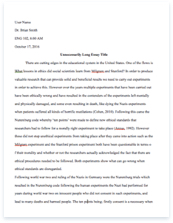 The whole doc is available only for registered users
Pages: 6
Word count: 1259
Category:
A limited time offer! Get a custom sample essay written according to your requirements urgent 3h delivery guaranteed
Order Now
W. E. B. DuBois and Booker T. Washington were the early pillars of the civil rights movement even before Martin Luther King Jr. came into existence. Both men were highly respected for their efforts in pushing for equal rights of blacks in the United States. However, the two men differed on the approach they took in championing the rights of the blacks in America.
This was evident when DuBois criticized Washington for the speech he made in 1895, saying that "hushing of the criticism of honest opponents is a dangerous thing…honest and earnest criticism from those whose interests are nearly touched…is the soul of democracy and safeguard of modern society. (38) In that year, Washington gave what later came to be known as his "Atlanta Address" which made him well-known figure in the black community and beyond it, and it got the attention of politicians as well.
DuBois criticized Washington's supporters, called the "Tuskegee Machine" in silencing critics to his speech. The gist of the speech was that Washington urged blacks living in the South to join the labor force instead of taking in newly-arrived immigrants. He said: As we have proved our loyalty to you in the past, in nursing your children, watching by the sick-bed of your mothers and fathers, and often following them with tear-dimmed eyes to their graves, so in the future, in our humble way, we shall stand by you with a devotion that no foreigner can approach, ready to lay down our lives, if need be, in defense of yours, interlacing our industrial, commercial, civil, and religious life with yours in a way that shall make the interests of both races one.
In all things that are purely social we can be as separate as the fingers, yet one as the hand in all things essential to mutual progress. (Washington 1895) Though laudable by several, DuBois, who was part of the National Association for the Advancement of the Colored People (NAACP), criticized it. DuBois felt that Washington was too soft and should take a harder stance. He and several others were disappointed that Washington's supporters, including the black community who were sold to his ideas, were putting down the NAACP, telling them not to rock the proverbial boat with their hard-line stance on the issue of more rights for the blacks. As stated earlier, DuBois felt that criticism must be welcomed by anyone living in a democracy.
Criticism is part of the right to expression and free speech. He understood the rationale and wisdom behind the need for criticism in a democracy. This served as an instrument in which people can spot the mistakes of society and point them out to leaders or anyone with the power to fix it. Once they know this, they will do something about it. DuBois further clarified that this criticism should be constructive criticism. Although people have the right to express themselves, they should do so with the purpose of improving or bettering other people, not bringing them down not mocking them in any way (DuBois, 2008, 45)
What DuBois was attacking was Washington's demands for rights for blacks was limited, without emphasizing other concerns such as the right to vote, civic equality and education based on one's capability. The demands Washington made were limited to labor and for DuBois, this was not enough. He felt Washington was becoming accommodating to the whites in the South. He inferred that Washington appeared to be very submissive, a typical attitude of their early forbears who were slaves of the whites.
He further criticized the efforts of promoting education among blacks which he found half-baked, if not half-hearted by saying: we find first, boundless, planless enthusiasm and sacrifice…then the launching and expansion of (that) school system amid increasing difficulties; and finally the training of workmen for the new and growing industries. This development has been sharply ridiculed as a logical anomaly and flat reversal of nature. " (DuBois, 2008, 68) But in fairness to Washington, he believed he was looking out for the interest of the black people though he asserted it differently, far from what the NAACP would expect from him.
He preferred the gradual building of rights for the blacks by starting with labor, something blacks have been familiar for generations. In one aspect of his speech, Washington warned white America of the consequences of marginalizing the black people by depriving and denying them the rights that would allow them to better themselves saying that "we shall constitute one third of the ignorance and crime of the south or one-third of its intelligence and progress. One-third to the business and prosperity… r we shall prove a veritable body of death, stagnating, depressing, retarding every effort to advance the body politic. " (Washington, 1895)
Washington had built a vast network of supporters among black communities and also included liberal whites. This had helped open doors to him as he gained access to top national leaders in politics, philanthropy and education. This network had proven to be very helpful because they helped raise funds to establish and manage thousands of small community schools and institutions of higher education for the betterment of blacks, especially those living in the South.
Based on what he said above, he emphasized to his above-mentioned supporters of the consequences of further marginalizing the blacks and that it would have long-term effects not only on their relationship, but also to American society as a whole. It would be unlikely that Washington was encouraging blacks to be slaves again in accepting labor. He knew better considering the fact that he was born a slave and knew how it felt. His advanced education did not make him forget about it. It would also be interesting to note that DuBois was not born of a slave family and therefore, was not in a position to criticize him on his approach.
DuBois came to think that Washington's education made him presentable to white society but at the same time it appeared to have "brainwashed" him into making such a remark that blacks were only suited to labor and would not amount to anything else. But if one were to look at where Washington was coming from, he felt that the blacks were not yet ready to be completely assimilated into mainstream society. It would be a folly to make them take the plunge right away unprepared and might make complete fools of themselves if they were not prepared.
He said: "The wisest among my race understand that the agitation of questions of social equality is the extremist folly, and that progress in the enjoyment of all the privileges that will come to us must be the result of severe and constant struggle rather than of artificial forcing. No race that has anything to contribute to the markets of the world is long in any degree ostracized. It is important and right that all privileges of the law be ours, but it is vastly more important that we be prepared for the exercise of these privileges. (Washington, 1895)
By way of conclusion, it can be inferred here that Washington felt that making criticisms was still too early. The black people needed to prove their worth to society to be deserving of the rights they were fighting for although DuBois may have had a point. It can be further inferred that the right to free expression and speech would only be worth it if one knows how to exercise it, regardless of race. Washington was not denying this to the black people, but rather delaying it until they were ready to use it responsibly.
Related Topics