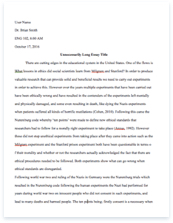 The whole doc is available only for registered users
Pages: 3
Word count: 739
Category:
A limited time offer! Get a custom sample essay written according to your requirements urgent 3h delivery guaranteed
Order Now
Abstract
This analytical essay presents information about Sherron Watkins, the Enron whistle-blower and presents justification for her whistle blowing. The essay also presents her media portrayal, the retaliation she faced etc. The Works Cited page appends two sources in MLA format.
Introduction
     In general terms a whistle blower is a person within an organization who exposes misconduct and informs the employer about it. Such a person is Sherron Watkins, who is commonly known as the 'Enron Whistleblower'. Sherron Watkins used to work as the Vice President of Corporate Development at Enron Corp. It all started in the year 1996 when the CFO of Enron Corp. Andrew Fastow started making off-book articles for his own well-being. By the end of the year 1995, Enron was on the top of the list and Sherron Watkins, who was then an accountant, completed a challenge that was developed by her boss Andy Fastow. This challenge was one that would turn out to be a life-turning point for her and her boss as well. For her as a whistle-blower and for her boss Fastow, as someone who manipulates data-sheets.
     The company was facing major losses and it was Sherron who unearthed the whole story. She wrote and tried to inform the founder of her company but all her warnings went unnoticed. Later it was found that the people she was complaining to, were involved in the fraud that was going around in the company. She reported to Kenneth Lay and Jeffrey Keith Skilling who was the CEO of Enron Corporation, but eventually both of them were convicted of certain very serious crimes related to the economic downfall of Enron Corporation. As we know, a whistle-blower is a person who informs the higher authorities probably even the police about misconducts in an organization. Considering Sherron Watkins, she did not do that.
All she did was write a letter to Kenneth Lay, which was not even made public till nearly five months. According to sources, "a whistle-blower, literally speaking, is someone who spots a criminal robbing a bank and blows a whistle, alerting the police. That's not Sherron Watkins. What the Enron vice president did was write a memo to the bank robber, suggesting he stop robbing the bank and offering ways to avoid getting caught. Then she met with the robber, who said he didn't believe he was robbing the bank, but said he'd investigate to find out for sure. Then, for all we know, Watkins did nothing, and her memo was not made public until congressional investigators released it six weeks after Enron filed for bankruptcy" (Ackman, p.1). Basically where she went wrong was that she did not inform people in the right way or approached people that she should have, but she stood justified in claiming that Lay knew that the organization was facing financial issues, but he portrayed that the company was doing well and lied about it along with Skilling.
Media Portrayal and Retaliation
      Whistleblowers generally face much retaliation, but in Sherron Watkins case, she did not face any retaliation what so ever, although her lawyer did claim that Sherron was made to feel like an outcast. The media then had mixed comments over her and portrayed various feelings and comments at her. Some believed that Sherron's actions were justifiable, while others simply commented that she did not do the right thing and hence cannot be considered as a whistleblower (Pellegrini, p.1). But she still came around to be known as the "Enron Whistle-blower" through the media. The image of Ms. Watkins has not changed much in all this time and she still remains as one of the most famous people who have uncovered frauds in their organizations. Whistleblowers have legal protection rights as long as they meet certain conditions. Keeping in mind that Sherron Watkins did not face any retaliation or anything as such; she did not need to claim these rights.
Conclusion
     In the light of the above discussion, we can hereby culminate that Sherron Watkins and her image as a whistle-blower remain debatable. She did not face any reprisal although there are legal protection rights for whistle-blowers.
Works Cited
Ackman, Dan. Sherron Watkins had Whistle, But Blew It. Forbes. February 14th, 2002. Pp.1.
Pellegrini, Frank. Person of the Week: Enron Whistleblower. Time. January 18th, 2002. Pp.1.
Related Topics