Relationship between critical thinking and ethics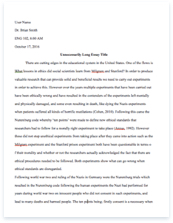 The whole doc is available only for registered users
A limited time offer! Get a custom sample essay written according to your requirements urgent 3h delivery guaranteed
Order Now
Have you ever been curious about the relationship between critical thinking and ethics? In this essay you will explore what critical thinking is and the steps to it. What the Ethical Lens Inventory is and how ethics influences our decision-making and how it's applied in our daily life.
In General Psychology one of the definitions of critical thinking is "Critical thinking examines assumptions, discerns hidden values, evaluates evidence, and assesses conclusions." Critical thinking is used several times throughout the day in our lives. It helps us with our decision-making ability. There are six steps in the critical-thinking process: remembering, understanding, applying, analyzing, evaluating, and creating. These six levels of thinking fall into three major categories, which include: checking your attitude, checking for logic, and checking the evidence. We have to remember when using our critical thinking skills to separate our opinion from facts to obtain accurate information.
After taking the Ethical Inventory Lens Assessment, I learned that my preferred lens is Rights – Responsibly and Results lens; which means, "I balance my reason and intuition skills to determine how to complete duties while achieving the best for each individual." Additionally, I discovered my Blind Spot is "being satisfied with too little good. I can fail to be accountable to those who are depending upon me when I exercise free will. Once I satisfy my own needs, I can become complacent, leaving problems unresolved and others to fend for themselves."
My personal ethics relates to critical thinking by using the process of critical thinking and knowing our morals (right from wrong). We apply it when having to make decisions in our daily life. With our professional and societal responsibilities we use our ethics (our morals, beliefs, knowing right from wrong) on a daily basis. For example, while were driving to work we use ethics by following the rules and not getting a ticket. Another example, while at work and if you handle money or just conversing words with a costumer we use ethical and critical thinking. We have learned moral and ethical skills not to take the money for our personal benefit. We talk to costumers and stranger's through-out the day with respect. At a very young age, we are taught the difference between right and wrong. That has been one moral rule that has grown with us through various situations through-out our life.
In conclusion, we learned about the relationship between critical thinking and ethics. How ethics (our morals) weight our decisions when using critical thinking. Ethics and critical thinking will guide an individual on their decision making if they are true to themselves.
"Petress, Ken. "CRITICAL THINKING: AN EXTENDED DEFINITION." Education 124.3 (2004): 461-6. ProQuest. Web. 1 Dec. 2014."
Related Topics