Quality Improvement Report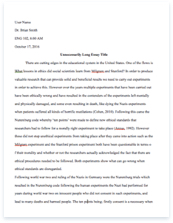 The whole doc is available only for registered users
A limited time offer! Get a custom sample essay written according to your requirements urgent 3h delivery guaranteed
Order Now
In the health care industry there is no distinct, commonly established description. The reason for this is because health care quality has several unusual, intricate aspects of care from several different perspectives. Quality can be measured in several different ways. It can be measured in terms of outcomes, the end results of care and treatment, or it can be evaluated in terms of the course of action, which is, the way that the care is delivered. Depending on who is working on the quality for their medical facility the definition of the word can vary. This report will explain the necessary what quality means in the health care industry and how it may be improved in Cindy Janowski's organization (UOP, 2009).
Foundational Frameworks of Quality ImprovementQuality improvement is most successful when viewed as an organization-wide process however; it is critical that quality improvement is implemented at the department level (Kazemek, E. and Charney, R., 1990). Each department needs to ensure that they know who their customers are. Customers are not only external such as the patients, physicians, third-party payers and the departments office staff. Other departments within the organization and those who the department provides services to are also customers.
Each department must understand the organizations vision and their departments quality mission (Kazemek, E. and Charney, R., 1990). One person cannot achieve the department and organizations quality by themselves. Developing a mission statement that is specific for each department along with their quality goals is a valuable tool and give each team member ownership for their success (Kazemek, E. and Charney, R., 1990). Every department in Cindy Janowski's organization needs to have performance metrics that are realistic. The metrics need to meet customer quality standards and expectations by the technical quality delivered as well as the service quality that is delivered (Kazemek, E. and Charney, R., 1990).
Why do various healthcare stakeholders define the quality of care differently?Depending on the role that each stakeholder plays within the health care organization, their definition of quality can be perceived differently. Each stakeholder has a different view for the definition of quality. Although each of their definition emphasizes different aspects of care, it does not exclude the other aspects (Ransom, E., 2008). It is often central to how payers, managers, and society define quality of care, whereas physicians and patients typically do not recognize cost-effectiveness as a legitimate, consideration in the definition of quality (Ransom, E., 2008).
Roles of Various Clinicians and Patients in Quality ImprovementIt is crucial that all clinicians are engaged, encouraged and supported so that they feel self-assured in taking the accountability improving the quality of care. The patients point of view on the services that they have received is an important role in the quality improvement. Using the feedback they can measure their performance standards and make changes that need to be made to ensure the highest amount of quality is being provided.
Why is Quality Management needed in the healthcare industry?Over the last several decades the costs of health care has risen dramatically in all areas of the industry. Health insurance companies as well as the governmental run programs need the use of quality management to assist with the excessive amount of changes that occur consistently and ensure that the most effective tools are being used to result in successful outcomes for the society as a whole.
What areas must be monitored for quality?Structural measures of quality typically include the characteristics of the resources in the health care system, including individual practitioners, groups of practitioners, organizations and systems of care, geographic location, and accessibility of services (Donaldson, M., 1999). Measures of performance is another area that must be monitored which, could include the interpersonal aspects of care, service, timeliness, and convenience (Donaldson, M., 1999). The technical aspects of care includes the timeliness and accuracy of diagnosis, the appropriateness of therapy, complications, and mishaps during treatment, and coordination of care across delivery settings, episodes of care, and professional disciplines (Donaldson, M., 1999).
What accrediting and regulatory organizations are involved in quality improvement? What helpful resources and organizations affect quality improvement?The Joint Commission on Accreditation of Healthcare Organizations (JACHO) established standards for each component of the health care organization. The standards emphasize on achieving the outcomes, allowing the medical facilities to define the process they feel will result in continuous performance improvement (www.jcaho.org). The Institute for Healthcare Improvement (IHI) is a non-profit organization working since 1991 to accelerate improvement in healthcare systems in the United States, Canada, and Europe by fostering collaboration, rather than competition, among healthcare organizations (CQI, 2001).
The National Association for Healthcare Quality (NAHQ) is the nation's leading organization for healthcare quality professionals. "The National Association for Healthcare Quality is dedicated to the continuous improvement of quality in healthcare and to supporting the development of professionals in healthcare quality" (CQI, 2001). The National Committee for Quality Assurance (NCQA) is an independent, non-profit organization devoted to assessing and reporting on the quality of managed care plans. NCQA's mission is "to improve the quality of health care delivered to people everywhere and to provide information that enables purchasers and consumers of managed healthcare to distinguish among plans based on quality, thereby allowing them to make more informed decisions " (CQI, 2001).
There are many resources available to health care organizations that will assist them with their quality improvement. There are different resources and organizations available in each state. Health care organizations can contact these organizations to assist them with their quality improvement by up-training their employees and can also educate the public on the different initiatives that are currently taking place.
ConclusionContinuous quality improvement is crucial for the ongoing success of every organization. This Quality Improvement Report created by this writer will assist Cindy Janowski and her organization with their quality improvement and continue their success within the health care industry. The reports implements the information that the organization needs to continue with their quality improvement and improve their competitive edge within the health care industry.
References:
Continuous Quality Improvement – Healthcare Quality and Patient Safety. (April, 2001). Retrieved on November 16, 2009 from http://sph2.umdnj.edu/omcweb/2000/Continuous%20Quality%20Improvement%20-%20Healthcare%20Quality%20and%20Patient%20Safety.htmlDonaldson, M., (1999). "Measuring the Quality of Care." The National Roundtable of Health Care Quality, Institute of Medicine. Retrieved on November 16, 2009 from http://www.nap.edu/openbook.php?record_id=6418&page=8JCAHO. (2009). http://www.jcaho.orgKazemek, E. and Charney, R., (1990, September). "Improving Departmental Quality – Healthcare Industry." Healthcare Financial Management. Retrieved on November 15, 2009 from http://findarticles.com/p/articles/mi_m3257/is_n9_v44/ai_8896812.
Ransom, E., (2008). "Basic Concepts Of Healthcare Quality." The Healthcare Quality Book: Vision, Strategy, and Tools, 2e. Retrieved online on November 15, 2009 from https://ecampus.phoenix.edu/classroom/ic/classroom.aspxUniversity of Phoenix (2009), Quality Improvement Report. Retrieved online on November 15, 2009 from https://ecampus.phoenix.edu/classroom/ic/classroom.aspx
Related Topics