Purest Skin Care Products on Earth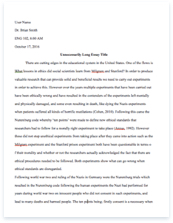 The whole doc is available only for registered users
Pages: 9
Word count: 2133
Category:
A limited time offer! Get a custom sample essay written according to your requirements urgent 3h delivery guaranteed
Order Now
Jurlique skin care products are produced by the Australian company that commit the slogan of "Purest Skin Care Products on Earth." The product's benefits emphasize on healthy, radiant skin and body regardless of age or climate. Julique products consist of natural anti-oxidants and herbal substances which strengthen and nourish the skin and the products are suitable for all kin types. Due to the company's products have been expanding rapidly but have now saturated the Australian market. In order to expand the sale volume into international markets, the company needs to choose suitable countries to export the product successfully.
This paper is a business opportunity analysis which conducts the research in term of product description, target market, company's overview, international marketing analysis, market audit and competitive analysis, final recommendation, selection criteria. Lastly, recommended strategies for exporting Julique skincare product into France if the result of business opportunity analysis is negative.
Due to the writer is very interested in France, one of the highest growths of cosmetic industry countries in the world which could be the most potential European country that exporting Jurlique skin care products would be successful. However, after analyzing the business opportunity of the country, the report recommends that France is not suitable European country for exporting Jurlique skincare product. Although France has a very huge cosmetic market, it is pretty hard for new foreign cosmetic product to get in. Due to extremely competitive cosmetics market, trade openness, protection on local products and tariffs on foreign imports and in terms of packaging, registration of formulas and safety tests and Language barriers, these set back evidences are the international trade barriers for exporting Jurlique skincare products.
The report also conducts recommended strategies for Jurlique skincare product in order to get into the French cosmetic market. It is considered into several sections by following the marketing mix: product, price, place and promotion including other key issues.
Product Line – Day & Night moisturisers & treatments
Types of Product within the product line:
a. Herbal Recovery Gel – 30mL & 100mL
Herbal Recovery Gel is a light gel concentrate for day and night. Replaces night creams, ampoules and serums. It works deeply to firm, tone, and restores hydration to skin and may be applied before other Jurlique moisturisers to boost performance and help maintain ideal moisture balance. Herbal Recovery Gel contains natural antioxidants and is suitable for all skin conditions, including oily and problem skin.
b. Eye Gel – 16mL
A light, antioxidant gel that dramatically firms and tones, diminishing the visual signs of aging and expression lines. It may restore tired eyes while assisting to reducing puffiness and dark circles. This gel is soothing and non-irritating which suits all skin types.
c. Neck Serum – 30mL
An intensive treatment formulated to help reduce the visible signs of aging and prevents future visible damage due to environmental and lifestyle influences. The unique blend of exquisite ingredients that improves and maintains a firm, resilient neck and decolletage.
d. Winkle Softener Beauty Cream – 8mL & 40mL
Women in between the age of 30 and 39 are the target audience which have high potential in the natural and herbal skin care products. It is estimated that in the year 2000, the largest proportion of the population among females are the age from 35 to 39 years old. In the future the ages of this major group will continue to be older according to the forecast. In addition, this age group tends to be the wealthiest with the greatest purchasing power. Therefore, there is high market potential for these products to target at these consumers.
On the other hand, women in France are influenced by the power of fashion in which they tends to spend huge amount of money on cosmetics, skin care, hair care, perfumes and bath products. With the popularity in anti-ageing products and increasing demand in healthy and organic product, promoting the Jurlique product line of "Day & Night moisturisers and treatments" visibly illustrate a high market yield within the cosmetics and toiletries industry.
Jurlique is an Australian company that claims to make the "Purest Skin Care Products on Earth." The products promote healthy, radiant skin and body regardless of age or climate. It contains natural anti-oxidants and herbal substances which strengthen and nourish the skin and it is suitable for all skin conditions due to hypo-allergenic and pH balanced. Jurlique extracts all synthetic chemicals, fragrances, preservatives and pollutants. It is not tested on animals nor contains animal content. Jurlique knowledge is based on the ancient arts of Aromatherapy, Herbalism, Homeopathy and Alchemy. On the other hand, the methodology to produce the skin care is based on the unique Bio-Intrinsic(tm) extraction method that captures the "life-force" of the plants, enhancing the potency. In addition, Jurlique organically grows herbs on their own Herb Farms in South Australia which can clearly differentiate itself and the products are fully biodegradable and packaging is recyclable, caring for the environment (Jurlique, 2003).
France, located in Western Europe, is over 16,000km away from Australia. It is the largest west European country with a size of over 551,000 km2, and the country's neighbours include Germany, Spain and Belgium. In terms of languages, French is the predominant and official language in France. Therefore, language is a major consideration in deciding the marketing mix of the product (France census & statistics department, 2004; Lonely planet, 2004).
Due to the country's size, varied geography, climate in France may vary across by regions. The weather can be unpredictable from being high in humidity, fairly hot in summer and cold in winter and the rainfall patterns appears to be erratics throughout the country. The nightlife within the country also impact on the skin care products to be used by individuals. In France, some 24 hrs night clubs are offered as compared to late-night bars and cafes available in other European countries. As a result, the environment, lifestyle and change of seasons can influence on the skin type individual possessed. Hence, it is essential to market the product to the appropriate target market to sell the product efficiently (Columbus World Travel Guide, 2004; France Observatory, 2003; Lonely planet 2004; Yahoo Travel Guide, 2004).
Population
Population in France estimated at 61.7 million inhabitants as at January 2004. France's population is concentrated in urban centre and the population density of Paris is 20,000 per km2 while the population density of France as a whole is approximately 110 per km2. In terms of population growth, the year 2003 was marked by a significant rise in the number of deaths to a level not reached in Metropolitan France (mainland France plus Corsica) since 1985, due to the August 2003 heat wave (Eurmonitor, 2004; INSEE, 2004).
Economic Activities
France is the fourth-largest economy in the world and the second largest market in the European Union (EU). French total GDP is $1,547,579.12 in 2003 and GDP per capita is $26,000 in 2002. GDP real growth rate is 0.2% in 2003, which reflects France is a highly developed country. France is a high-income country with personal income per capita of EUR$14,564.35 and EUR$17,255.59 in 2002 for female and male respectively. With household annual disposable income, in 2003 an average household earns in between over EUR$417 (US$500) and EUR$6,250 (US$7,500) (Euromonitor, 2004).
Trade restriction
France as a member of the European Union must abide the obligations within the European Union. European Union has a harmonized trade system and strict laws. Regulations in terms of packaging, registration of formulas and safety tests are time consuming and expensive, and delay the introduction of products in the French market, meaning that only large multinational companies can afford to operate. In the last two years of the review period, no significant new manufacturers entered the French cosmetics and toiletries market.
Channels of distribution
In France, large retailers are required to switch to an intensive growth model whereas before growth relied essentially on generating high volume sales through retail sales area expansion and by offering best selling prices. On the other hand, the discounter sector has expanded intensively over the last 10 years (Euromonitor, 2004). Department stores remain an important retail channel for cosmetics and toiletries with 11.8% of total sales. In 2003, there are 151.99 department stores and 23320.19 chemist and druggist outlets. Department stores generated 55.1% of value sales in 2002, amounting to £4.9 billion. Variety stores represented 44.9% of large retail outlets, amounting to £4 billion. There are 6 main department stores in France, Rallye SA and Grands Magasins Galeries Lafayetta hold the highest share value. However, department stores still remain with the highest total sales in clothing and food (Euromonitor, 2004).
Media
Advertising is very important in the French cosmetics industry. In 2000, 13 per cent of French cosmetics companies' capital was spent on publicity. On the whole, the cosmetics industry takes up a quarter of the advertising space in France. (Euromonitor, 2004).
The Product and Market
Organic herbal anti-ageing skincare products are in the trend of the modern cosmetic market. Research in France expects an exponential growth of organic products in all cosmetic sectors, currently estimated at over 20-25% per year, suggests that organic cosmetics could soon turn from a niche to a mass category. Also the middle aged and retired female consumers show the highest interest for organic anti-ageing products.
Organic skincare products provide a more natural alternative. This is the most important reason contributed to the rapid growth of this sector. Since many of them are purely plant-based with little or without any artificial additives, they bring a better perception to customers, as they are increasingly aware about the presents of artificial chemicals in the skincare products that they are using.
In France, this category of product looks really bright in future; it may be able to capture the entire consumer market at the highest end. For anti-ageing, there are solutions which can provide a faster treatment with a more successful result, such as botox injection and cosmetic surgeries. Also, the giant cosmetic companies are capable of investing heavily in research and development on products with good anti-aging result, which need not to be organic products. Consumers will still have faith in them because of the brand name effect.
Moreover, French consumers are fashion oriented and willing to try out any new products especially when the products are endorsed by celebrity on television advertisement. In terms of using skin care products, they still remain highly brand conscious and are not willing to take any chances on unbranded products. Recent years, anti-ageing products in France has shows strong growth in the cosmetics and toiletries industry, this in turns is the causes consumers to spend on such high-end items despite economic uncertainties.
Competition
There are many leading brands in France that are local owned, not only because of the traditional culture of couture and make-up in France, but also because of strict laws. The French cosmetics and toiletries market is characterised by a host of long-established companies and brands that benefit from large resources for research and development, as well as advertising and promotion. Brand that are already present in the organic category include, Doux me – products made of 100% organic essential oils, floral waters, and vegetable oils; Sanoflore – product range which commercialising essential oils destined for medical use and; L'Occitane – products are based on essential oils and natural ingredient, ingredients are from nature if possible.
Final Recommendations
After reviewing business opportunity in France, is proved to be a bad market for Jurlique skincare products. Although the sales sector of skincare product in France is very huge, there are some set backs which makes France is an unsuitable market for the product.
One common advantage for French market at the moment is the strong growth on organic cosmetic products after an increase of awareness in the goodness of natural herbal products in recent years. On the other hand, a common disadvantage is the extremely competitive cosmetics market, with almost 50 major brand names currently existing in each market. Also, the small degree of trade openness in France makes foreign products harder to enter and to explore the market.
For France, the strict regulations on foreign imports contribute one of the most severe disadvantages. The protection on local products and tariffs on foreign imports in France are widely known. Regulations in terms of packaging, registration of formulas and safety tests are time consuming and expensive, and delay the introduction of products in the French market, meaning that only large multinational companies can afford to operate. Researched has shown that in last two years no significant new manufacturers entered the French cosmetics and toiletries market.
Even though the product can successfully enter the French market, it still needs to face the heavy competition from the local cosmetic giants, along with the local brands that produce organic cosmetics. Consumers in France are also more likely to choose local brands rather than foreign imports. Particularly, for anti-aging products, more consumers in France are willing to pay for quick-fixed solutions such as botox injection and cosmetic surgeries.
Related Topics