Pro's and Con's about living in Utopia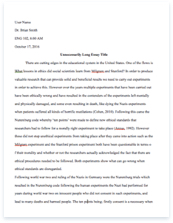 The whole doc is available only for registered users
A limited time offer! Get a custom sample essay written according to your requirements urgent 3h delivery guaranteed
Order Now
Utopia is a model for people around the world to get an idea about a perfect society. It consists of a perfect world where habitants live perfectly in every way, from height to weight. The harmony is perfect and there is monotony and everything is the same. From rocks to mountains, from animals to trees; everything is the same and nothing is by any way left behind. This is given with the idea that people will be equal, from color to nationality; there will be no racism. Everything would be peace and harmony.
A world like Utopia would be kind of boring for the population, because there wouldn't be variety or creativity. Everyday would just be a routine, so there will be less fun and maybe less happiness. The people would not know who is who because everybody would be the same. At the school everybody would have the same grades and everybody would act exactly as everyone else. There wouldn't be poor or rich people, then some people wouldn't work because they would get money for a living anyways. A Utopian government would basically need the help of everybody to prosper.
The bright side is that there wouldn't be racism, which is because everyone would be alike so there wouldn't be reasons act racist. Everyone would have the same things so there wouldn't be envy or greed. Maybe the people would be more open-minded about the world and nature. They would need to be amazingly organized. Everybody would need to make their tasks to make the city prosper. In the other side, there wouldn't be creativity, for example; everyone would have exactly the same house, same clothes, same car, etc.
In conclusion, the idea of a city following utopian ideas is just about people living in a perfect world where everyone is equal. Some people nowadays think that communism is based on utopian ideas about how to live and how to spare goods. These communism governments are also based on Karl Max ideas about how to control a society. Some people would think that an utopian world would be perfect, some people think it would quite boring, it really depends in what you prefer; a boring but good living, or a fun and undefined living. We think that an utopian world would probably lead itself to destruction, just because of its organization, let's give an example; maybe someone robbed something from another, and that other person wouldn't be able to respond because of the lack of police, so it would start a social disjoint.
Related Topics