Promote Positive Behaviour Argumentative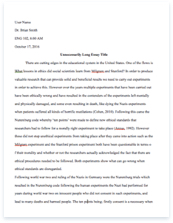 The whole doc is available only for registered users
Pages: 4
Word count: 878
Category: Behavior
A limited time offer! Get a custom sample essay written according to your requirements urgent 3h delivery guaranteed
Order Now
Managing other's people behavior is a serious issue, relating to law and human rights. As is often the case, individual having problems with positive behavior and obedience are under the watchful eye of the specialists. Due to the situations, where individuals face difficulties managing their appropriate behavior, it is of the utmost importance to use effective means of influence. However, those means should correspond to the Human Rights Acts and Children Rights. It is necessary to preserve the borders and private space of the individuals and respect their rights. Promoting positive behavior does not mean taking severe measures. It means providing qualified support, enabling individuals to change their conduct for the better. What is more, encouraging can also positively influence the behavior of individuals. In case, if abovementioned methods fail, there are other means of influence. Those may assist in the process of correctional education.
The Nature of Restrictive Interventions
Restrictive intervention is a type of preventive measures usually taken in serious cases. These means are created with the aim to prevent and eliminate improper behavior of the individual. The measures are usually temporary and should be eliminated as soon as possible. The nature of the interventions can be explained simpler. While applying these interventions the freedom of movement of the individual is usually limited. These methods presuppose the use of physical interventions, which may assist in managing the challenging behavioral changes.
These measures are usually taken to allow a person to quickly calm down and renew self-control. Restrictive practice is a handy tool for caring personnel usually dealing with individuals with special needs. They may include both physical measures as well as medications. It is an effective mean in the process of managing complicated behavioral issues.
Caring Personnel to Warn!
In case, when caring specialists face the necessity to apply physical or medical restrictive interventions, they have to be aware of the fact that, it is obligatory to fixate this fact. Caring specialists should be aware that taking such measures corresponds to the Human Rights. However, it stills being a serious issue. For this reason, it is necessary to compile an official report having all the details.
The important thing to be aware of is that individuals should be treated with the respect and support. Care specialists should respect their dignity, treating them with kindness and respect. People with special needs must be protected and preserved.
Why Restrictive Interventions Worth Using
The measure taken be all caring specialists should be efficient and directed at minimizing all possible risks. Interventions aim to limit the movements and stop all actions of the individuals with special needs to enable them to renew self-control. This measure is supposed to allow them to reconsider their behavior, calm down and change their conduct. Such positive and pro-active care should be aimed at making the life of individuals easier.  People demonstrating negative behavior or those being at risk of displaying challenging behavior should obligatorily receive qualified help. Positive behavior support assists in helping such individuals.
Obligatory Safeguards
Before applying preventative measures, stuff working with people demonstrating challenging behavior should be trained appropriately. What is more, specialists are obliged to act by the rules. A list of strategies should be obligatory preserved. Exists a plan of actions that specialists should follow to secure safety to patients and themselves as well. It is of the utmost importance to protect and support individual dignity and respect a patient.
Depending on the individual, restrictive interventions should be prescribed individually depending on the condition of the individual. The member of a caring team should be aware of all strategies and follow all rules. All the incidents should be followed by a report explaining all the details.
Proactive and Reactive Strategies
The division between these two types of strategies allows dealing with negative behavior in different stages of its demonstration. Proactive strategies serve as a preventative tool allowing preventing misbehavior. They are usually used to reduce the probability of misbehavior in future.  On the contrary, the reactive strategies are applied to deal with the negative behavior directly.  These methods are used to cope with the problem exists. These measures are more active and allow managing the existing current problem with behavior. Reactive practice enables to calm the person down without any harm to one's health conditions. The main goal is to divert the attention of a special patient to something else, distracting his concentration.
The Importance of Identifying Negative Behavior and Effective Strategies to Deal with it
Effective preventative measures helping to deal with the problems of negative behavior were established and a mean of treatment and effective medical help. The task of the caring practitioner dealing with individuals, who tend to demonstrate negative behavior, is to provide qualified assistance timely to prevent negative consequences.
Usage of patient-centered approach allows making the treatment maximally effective. Proactive strategies allow approaching each person individually and choosing appropriate preventative measures directly for that person. All the individual specificities should be taken into account. A strategy should correspond to personal values and preferences. Meeting of all the individual needs is compulsory.
Promoting positive behavior is an important issue. It requires the serious and careful approach of caring specialists. This kind of care is of the individualistic nature and demands person-centered approach. The program of positive behavior promoting care should be compiled individually. It will secure the highest efficiency of preventative care.
Related Topics