Professional Regulation and Criminal Liability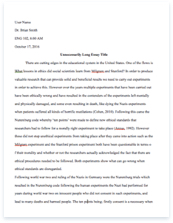 The whole doc is available only for registered users
A limited time offer! Get a custom sample essay written according to your requirements urgent 3h delivery guaranteed
Order Now
The profession discussed in this paper is going to be that of a doctor. Doctors have a challenging road ahead of them once they decide to become a doctor. Potential doctors must attend college, which first requires them to earn a Bachelors of Arts (BA) or a Bachelors of Science (BS) degree. The difference in these degrees is the BA is a humanities curriculum and the BS is a science based curriculum. The type of profession will determine which degree is better suited for an individual. This degree will take three to four years to complete. Once the Bachelors degree is obtained, the pre-med student must take the Medical College Admission Test (MCAT), which is a multiple choice test lasting five hours. Medical schools will pay close attention to the grades student receive when making their selections for admission. Medical school will take another four years to complete. During this time, the first two years are dedicated to book teachings and work in laboratories to prepare the student to be able to detect and diagnose disease and illness. "In the second year, the student is required to take the first part of United States Medical Licensing Examination (USMLE), which is given by the National Board of Medical Examiners" (Education-Portal, n.d., para. 5).
The next two years are spent with other doctors who guide and teach them through the clinical aspects of medical school and they will also complete the second half of their licensing test in the fourth year. The next step is for the medical student is to complete their residency. The number of years spent is residency is three to seven years depending on whether the student is going to specialize in a certain field, such as cardiology or internal medicine. The medical resident is given the final part of their licensing test during the first year of residency. Each state requires different licensing requirements. Michigan, for instance, "requires a potential physician to submit a 21 page application packet, $150.00 dollars, submission of fingerprints and background check, and submit scores of the USMLE" (Lamb, 2012, para. 3). Michigan only issues three different medical licenses. The three are: "Doctor of Medicine; a Clinical Academic Limited Physician license; and an Educational Limited Physician license" (Lamb, 2012, para.2). The Doctor of Medicine license is issued for four months to a year depending on when it was issued. Renewals are good for three years along with renewal fees and 150 hours of continuing education. Credentialing There are many requirements for doctors.
One is to make sure he is licensed and capable of providing care to his patients. Credentialing is a way to formally recognize that the doctor is qualified and competent in providing care to his patients. Credentialing verifies the doctor meets the standards as determined by such organizations by reviewing the physician's licensing, certifications, education, experience, and performance among other things. Doctors must also give any information about their previous state practices. Each state has certain requirements that must be followed. Regulatory agencies provide education and training for the physician and their staff to ensure they are compliant with the rules and regulations that must be followed, such as the policies set forth by the Health Insurance Portability and Accountability Act (HIPAA), which states a patient's right to privacy and confidentiality. If a doctor violated this act they can be held accountable and fined. A patient can bring suit against a doctor for malpractice also. Doctors must carry insurance for protection should they be held accountable for their acts.
Civil and Misconduct Complaint Processes Misconduct complaints dealing with inadequate care or professionalism are handled differently in each state. The states usually have a medical board in place to handle allegations made by patients and consumers. The first thing is to file a complaint in writing. The next step is to identify the type of misconduct. That can entail: practicing without a license, gross misconduct, guaranteeing cure, filing a false report, and refusing service because of age, sex, ethnicity, or race, to name a few. A claim can not be filed for poor attitudes, rude behavior, or bad communication skills.
All misconduct allegations are kept confidential. Misconduct is a serious claim and must have sufficient evidence of a possible violation before a hearing is held. If the investigation finds there is evidence to support the allegation, an investigative committee determines if disciplinary actions are warranted (lac.org, 2000). "At that time an attorney representing the health care agency will then prepare a notice of the hearing and a statement of the charges" (lac.org, 2000, p. 2). A committee of the Board for Professional Medical Conduct (BPMC) hears the case and has the authority to suspend or lessen the physician's license, impose community service, or order further training or education. The board can impose a fine to be paid by the doctor; however, the board can not award the patient money to be reimbursed by the doctor. Civil
A tort is filed when one person harms or injures another. Civil cases are heard in court and deal with allegations of malpractice, negligence, or misdiagnosis. There are four reasons to file a tort. They are: "To win compensation for victims of personal history;
To legally obligate the person who harmed the victim to pay punitive damages; To prevent recurrence of similar situations in the future;
To defend the victim's legal rights" (Lawyer Shop, 2008, para. 2). By filing a civil suit one is able to hold the physician liable for the damages or harm that was committed. Some states also let beneficiaries bring suit against a physician if the physician was involved with wrongful death of a loved one. Physicians can lose their license, or have it lowered, and are charged fines and damages. Criminal
Criminal cases against a physician begin when they are accused of breaking the law. This can happen because of fraud for one example. Physicians can commit fraud by billing for services that were never rendered or by performing a plethora of expensive testing that was entirely unnecessary. Fraud is a huge problem in the health care field and costs the American people billions of dollars each year. Other criminal activities can include the over prescribing of narcotics, which is a federal offense. A consumer or patient can file a complaint using the False Claim Act or qui-tam law. "The federal statute allows citizens to file a suit on behalf of the government against anyone committing fraud against the state through a contractual agreement" (Lawyer Shop, 2008, para. 10). Citizens who bring about these types of charges are awarded a percentage of the damages the government recovers. A doctor found guilty of criminal charges faces license suspensions or permanent loss, substantial fines, and time in prison. Disciplinary Actions
Health professionals must comply with rules, regulations, and policies as set forth by regulatory agencies. These agencies monitor health care providers and organizations to ensure they are providing quality care to patients. They make sure patients are safe and provide standards of care. These agencies make sure organizations are in legal compliance of all rules and regulations. There are federal, state, and local, regulatory agencies and their oversight is usually mandatory. When a complaint is filed, it is the agencies job to investigate the claim and to decide if there is a violation of the law and if the agency has a legal right to take action (Washington State Department of Health, 2011). If they do not the case is closed but if there is evidence an investigation is started. Disciplinary actions can be: "Reprimand or censure, advisory letter, monetary penalty, Remedial or corrective action, loss of privilege to practice, Probation with requirements to be completed with time restrictions, Suspension of license indefinitely or within a specific period of time, Revocation of license permanently" (Virginia Department of Health Professionals, n.d., para. 16).
All states have their own restrictions or rules so one would need to check with the state they reside in to make sure they follow the correct guidelines. Conclusion
Doctors are expected to have a certain professional manner about them. They are expected to save lives and diagnose disease and illness. Doctors are human and they make mistakes. The problem is people want the doctor to pay for those mistakes and they are all too happy to file negligence or malpractice suits against them. This has had an impact on the way doctors practice medicine. When one looks at what a doctor must pay to get through college, med-school, and their residency, and then look at the insurance cost they must have to protect themselves form litigations, it is understandable why there is a decrease of people entering the career field. Is it really worth the risk?
References
Education-Portal. (n.d.). Requirements to become a doctor, para. 2 & 3. Retrieved April 22, 2012, from http://education-portal.com/requirements_to_become_a_doctor.html lac.org. (2000). New York State Department of Health: Office of Professional Medical Conduct (OPMC) FAQ's and complaint form-professional misconduct by Physicians/PA. Retrieved April 22, 2012, from http://lac.org/doc_library/lac/workshops/OPMC_FAQ_and_complaint_form.pdf Lamb, E. (2012). Michigan Medical License Requirements. Retrieved April 22, 2012, from http://www.ehow.com/about_5114704_michigan-medical-license-requirements.htm LawyerShop. (2008). Health Care Fraud, para. 10. Retrieved April 22, 2012, from http://www.lawyershop.com/practice-areas/criminal-law/white-collar-crimes/healthcare- fraud
LawyerShop. (2008). Tort Law, para. 2. Retrieved April 22, 2012, from http://www.lawyershop.com/practice-areas/personal-injury/overview/tort-law Virginia Department of Health Professions. (n.d.). The disciplinary process for licensed health professionals, para. 16. Retrieved April 22, 2012, from http://www.dhp.virginia.gov/enforcement/enf_DisciplineProcess.htm Washington State Department of Health. (2011). Health Professional Complaint Process. Retrieved April 22, 2012, from http://www.doh.wa.gov/hsqa/HealthProfComp.htm
Related Topics