Product Category Threats and Opportunities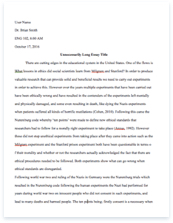 The whole doc is available only for registered users
Pages: 4
Word count: 845
Category:
A limited time offer! Get a custom sample essay written according to your requirements urgent 3h delivery guaranteed
Order Now
The footwear industry is marked by a variety of threats and opportunities affecting the ability for companies to gain and maintain market share. Within the domestic market there has recently been moderate growth despite the poor economic performance of the U.S. economy. The industry landscape is fragmented and highly competitive. Recent trends have seen a devaluation of footwear prices as a result of token brand loyalty and low cost strategies of discount manufacturers.
Emphasis has been placed on the Generation Y segment due to level of buying power and size of market. This has caused a shift to retro designs and an increase of specialty boutiques to cater to this market. Companies who wish to compete in this industry must emphasize fashion in tandem with function at reasonable prices, as well as have a substantial capital base to be successful.
Economic concerns
Sluggish economic growth and conservative consumer spending due to the onset of war and threats of terrorism have characterized the U.S. market recently. Job outsourcing due to relaxed or non-existent barriers has also curbed spending and diminished consumption expenditures. Indeed, the U.S. GDP, heavily reliant on consumption expenditures, only showed a 3% growth rate for fiscal year 2003. The consumer confidence index, a measure representing Americans' opinion on the strength of the economy and future personal earning potential, mirrored this trend by remaining below 100 through the beginning of 2004.
Though economic factors have been negative, the footwear industry has remained relatively stable. In fact, unit sales of footwear increased by almost five percent in 2003, with athletic shoe sales accounted for 35 percent of total. Conversely, though increasing in units sold, the sale price of footwear has declined steadily. A combination of promotion-based purchasing by consumers and a market saturated with low price competitors are two major factors contributing to the continued devaluation of footwear. This trend of bargain prices is likely to continue through the economic recovery period. Regardless, continued recovery will spur positive growth in the footwear industry because of increased disposable income.
Socio-cultural and Demographics
The Generation Y segment has moved into its own as a viable market for footwear. Comprising 25 percent of the total U.S. population, this group accounts for over $200 billion in consumer spending per years. through this spending power, the group has influenced the landscape of footwear retail. More specialty boutiques, such as Urban Outfitters Inc., have surfaced throughout the domestic market to cater specifically to the needs of this target market. Furthermore, research shows that this segment prefers smaller shoe companies such as Steve Madden LTD., Skechers USA, and other comparable brands, which accommodate their needs more readily than larger companies.
This generation has also induced change in the style of footwear. Recent trends have moved to footwear that focuses on flair more so than functionality. The recent shift has influenced changes not only in trend, but in extent of product lines as well. Companies have begun to offer a wider variety of footwear geared towards fashion conscious Gen Y's who now demand to be satisfied. Recent design trends have taken a general retro course. An increasing number of shoe companies have jumped on the bandwagon and begun marketing shoes that look straight out of the 1980's.
Another growing trend is the increased awareness of women in sports and fitness. This influx of celebrity female athletes has sparked a rapid growth in female consumers. Though there has been growing movement towards boots and sandals by this market, many women have become more interested in fitness and leisure sports activities. Footwear companies, such as Nike, have tapped in to this new female empowerment, giving rise to more attention on their women product line than before.
Competition
The footwear market is both mature and fragmented. Divisions in the industry are athletic, casual, dress, sandal, and sport/hiking. Companies focused on the athletic and sport/hiking segments focus on technologies that increase comfort and performance while the remaining focus on style aspects. Recently, large footwear companies have crossed lines, creating hybrid categories that encompass larger market segments than before. Furthermore, because of regional integration and overall relaxed trade barriers, a majority of shoes purchased in the U.S. are imported. Indeed, imports from China accounted for 80 percent of footwear sold in the U.S. Though mostly from large American firms, such as Nike, this tendency hinders the ability of smaller U.S. firms, who cannot outsource for cheap labor, to capture market share.
Competition is increasing, however, because of low barriers of entry into the market. New firms, despite lacking in global sourcing of production, can move in relatively easily because of low involvement of employees and readily available technologies. Though easy to enter, many smaller firms cannot sustain growth because of the power of consumers to dictate price, large retailer control, and the lack of brand recognition within the market. One saving grace, however, is the shift to smaller cycles in retailer orders due to the change in consumer buying patterns. The trend of consumer purchasing on a need basis has allowed companies with domestic manufacturing sources to compete with larger companies in terms of maintaining inventories in retail stores.
Related Topics