Probation and Punishment Persuasive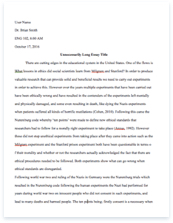 The whole doc is available only for registered users
A limited time offer! Get a custom sample essay written according to your requirements urgent 3h delivery guaranteed
Order Now
Law and order are two words that keep our society from collapsing on its self. We the American people have our freedom to do what ever we want; we can purse any career, go down to your favorite restaurant and order whatever you want. We have these freedoms because people fought for them many years ago, so that we wouldn't be under rule or dictatorship. Many people take our freedom for granted and end up on probation, in jail, or prison. In this paper I will be outlining the case of Kris, and his probation officer's view. I will also develop a profile for a perfect candidate to participate in an intensive supervised probation program. I will defend the strategy of matching inmates to a correctional facility and critique whether the programs and amenities geared toward the prisoners are effective.
The case I am reviewing is the one Kris off of Jurisville; Kris was involved in a theft with a popular clothing store. Kris tried to leave the store with a six hundred dollar jacket without paying for it. The store manger was lucky enough to stop him and hand him over to the police when they arrived. Kris remained in jail for sixty days, unable to make bail. He was ordered to spend a year in jail, but then later had his sentencing suspended, thus landing him on probation. Probation is a period of supervision over an offender, ordered by a court instead of serving time in prison (Dictionary 2014) Kris has a record from his past involving battery and criminal trespass, which landed him on probation and later extended probation. I find that his drug and alcohol problems are the source of his predicaments with law enforcement. After reviewing his case and Robert Donavon's results, I feel that I agree one hundred percent with everything Robert has detailed. Such as his periodic drug and alcohol testing, mental counseling, weekly meetings with the probation officer. Each rule is a benefit to the offender. I feel that with his prior record, Kris should be able to successfully complete his probation.
With probation comes a certain profile geared towards a successful completion in the program. A lot of the times criminals that are placed on probation are non-violent offenders. However, Many jurisdictions have a variety of offenders on probation (e.g., property offenders, domestic abusers, felony and misdemeanor offenders, and sex offenders). It all boils down to what is the capacity of the individual jurisdiction, what will the community tolerate, state statutes, resource availability, etc. How well someone does on probation depends on how well the offenders needs are assessed, how well they are supervised and what resources the agency has available to assist in their supervision and rehabilitation. The motivation of the offender is also a factor that has to be considered (APPA 2014). So one attribute has to be first time offenders.
Someone has never broken the law would benefit from a probation type sentence. It would benefit them through education of the justice system and the actual penalties involved in their crime i.e. being placed on probation versus serving time. Another attribute has to be a non-violent offense. Personally speaking, violent natured crimes should not be tolerated by society and have just consequences. There are variations on crime, but not all crime is the same. Some people would benefit going through probation while others find it as an opportunity to commit more crimes. The final attribute has to be the offender's character. Reviewing their history and criminal background will tell us everything we need to know if the offender would benefit from probation. Someone who has repeatedly broken the law and has been served probation already should not have a chance at it again. In regards to prisoner matching to correctional facility, I would have to defend it. Not all crimes are the same as I said before.
So why would you let a murder serve his time in a low security prison where there is more of an opportunity to commit crime? Matching prisoners to correctional facilities would benefit the community and their peace of mind. For example there was a prison break from a low security facility involving a convicted murderer, sex offender, and armed robber (Silva 2014). All violent crimes that landed them in a low security facility, which resulted in a man hunt throughout the town of Rockhampton. In regards to the programs geared toward prisoners, in my opinion they are effective, but to a certain extent.
It's true that taxpayers contribute to the programs and amenities for our prisoners, but they forget that it is for a good cause. The purpose of jail is to rehabilitate these offenders so that they become an active member of society and contribute in some form. While serving their time, inmates have options to further education, work honest labor that can lead to real jobs or certifications. So why would we take away these programs, if we're benefiting society? We want inmates to become productive so that we reach a positive outcome with their lives.
In conclusion we talked about the case against Kris and the outcome of probation. Sometimes it isn't enough, but the point is, probation is proven to be successful with Kris and should be again if completed successfully. I talked about the ideal profile for probation and voiced that repeat offenders, or offenders of high caliber crimes should not be eligible. Probation should be geared more towards first time offenders, non-violent crimes, and character conduct. Prisoner matching to correctional facilities are detrimental to the facility, community, and peace of mind. Why should murders enjoy the amenities of a low security prison? They shouldn't, or else you have something like what happened at Rockhampton. Finally, as a hard working citizen and taxpayer, we shouldn't take away programs for inmates to better themselves. Many are working hard to turn their lives around and not end up back in prison. That's the point of jail and prison; we want to rehabilitate these criminals to be active members of society. Law and Order is necessary and important to and as citizens in this country it is important that we abide by the rules set place.
References:
Probation. (n.d.). Dictionary.com Unabridged. Retrieved June 18, 2014, from Dictionary.com website: http://dictionary.reference.com/browse/probation
Probation officer. (n.d.). Dictionary.com Unabridged. Retrieved June 18, 2014, from Dictionary.com website: http://dictionary.reference.com/browse/probation officer
APPA American Probation and Parole Association Position Statement on
Probation. Retrieved from https://www.appanet.org/eweb/dynamicPage.aspx?WebCode=VB_FAQ#7 Kristian Silva (April 14, 2014) Prison break: hunt for four men, including convicted murderer. Retrieved from http://www.brisbanetimes.com.au/queensland/prison-break-hunt-for-four-men-including-convicted-murderer-20140414-36m16.html#ixzz357daAZPC
Related Topics