Women Are Better Employees Than Men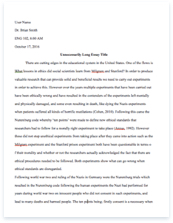 The whole doc is available only for registered users
OPEN DOC
A limited time offer! Get a custom sample essay written according to your requirements urgent 3h delivery guaranteed
Order Now
In this modern age and time, even with the years that passed since women were given equal rights as men especially in democratic countries, attitudes toward women as managers remain relatively the same: there are still few women who hold executive positions worldwide. At present, according to an article on women in management, the number of women in top management positions has increased by nearly 60 percent in the past decade but those who hold executive positions is still quite small at about 4. 8 percent.
A research revealed that women still hold less than a quarter, about 24 percent, of the senior management positions in privately held businesses globally. This figure, 24 percent, is identical to 2007, an improvement from 2004 when only 19 percent of senior level positions were held by women. However, it is assuring and satisfying to learn that the Philippines holds the highest percentage in the world, of women having senior management positions at 47 percent, according to the latest research from Grant Thornton International.
Figures from the Department of Labor and Employment (DOLE) show that women have steadily outnumbered men in executive positions. In 2002, the ratio was 1. 86 million females to 1. 4 males in supervisory and executive positions. In 2006, the ratio was 2. 257 million women managers to 1. 629 million men. By 2007, there were 2. 281 million female managers to 1. 677 million males. For example, Lily Linsangan, audit partner at Punongbayan & Araullo (P & A) and head of the firm's Business Risk Services group said: "Women in the Philippines have really broken the proverbial 'glass ceiling', not only in the corporate world but also in government.
As an auditor of more than 25 years, I have not encountered an all-male management team. In our own firm, eight of the 18 partners are women and five of the seven members of the management committee are females. " The widely accepted explanation for the small percentage of women holding top executive positions globally is the importunate negative stereotyping of women as able managers. Though the attitudes towards the role of women in society may have changed dramatically, women are still perceived as being less suited than men for managerial positions.
Extensive researches have been conducted on the actual differences between male and female managers and who are the better managers, men or women, but the strongly held stereotypes are still resistant to change. In a study conducted by Heilman, et al. in 1989, indicated that there is a tendency for the respondents to describe female managers as less self-confident, less emotionally-stable, less analytical, less consistent, and having poorer leadership abilities than male managers. These beliefs contributed a variety of assumptions about female managers, which in turn formed the basis for the negative stereotypes about them.
Some of these negative assumptions are: (1) Women tend to place family demands above work considerations. They have children to care for; thus, they lose time for, and interest in, their jobs. (2) Women work for supplemental income; as a result, they lack the necessary drive to succeed in business. (3) Women take negative feedback personally rather than professionally. They may run from the room in tears when criticized. (4) Women are unsuitable for top management positions because they are too emotional and lack aggressiveness.
To a certain extent, these assumptions may be true for many women in the entire workforce worldwide. However, it may not accurately describe the type of women who have made the decision to pursue managerial careers. For example, the assumption of family priorities may not apply to many of this type of women. In a survey conducted in the United States of America, of the highest ranked female executives (Baum, 1987), nearly half had never married or were divorced, and of those who were married, almost one-third did not have children.
Granting that some well-qualified professionals who are mothers may not want the pressure of having corporate jobs, this preference is not true of all or even most female professionals. Negative stereotypes about women as managers are actually forms of subtle discrimination. This discrimination is seen by many as the "simple-minded sexism of dirty jokes and references to 'girls', born of hatred and ill will", (Fraker, 1984). As a matter of fact, people who perceive female managers as different from males often do not realize that they are guilty of discrimination.
For example, an important assignment is given to a man rather than to a woman based on the assumption that women are not free to take on time-consuming tasks because of family commitments. In a study conducted by Wentling (1992), one woman was denied promotion in spite of excellent performance evaluations because her boss felt she would not be with the company very long; he assumed that she would probably leave the company to have children.
Another example of subtle discrimination comes in the form of: women are excluded from senior management positions because of perceptions that they will somehow change the management process by virtue of their gender. Wall Street Journal (Hymowitz and Schellhardt, 1986) reported and published the experience of Ms. Barbara Roberts. It wrote: In the five years Ms. Roberts spent at Dean Witter, she advanced from vice-president and coordinator of research services to senior vice-president and a member of the securities firm's board… Then, the annual promotions stopped.
Instead of being considered for what seemed like the next logical post-executive vice-president and director for marketing or research, Ms. Roberts was offered posts she judged to be lateral moves. The explanations she got often sounded blatantly sexist, she says. One man above her in the hierarchy told her that it was his problem; he couldn't make serious decisions if a woman was in the room. On the other hand, women are gaining a foothold as business owners and executives. Gender differences are increasingly playing out all over the world.
In the USA alone, nearly 11 million privately held companies are now majority-owned (50 % stake or greater) by women. This is according to the Center for Women Business Research, based in Washington, D. C. This figure accounts for nearly half (47. 7 %) of all private companies. In addition, these women-owned companies now generate $2. 5 trillion in annual sales and employ 19 million people. Obviously, women operate and manage businesses and organizations in some significantly different ways than men do.
Typically, when comparing managers, it is being framed as the men's command-and-control approach (male style) versus the women's team-building or consensus approach (female style). Generally, no single individual (manager) can embody every one of the many traits on what is "male" or what is "female" leadership or management style. However, recent studies point out that while both male and female styles of leadership or management can be effective, wherein the effectiveness depends significantly on the nature of the business or organization, the "female" style is increasing in frequency as having the edge.
Moreover, according to the studies conducted wherein the "female" style have the edge, these are some of the reasons why the women manage better and why they often do it better than the men. (1) Biology and their upbringing makes women more flexible. Gender differences stem from both nature and nurture alike. It's not only socialization that shapes men and women but also biology.
Researchers have discovered some physiological variations in the brains of men and women like: (A) Male brains are about 0% larger than female brains but women have more nerve cells in certain areas, (B) Women also tend to have a larger corpus collusum, the group of nerve fibers that connects left and right hemispheres. This makes women faster at transferring data between the computational, verbal, and visual. As a result, women are more flexible and find it easier to multitask. Men are usually classified as "left-brain oriented" which often makes them better at solving abstract equations and problems. Furthermore, as girls and boys grow up, they're also molded by differing sets of social rules and expectations.
Gender obviously dictates behavior, perception, and just about everything else. (2) Women exhibit the following leadership strengths: (A) Women tend to be better than men at empowering staff, (B) Women encourage openness and are more accessible, (C) Women leaders respond more quickly to calls for assistance, (D) Women are more tolerant of differences, so they're more skilled at managing diversity, (E) Women identify problems more quickly and more accurately, and (F) Women are better at defining job expectations and providing feedback. 3) Women typically outperform men at communications and interpersonal skills.
It was said that the "soft skills" and not the hard tools and analysis are required to grow a business. Generally, women delegate more readily and express appreciation more often. "Women ask questions, men tend to give answers," says Terri Levine, a career coach based in North Wales, Pa. , who often advises entrepreneurs. By communicating goals more readily and expressing appreciation more often, women tend to be better at making their staff and subordinates feel recognized and rewarded.
In today's workplace, when employees juggle multiple jobs and technology enables even the smallest businesses to compete in the global marketplaces, the ability to make staff feel charged up and valued is a definite competitive edge. This translates into cost-effective staffing and recruiting. (4) Women managers tend to have more of a desire to build than a desire to win. This is according to Debra Burrell, a psychological social worker and regional training director of the Mars-Venus Institute in New York. She said, "Women are more willing to explore compromises and to solicit other people's opinions.
By contrast, men often think that if they ask other people for advice, they'll be perceived as unsure or as a leader who doesn't have answers. " On the other hand, men tend to be more confident and faster decision-makers compared to women. Male managers are also more adept at forming "navigational relationships," that is, temporary teams set up to achieve short-term goals, says management psychologist Ken Siegel, whose Los Angeles firm, the Impact Group, works with executives to develop leadership. However, women are lately demonstrating higher levels of traditional "hard" or "male" skills as well.
Some investigators suggest that many women workers had such skills all along, but that male bosses either overlooked or misperceived them. Others think the cumulative years of experience of women and careful observation of their male bosses are broadening their skills. If owners of small and midsized businesses are able to keep their staff and stakeholders enthusiastic about their businesses, this may be the key factor in building success. "You want to delegate outcomes, not tasks," says Siegel. "You must have the ability to let go.
Women can do that better than men because their self-esteem is multifaceted," he says. "Men's self-esteem is based on what they do; it's uni-dimensional. " Men are so used to running the show and, for the most part, they don't reward the "female" style management because they either see it as weak or as a threat to their position. Women have to prove, repeatedly, persistently, and consistently that their way of managing also works, and work even better than some male managers' ways. In conclusion, certain types of women, whose numbers have steadily increased through the years; do make better managers than men.
These are women who have decided for themselves to succeed as managers and leaders just as much as certain men who have decided to do the same. It would be equally unjust or unfair and discriminating to make sweeping generalizations that at present, all women managers are now better than men. Although gender offer a really huge part in the way men and women manage, it is the drive, motivation, attitude, perseverance, and circumstance that a certain individual has and/or had to deal with, regardless of whether male or female, that fuels their rise to the pinnacle of success as far as management and leadership is concerned.
Nevertheless, it cannot be denied, as shown by recent statistics, that an increasing number of women who are engaged in businesses and organizations where the "female" style thrives, and due to their need and hunger to be recognized and to break the persistent misconceptions regarding their abilities and competencies as managers, have exerted extra high efforts to become better or to prove that they are really better than their male counterparts. Thus, this kind of women became the proofs that they can be better managers than men.
Related Topics