In which way does Marc Antony's speech sway the crowd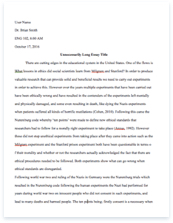 The whole doc is available only for registered users
OPEN DOC
A limited time offer! Get a custom sample essay written according to your requirements urgent 3h delivery guaranteed
Order Now
In Shakespeare's plays we can see how useful is the utilization of words. Certainly it was and it is very important to have this "gift" because this was the only mean to make people believe in you. In the play Julius Caesar, we could indicate that Antony carries one and he makes use of it to apply them within a large number of people.
Sometimes we can have different opinions about how people thought and they way their characters were to be persuade by a man. But it is a fact that when you are in the middle of a crowd and the majority of them agree what the man is saying, you are carried by this emotion and agree too.
An example of this is when Brutus comes out and gives a speech to the people to convince them that the killing of Caesar had to be done. With the words, the people are convinced that although Caesar was valiant, fortunate and many other things, he was ambitious; therefore he had to be assassinated. Until that point, Brutus controlled the mob but as soon Antony comes out and gives his speech, things go wrong for Brutus.
Marc Antony a very close friend of Caesar, makes the people realize that these "honourable men" as he says, are not a thing what Caesar was. They only were ambitious of power and did want get to the throne and rule Rome. But we can also appreciate how Brutus with the art of words tries to persuade the crowd that he killed Caesar because he loved more Rome than Caesar and it was for his good.
Sometimes we can think that for talking to a crowd you have to have something called a "gift of words". In fact, it is true, and some have more than others as we can see the contrast between Marc Antony and Brutus. Certainly these two men are very prepared but sometimes your knowledge doesn't matter if you are standing next to a man that can transmit that knowledge to the people.
From a start of Caesar's murder, Brutus without think in it twice, he goes to talk to the people. This is a very clever move because it is obvious that without people agreeing with you, you are nothing; and sometimes they have to judge you. But Antony seeing his good friend without life goes and defends his idea of how wrong is Brutus.
After this introduction of these 'honourable men' he starts to tell the mob how wrong were these men by thinking that Caesar was an ambitious man. He recalls the time when he presented him thrice a kingly crown and he did thrice refuse. Then he asks, is this ambitious? We can see how he plays with the mob and their feelings.
At first Antony speaks with caution and he doesn't accuses Brutus and the conspirators at once. He knows that his man has won the trust of the people and by that same way he can be seen as another ambitious man. So he has to use words very carefully and make sure that the mob agrees with him.
In a moment, he says to them "I must pause until it come back to me". This pause is a test of the strength of his position, fortified by a show of emotion. Now Antony can proceed with a confidence he has earned. However still his grief is genuine, in certain times he is acting and not acting to demonstrate what he wants to transmit to the people.
In the first intervention of the plebeians they agree that Caesar was not an ambitious man and someone should abide (pay the consequences) for this. Surely now, the trust has been gained by the mob to Antony. It is important to remark that they feel bad for Antony and try to see him as the noblest man of Rome. This is the point where we can certainly realize that the complete reliance has been gained to Marc Antony.
The prolongation of his speech refers Caesar's death as a mutiny and rage that makes the plebeians feel more into it and defend what has been done. Lets not forget how he makes present a will of Caesar that he has found in his closet. This testament makes the people want to know what were this noble man intentions. At the same time Antony plays with them and proofs if they are at his side by saying: "I fear I wrong the honourable men whose daggers have stabbed Caesar; I do fear it". An immediate response is heard that says: "They were traitors.'Honourable men'!"
The mob asks him to read the will and Antony accepts. He comes down and brings with him Caesar corpse. To even place more anger in the people he shows in which hole of the mantle had each one of the "traitors" had passed their knives to put an end to Caesar's life. It is incredible how this man uses each single word and puts them a distinct tone to be exactly transmitted to the listeners.
In fact he points Brutus stab as the unkindest cut of all. He remembers the people how Caesar saw Brutus, as his dearest friend. And the ingratitude brought him to be the cause of his death. Antony is making a clear atmosphere to make the mob dislike Brutus and take revenge. Certainly he wants him to be seen as the greatest traitor of all and the one that should suffer more for this mistake.
Now the plebeians are angry and want to take a full revenge for what has been done. They describe this action in seven poignant words: "Revenge! About! Seek! Burn! Fire! Kill! Slay! This is like the climax that Shakespeare wants to transmit to us in where the plebeians are ready to fight for the right thing.
In Antony's play with the mob he indicates that he is not an orator as Brutus is and he is not using them to make the suitable revenge for the killing of his good friend. Of course he is doing this but he wants to make feel the people as he hasn't obligated the, to perform this act. He speaks right on and as a friend that doesn't sees Caesar death as a fair one.
The feeling of revenge of the crowd makes them hurry into the pursuit of these conspirators and make them forget of the will. Antony to even make them more annoyed and take this issue as if it was a personal, one makes them remember about this testament. This even stresses the display of Caesar's body and it shows the climatic sign of (a) Caesar's nobility (b) the mob's fickleness (in needing to be reminded), and (c) Antony's virtuosity.
Now, when he reads the will were Caesar states that each Roman citizen should receive seventy-five drachmas. This stirs up even more the people and realize how royal he was. Now Antony makes them realize how was Caesar and that he cared more of Rome than him. The plebeians could feel this and had to honour him as he did to them. For this, they would burn his body in a holy place with the brands fire the traitors' houses.
Seeing all this speech and analysing each part we can realize several things. First of all it is impressive how the mob can change the way of thinking in a very radical way by hearing two speeches that talk differently to each other. This crowd is simply controlled by words and in whose it sounds more reliable. Secondly we could see the brilliant performance of Antony in his speech. It is really very brilliant in how this man uses words and plays with the mob as he wants, but in a very careful way.
Finally, there is a very clear picture in how Rome and their rulers worked together. If the Roman people agreed of what was said, they would support or otherwise not. So, the vast majority of decisions were to be passed through the people and see their reaction. It is important to remark that these were uneducated people and they were easy to fall for any story but this doesn't makes Antony's speech a less remarkable one.
Related Topics