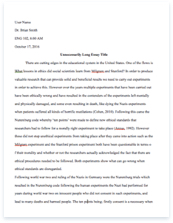 The whole doc is available only for registered users
A limited time offer! Get a custom sample essay written according to your requirements urgent 3h delivery guaranteed
Order Now
C. Wright Mills introduced the concept of social imagination in order establish a connection between the personal life that an individual encloses himself into and the social setting where in various political, economic, and social events occur that frames the course of history. According to Mills, individuals are often shortsighted particularly in times of troubles or difficulties. Men always find a way to overburden themselves with these troubles and difficulties that make them feel ensnared in a series of misfortunes and hitches that is their lives.
However, what individuals fail to realize is the need to widen their perspectives and perceptions in order to understand that the lives they live each and everyday are influenced by the world beyond their personal lives or "personal bubbles. " For Mills, understanding the concept of social imagination will allow one to understand how an individual's life is intertwined with the social setting.
Social imagination specifically follows how individuals will be able to determine their roles, positions, or values to society as a means of understanding why their lives turned out to be what they are now and also foresee what the future holds for them. For Mills, the social imagination enables one to see how his life will turn out in the end basing it on the various events that is happening in society everyday. For instance, the socio-economic position of an individual depends upon his nation's economic standing – defining the differences between third-world countries, developing countries, developed countries, and such.
In today's world, individuals who belong to the margin of third-world countries based on their economic standings are those who experience extreme poverty and hunger. Linking Mill's concept of social imagination, if an individual is having personal troubles and difficulties because of extreme poverty, it would help to consider how the economy of his country is a factor that allows poverty to subsist affecting not only his life, but also other people living in his country.
If one is able to link his "personal trouble" with it being a "public issue" through social imagination, then one will be able to achieve self-consciousness and awareness that transcends just plain overburdening of troubles and difficulties. For Mills, the social imagination stirs rationality and wisdom to look at a personal trouble as a public or social issue, leading to the understanding of the social sciences consequently fuelling the drive to look for solutions to resolve the problem on a wider scale and permanently.
For instance, the issue of poverty aforementioned through social imagination becomes a problem that is focused on the flaws of economic management by the government. This will lead to the realization of the need to change or transform economic management strategies and policies being implemented in order to resolve the issue of poverty. Mills' concept of social imagination may also be applied to an educational issue considered as a "personal trouble," but in a wider perspective, a "public issue.
Local universities in Seoul Korea have decided to refrain from increasing tuition fees as a response to the global crisis. However, Ha Yeon-Soob, a professor in Yonsei University has expressed how doing so will only burden the students, failing to directly address the problems of raising the quality of education and the individuals, from underprivileged families, access to education instead. For Ha, it would be wiser to carry on with the tuition fee hikes but establish scholarship programs from extra fees.
The main issue, which is whether tuition fees should be increased or not, is a personal problem because of difficulties in obtaining access to quality education. If one will ask students and their families individually about the main issue, they would probably side with the universities since tuition fee hikes will burden them with the need to look for financial resources to support the college education of students. However, the main arguments presented by Ha has established why it is a public issue enabling his readers to understand the real problems clearly.
Ha argued that freezing tuition fee hikes will affect the quality of education that universities will be able to provide to their students which is in contrast with the need to prepare students to face the global crisis in the future by handing them with a solid educational foundation that will assist them in making the right choices and decisions in becoming productive and contributive to society as future professionals.
Another argument presented was that freezing tuition fee hikes do not actually help underprivileged families as intended by this particular move of the universities since the cost of education is not lowered but simply unmoved. This will only help privileged families who will be paying tuition fees that are less than what they are capable of paying. For Ha, the solution is to continue with the increase of tuition fees in order to raise the quality of education while establish scholarship programs that will cater to the majority of students who cannot afford to go to college.
Reviewing the main issue and arguments, since the government as a powerful institution that is capable of controlling or regulating the actions and decisions made by the education sector, the universities who should be making well-informed and wise decisions, and the members of the privileged and underprivileged families are involved in the subject of tuition fee hikes, it becomes a "public issue" that will only be solved by collaborative efforts or collective action among them.
In this case, the importance of sociological imagination in examining a personal trouble is realized. If a single individual and his family look into the issue of tuition fee hikes as a problem, sociological imagination helps in making them look at the entire picture. Sociological imagination, as applied to this issue, was able to communicate why freezing tuition fees will not solve the problem, and that the personal troubles that they encounter are products of the contrite actions and decisions that the government and universities are making.
Related Topics