Self Awareness Argumentative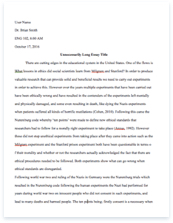 The whole doc is available only for registered users
A limited time offer! Get a custom sample essay written according to your requirements urgent 3h delivery guaranteed
Order Now
Self Awareness is having a clear perception of your personality, including strengths, weaknesses, thoughts, beliefs, motivation, and emotions. Self Awareness allows you to understand other people, how they perceive you, your attitude and your responses to them in the moment. We might quickly assume that we are self aware, but it is helpful to have a relative scale for awareness. If you have ever been in an auto accident you may have experienced everything happening in slow motion and noticing details of your thought process and the event. This is a state if heightened awareness. With practice we can learn to engage these types of heightened states and see new opportunities for interpretations in our thoughts, emotions, and conversations. Why Develop Self Awareness?
As you develop self awareness you are able to make changes in the thoughts and interpretations you make in your mind. Changing the interpretations in your mind allows you to change your emotions. Self awareness is one of the attributes of Emotional Intelligence and an important factor in achieving success. Self awareness is the first step in creating what you want and mastering your. Where you focus your attention, your emotions, reactions, personality and behaviour determine where you go in life. Having self awareness allows you to see where your thoughts and emotions are taking you. It also allows you to see the controls of your emotions, behaviour, and personality so you can make changes you want. Until you are aware in the moment of the controls to your thoughts, emotions, words, and behaviour, you will have difficulty making changes in the direction of your life. Self Awareness in Relationships
Relationships are easy until there is emotional turmoil. This is the same whether you are at work or in your personal life. When you can change the interpretation in your mind of what you think you can change your emotions and shift the emotional quality of your relationships. When you can change the emotions in your relationships you open up entirely new possibilities your life. Having a clear understanding of your thought and, behaviour patterns helps you understand other people. This ability to empathize facilitates better personal and professional relationships. Develop Self Awareness
Self awareness is developed through practices in focusing your attention on the details of your personality and behaviour. It isn't learned from reading a book. When you read a book you are focusing your attention on the conceptual ideas in the book. With your attention in a book you are practicing not paying attention to your own behaviour, emotions and personality. Think of learning to be mindful and self aware as learning to dance. When learning to dance we have to pay attention to how and where our feet move, our hands and body motion, what our partner is doing, music, beat, floor space, and other dancers. Self awareness isn't learned from books and the Tango isn't either. In my years of study and working with clients I have discovered many useful techniques that accelerate the learning. I have incorporated these techniques into the Self Mastery audio course.
The first four sessions are available free. In the process of these sessions I am not telling anybody what to believe, how they should think, or what they should do. I am basically sharing with people exercises in raising their self awareness. When you become more self aware you instinctively begin to see aspects of your personality and behaviour that you didn't notice before. If you have an emotional reaction of anger or frustration, you notice many of the thoughts and small triggers that build up towards those emotions. You also notice moments when you can change the interpretations in your mind, or not believe what we are thinking. In this heightened awareness you instinctively make better choices in your thought process long before an emotional reaction or destructive behaviour. Making changes in your behaviour is much easier to do when you catch them early in the dynamic, before the momentum of thought and emotion has gathered steam. The changes in your mind, and behaviour become simple and easy steps when you develop self awareness. Self-Awareness Theory
Self-Awareness Theory states that when we focus our attention on ourselves, we evaluate and compare our current behaviour to our internal standards and values. We become self-conscious as objective evaluators of ourselves. However self-awareness is not to be confused with self-consciousness. Various emotional states are intensified by self-awareness. However, some people may seek to increase their self-awareness through these outlets. People are more likely to align their behaviour with their standards when made self-aware. People will be negatively affected if they don't live up to their personal standards. Various environmental cues and situations induce awareness of the self, such as mirrors, an audience, or being videotaped or recorded.
These cues also increase accuracy of personal memory. In Demetriou's theory, one of the neo-Piagetian theories of cognitive development, self-awareness develops systematically from birth through the life span and it is a major factor for the development of general inferential processes. Moreover, a series of recent studies showed that self-awareness about cognitive processes participates in general intelligence on a par with processing efficiency functions, such as working memory, processing speed, and reasoning. In psychology, the concept of "self-awareness" is used in different ways: * As a form of intelligence, self-awareness can be an understanding of one's own knowledge, attitudes, and opinions– a critical understanding of oneself. Surprisingly we do not have a privileged access to our own opinions and knowledge directly. For instance, if we try to enumerate all the members of any conceptual category we know, our production falls much short of our recognition of members of that category.
Related Topics