Self Assessment Persuasive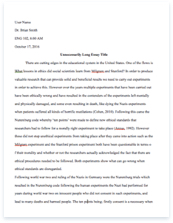 The whole doc is available only for registered users
A limited time offer! Get a custom sample essay written according to your requirements urgent 3h delivery guaranteed
Order Now
I think my most dominant skill is my bubbly personality. I'm a very nice person and know how to adjust my kindness to children. I also think that I can adjust my personality to any need necessary. I truly feel like I would be able to understand these children because I was a child once, and for a very long time. If I can use that strength in regards to my students, then I think one would have an easier time explaining how one feels to me in general. I also believe my kindness is a limitation because I don't know how to tame a student if one isn't listening to me. I don't have that kind of persona so I'm sure if I don't work on it the students wouldn't take me seriously. I think I would have to learn ways to be assertive so that the children know that I'm serious.
My current role as an educator is only with my 13-month-old daughter. I haven't had any professional experience with children except in these observations. I've been very affective teaching my daughter things and trying to understand her wants and needs. Sometimes she is very difficult to control and that's my biggest fear with students. My career goals are, to obtain my associates degree in elementary education next year, to obtain my bachelors degree in three years, to become a second grade elementary school teacher, to achieve many awards for my work with children, and to possibly pursue a masters to become a school principal.
My plan to accomplish these goals to stay very motivated and continuously enrolled in school. I don't want to get discouraged from and setbacks I would like to work hard and stay focused. To become a teacher's assistant, you need an associate's degree. To become an elementary teacher, you need a bachelors and some experience. To become an elementary school principal, you need a master's degree and experience. I definitely want to get experience for my career so I will do any volunteer work at, youth centers, daycares, churches, and whatever else I can find. I'm willing to learn this career from anyone who is passionate and willing to teach me.
Related Topics