Role Models Argumentative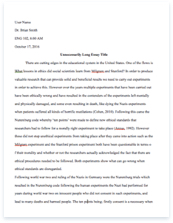 The whole doc is available only for registered users
OPEN DOC
A limited time offer! Get a custom sample essay written according to your requirements urgent 3h delivery guaranteed
Order Now
Is there too much pressure on youth today to be the most attractive, athletic and popular? At this age, youth are most impressionable. They are influenced by their parents, the media and their favourite celebrities. If youth are mimicking a basketball- shot style, a touchdown dance or a clothing style, what's to say that they won't use the same performance-enhancing drugs that their idols use. Superstars such as Peyton Manning, LeBron James and Derek Jeter need to be aware of their profound effect on youth. It's only when youth have positive role models that the use of performance-enhancing drugs will decrease. Professional athletes today make millions of dollars for being the best, and often get wrapped in their fame. They want to stay on top and sometimes professional athletes use steroids to stay there. Steroids have been seen in the NFL and MLB for years and they continue to infect sports today. Youth have watched the progression of steroids through the years and the perceived benefits are outweighing the negative effects in their minds. Too many athletes get away with using steroids, ending up with an MVP award, a higher salary and a World Series championship, so why wouldn't youth try using them?
There are many athletes over the years who have been stripped of their awards for being caught using performance-enhancing drugs. Mark McGuire is best known for breaking the single-season home run record in 1998. He's also often associated with using illegal drugs, such as anabolic steroids – which he has admitted. Lyle Alzado, an NFL football player, is perhaps the biggest name when it comes to the NFL and steroids. He admitted to starting to take steroids in 1969 and also mentioned how addicting they were. He blamed his violent tendencies both on and off the field to his steroid use. When Marion Jones finally admitted to having used steroids, she was stripped of her medals. Not only are the athletes stripped of their awards, their reputation is ruined for life. It's not just athletes who need to be conscious of their actions. Parents play a significant role in affecting the choices their youth make. One common area in which parents place pressure on their youth is the need to win. There are many reasons why parents want their youth to win.
A common reason is the high cost of university today. Many parents can't afford to pay for their youth to go to university. Getting in on scholarships is sometimes the only way they think that their youth can get through university. As a result, they place a huge amount of pressure on their youth to be the best athlete out there. Another situation is a parent's own failure at becoming a professional athlete. Sometimes, parents try to live through their youth's success. The prolonged use of steroids has serious repercussions. Not only are there health problems associated, such as liver and kidney tumours, jaundice, cancer and high blood pressure, many don't realize the addiction that can occur from using steroids. Sometimes when youth eventually realize the bad choice which they have made by taking steroids it can be extremely difficult to stop. What is it that role models, such as parents, teachers, coaches and athletes, can do to prevent youth from using performance-enhancing drugs? It has been found that youth who have positive role models have greater self-esteem and perform better in school than youth who are without those role models.
Positive displays of sportsmanship, determination, drive and ethics by role models can help children to emulate and adopt these positive attributes. Role models, especially athletes who promote the prevention of drug use, such as steroids, have a positive effect on decreasing steroid use among youth. Parents who have a good relationship with their youth and encourage constant communication will increase the likelihood of their youth coming to them when they are having problems and perhaps looking towards using steroids. All role models should encourage the necessity of a healthy lifestyle. Barack Obama is a perfect example of a good role model. He overcame racism to become the U.S. president and exemplifies how goals can be achieved, despite difficulties. Mayo Angelou, who overcame poverty and abuse during her childhood and became a bestselling inspirational writer, is another example of a role model who can inspire people to overcome their difficulties and achieve success.
Youth need to recognize that they can overcome obstacles without the use of drugs and increasing the awareness of the need for positive role models is a step in the right direction in preventing substance abuse. Having a role model who represents the person we would like to be, whether in character, or appearance, or success, usually motivates us towards our goal. A role model represents our goal in human form, and by imitating what they did to get to where they are, we can usually experience some of the success that they have achieved. But what about the people we do not wish to be like? Should we ignore them, or can we make use of their example?
Related Topics