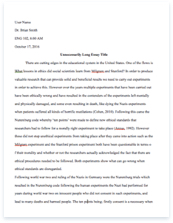 The whole doc is available only for registered users
A limited time offer! Get a custom sample essay written according to your requirements urgent 3h delivery guaranteed
Order Now
Medi-Cult, a Danish biotechnology company, develops and manufactures cell culture media and currently services clients all over the world through its extensive distribution network. It is contemplating what price should it charge the clinics for a single dosage of the IVM medium, for the first year of launch in March 1999. In this case, the three options are a) $4,000 b) $3,000 c) $2,000. My recommendation is that they price the dosage at $3000.
There are three separate types of consumers – infertile couples, doctors, clinics, and one consumer group – governments and insurance companies. Infertile couples consider the effectiveness of the infertility treatments and seek exhaustive information on this. Along with effectiveness, they desire safety i.e. less discomfort and other side effects associated with the treatment process.
Price is another value driver for these couples; in the US the insurance companies and the government do not cover expenses of the infertility treatments. Doctors prefer to recommend treatments which make the lives of their patients more comfortable, are easier to comprehend and are easy to participate in. Clinics adopt innovative technologies so that they can draw patients who generally tend to go to clinics that were on the cutting edge. But both the doctors and clinics resist signing agreements with the companies offering these innovations.
Refer Exhibit B which summarizes this above.
Medi-Cult has three fully owned subsidiaries in France, Great Britain and the United States and a fourth subsidiary in Copenhagen. The company, which employs 53 people, earns practically all of its sales revenues from IVF products. It has been listed on the Oslo stock exchange since 1996 but has not turned a profit in the past few years. Being in the pharmaceutical industry, where large fixed costs are incurred, its marketing objective is to focus on long-term profit maximization. Medi-Cult's core strengths are its IVF products and its R;D network, in which they have partnered with academic institutions for projects, and doctors, scientists and biotechnological manufacturers to stay abreast of the latest research.
There are no current competitors but there will be likely two types of potential competitors. The first type would come from large pharmaceutical companies which supplied the hormones used in IVF. A significant percentage of their sales revenue came from infertility drugs, and hence they would stand to lose revenue because the IVM process significantly reduced the need for hormones. Medi-Cult suspects that upon launching IVM , these pharmaceutical giants would discredit the process, demand product approval for it , threaten withdrawal of research funds from clinics who adopt it , and stop all sponsoring of congresses for fertility physicians.
The second type of competition is likely to come from companies, which like Medi-Cult, will also develop and manufacture cell culture media. They would probably develop their own product and clinical procedure. At any rate Medi-cult expected to have a first mover advantage of two to three years, after which if there are competitors in the market, price competition will force the price down.
Medi-Cult must also consider the role of insurance companies and governments in its analysis. It was in a difficult position because the IVM medium could not be sold without the government approval. Also the reimbursement of infertility treatments by insurance companies and the government was low because infertility patients were not considered 'diseased'. They do not cover the cost of IVM medium and the costs of the different steps in the IVF process. Insurance companies may prefer to keep the price of the IVM medium low so that they can move funding to other disease areas or increase the total number of couples receiving the treatment. They are willing to pay hospitalization expenses for those cases when patients need to be hospitalized due to severe adverse reactions to the IVF process, and this varies among different states, companies and procedures.
;
Refer Exhibit C which summarizes the above.
The variable costs of production and testing are close to 30%. This is equivalent to $15 (30% of $50), which is a minor cost associated with the calculation of TEV and is hence neglected. There might be additional value added or emotional benefits from using the product and hence a greater TEV. But the president of Medi-Cult, Henrik Krogen, has clearly stated that he didn't want to kill the market with a high price. Medi-Cult already defines its high price as $2,200 and its current TEV above is $3,000. A further rise in price (towards the TEV) would not conform to what Krogen desires.
The choice of the price of $3,000 depends on the potential value it creates for its customers i.e. infertile couples. The biggest value driver here is that the IVM eliminates the hormonal stimulation step from the IVF procedure, thus sparing women the physical and psychological side effects. At the same time it is also easier and safer to use. This information has to be communicated in such a way the TEV is the economic value that the customers perceive. And this would be Medi-Cult's job to make the perceived value approach the economic value. Otherwise it might need to lower the price.
We could possibly look at different price elasticities based on potential price points mentioned in the case. But this is not applicable here since for the same volume of 1,200 cycles for the 1st year, there are different prices ranging from $2,200 (high) to $1,000 (low). According to Medi-Cult, the estimated number of IVF cycles per year in 1998 is 80,000. The growth in the number of cycles is estimated at 5% to 10% per year, we can expect the number of cycles to be at least 84,000 in 1999. At the same time, the success rate of three to five attempts for IVM is the same as IVF. Assuming the number of cycles to be one-tenth that of IVF for the launch year of IVM in 1999 i.e. 8,400, and a low price of $1,000, even then its total revenue would be much greater than that of IVF. Hence in this scenario the choice of price does not matter for IVM.
Raising the price of IVM any further beyond $2,000 could touch upon the ethical issues relating to childless couples. It can be argued that Medi-Cult is placing a price on their dreams to have a child and robbing them on their happiness. But Medi-Cult is a for-profit public company.
With this in mind, it is necessary to maximize profits for its shareholders. One must remember that it did all the research and developed the IVM in the first place. At the same time, it has not turned a profit in recent years. Long-term profit maximization is obtained by maximizing short-term returns on products which have been developed with huge R;D costs. And these products may or may not succeed in the market. Also, the TEV could easily be raised to $4,000 if the emotional benefits from using IVM are translated towards the TEV. But I am not suggesting doing that in this case since it would also relate to sensitivity on the ethical issue.
One can consider the competitive response too. Since Medi-Cult will be the first mover and expects to have a two to three year advantage over any future competition, a price of $3,000 will generate great profits and at the same time will not kill the market. And this would be achieved by maintaining the TEV. Even if competition did materialize later, it can always bring down its prices to $2,000, which is still a high price for Medi-Cult. So it will continue to reap profits.
Finally, Medi-Cult can estimate the market for its launch price. It will soon notice that the willingness to pay for IVM will be high. Infertile couples would recognize IVM as a breakthrough and place a high value on it since it would help them achieve their ultimate dream to have a child. And this is what Krogen knew for sure.
Related Topics