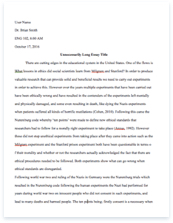 The whole doc is available only for registered users
A limited time offer! Get a custom sample essay written according to your requirements urgent 3h delivery guaranteed
Order Now
Malcolm-X was a great leader and many of his leadership qualities were shown in his autobiography. One of these unique qualities was shown when Malcolm was in prison his innovative style of doing things. Another one of his qualities was his determination to accomplish something he wanted to do. His final leadership quality was his intelligence. These are Malcolm-Xleadership qualities that I'm going to talk about.
Malcolm showed a really important leadership quality in his autobiography, which was his innovative style of doing things. He shows this quality by getting stuff done with the little supplies and time he had. An example of this is how he learned to read and write he copies down the whole dictionary one page at a time so he could improve his penmanship he'd also read the words out load to himself so he'd remember them and there meanings. Not only did this show his innovative style of doing things it also showed his determination to get what he wanted to do done.
Malcolm showed his great determination while he was in prison. This quality was shown many times while he was in prison but this example stuck out like a sore thumb. As you may know Malcolm was really into learning new things and reading lots of books. So at 10 P.M. they would have lights out in prison so everyone had to stop what they were doing and got to sleep. Malcolm felt he was always about to get to a very important part in the book when they'd call lights out. So he would fake asleep when the guard's would come by he'd do this until 3-5 A.M. This showed his determination to read the book no matter what got in his way. However, he wouldn't have been able to read if it wasn't for his intelligence.
Malcolm-X was an extremely intelligent man. He showed this leadership quality when he was in prison copying down the dictionary. When he was in Norfolk Colony Prison Malcolm realized that he wasn't articulate. So to reverse that he started copying the dictionary. He started with the A's and he eventually went on to copy the whole dictionary. But the amazing thing, which shows his intelligence, was that he remembered most of the words he wrote down. This opened up the world of reading and conversation to him. If he hadn't have such a great mind he'd never have become such a great leader.
Those were just some of the leadership qualities shown by Malcolm-X in his autobiography. His innovative mind helped him accomplish what he did. His determination helped him learn so much. His intelligence opened up a whole New World to him. But in the end all of these qualities are what made Malcolm-X such a great leader.
Related Topics