The Importance of Developmentally Appropriate Activities in the Physical Education Curriculum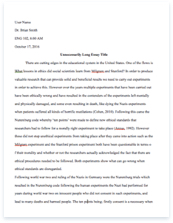 The whole doc is available only for registered users
A limited time offer! Get a custom sample essay written according to your requirements urgent 3h delivery guaranteed
Order Now
Identifying and implementing age and developmentally appropriate activities throughout preschool and primary school is extremely important. If children are participating in activities beyond their physical capabilities, there can be both short-term and long-term consequences. One of the most important factors in the beginning stages of school and physical activity is safety. Most childhood injuries are considered "accidents" but upon further investigation, it has been found that most of these accidents can be prevented.
Another factor to consider, within the physical education program especially, is the identification of activities that may be contra-indicated. These are activities in which the risks of participation outweigh the benefits of participation. But most importantly is the recognition of activities that have the most overall benefits for the students. These activities must be age appropriate as well as developmentally appropriate in order for students to obtain the most significant benefit possible – a healthy lifestyle.
Safety is a pressing issue in preschool activities and in the physical education curriculum, especially with young children between the ages of about 2-6 years. Students in this age category are more likely to become involved in more dangerous activities and games. It is important that the supervisor or teacher develop a structure for the class that deals with the various safety issues concerning physical activity. One of the most common is aggression between students.
Because young boys are known to physically show their aggression it is important that conflicts be dealt with in a way that teaches assertive behavior, and shuns aggressive tendencies (Berk, 2001). Safety is also an issue when working with athletic equipment and playground facilities. Most injuries are the result of falls – falls to the ground below equipment, but falls from one piece of equipment to another are also reported.
Since a large number of injuries are caused by falls to the ground, protective surfacing under and around all playground equipment is the most critical safety factor on playgrounds as well as when dealing with classroom equipment. Teachers should regularly check equipment to ensure safety, and teaching the proper use of the equipment to the students will ensure safer participation for all children in the program. Prevention is the safest method when dealing with young students.
It is crucial when dealing with children to teach appropriate methods of warming up as well as safety while playing. Prevention of back injuries is a key element in physical education. At a young age students should be taught the importance of proper posture, correct lifting technique, and most importantly stretching. Developing this sense of body awareness at an early age will lead to safer play not only in the physical education program, but also at home. The concept of safe play is essential in the physical education curriculum.
Safe physical activity has the potential to keep students interested in staying active if the reason for not continuing to be active into elementary and junior high was an intimidating safety related accident as a child. There are many reasons for lack of physical activity, the most evident being the lack of exposure at an early age to physical skill development activities. Although it is important do develop physical skills at an early age, activities that may be contra-indicated should be avoided at all costs when dealing with growing children.
In these years, most of the student's bones, muscles and ligaments are still in imperative growth stages, and any activity that poses a threat to these tissues can have significant short-term and long-term consequences. Games and movements that pose a physical threat to joints such as the spine, ankle, and knee joints should be avoided completely. But if they are to be done, proper warm-up and instruction is necessary. Without the warm-up and proper technique for activities such as leg squats and certain spine movements, permanent damage can be done to the joints, ligaments and muscles.
If students in preschool or primary school are thrown into activities that are too physically demanding for their age, these activities can become contra-indicated. It may seem that the activities are developing the skills of the students, but they are really threatening their future development. Excessive stress or overload can lead to tissue breakdown and injury, which can stay with the child late into adulthood. Overuse injuries are also associated with contra-indicated activities.
Tendonitis and stress fractures can develop, as well as injuries to developing joint surfaces and severe injuries to the immature spine. Contra-indicated movements are also a threat to the epiphyseal growth centers. External stress from weight bearing activities on a young growing body may disrupt a growth plate, which could eventually lead to growth arrest or a long bone deformity (Anderson et al, 2000). This is why it is critical to get the right amount and the right type of exercise, especially at an early age.
In an article Promoting Physical Activity and Exercise among children (2003), Summerfield wrote: Health benefits can be derived simply from becoming more physically active, but the greatest benefits come from engaging in planned and structured exercise. Cardiovascular risk factors can be reduced and physical fitness enhanced with low to moderate levels of physical activity. The article stresses the importance of choosing activities that are moderately physically demanding for children to keep them active, while ensuring their physical safety in a time of immense and uncertain growth.
Developmentally appropriate and age appropriate activities are essential to a child's physical growth in future years. For example, children who do not learn the fundamentals surrounding running, jumping, and throwing will likely turn out to be adults who are inactive and socially unaccepted (Sanders, 2002). Although it is important to choose activities that will develop skills for the future, it is important not to choose activities that are too physically demanding for the children. Intense physical activity at such a young age has the ability to impede further development.
Young athletes who become involved in only one type of movement at an early age are denied the benefits of varied activity. Therefore correctly developing motor skills at an early age is essential for the progression of motor skills needed later in life. Adapted and progressive activities are the best way to teach motor shills to young students and children. Teachers need to make educational decisions based on what is known from research and experience about how children learn and develop.
For example, learning to hit a ball with a bat is not an easy task especially when using a regulation baseball and a large wooden bat. Teaching the skill with a plastic ball and a lighter bat is more developmentally appropriate and will initially better help most children to learn the skill. Using progressive tasks to build on motor skills can be used with activities such as running (varying the speed), jumping (building on the types of jumps), and even catching (starting with larger objects and gradually reducing the size).
In a 2002 publication of: The Importance of Developing Fundamental Motor Skills: Learning How to Catch a Ball, Steve Sanders states: If we want our children to participate regularly in physical activity we must first provide them with developmentally appropriate activities that will assist them in the development of physical skills. Catching is but one of those skills. When we as adults assist children in development of specific physical skills we empower them to learn about the importance of physical activity in their lives and to become physically active and healthy for a lifetime.
With this in mind, it is also important to note that healthy and well developed children lead to healthy and well-developed adults. "Physical activity supports many aspects of children's development – the health of their bodies their sense of self worth as active and capable beings" (Berk, 2001). If it is approached in the correct manner and with appropriate activities, physical education and active living can promote healthy lifestyles in today's youth population that will last throughout their lives.
Children should be encouraged to participate in a wide variety of physical activities as well as to develop a wide range of fine and gross motor skills. By addressing safety concerns such as equipment safety, by choosing activities that build skill rather than movements that are contra-indicated, and by choosing developmentally appropriate and age appropriate activities, children will learn the motor skills necessary to live healthy and active lives.
Related Topics