Hilton Worldwide – Five Forces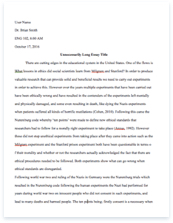 The whole doc is available only for registered users
A limited time offer! Get a custom sample essay written according to your requirements urgent 3h delivery guaranteed
Order Now
Ever year, the travel and tourism industry generates over one trillion dollars to the US economy. Lodging is the top contributing subsector in this industry. One specific leading global hospitality company is The Hampton Inn, owned by Hilton Worldwide. They operate over 3,900 hotels in 90 countries, and employ approximately 140,000 people (About Hilton, 2013). The ability of Hilton Worldwide to respond effectively and efficiently to the impact of their industry forces is a critical factor in determining their success.
Hilton Worldwide is able to understand the effect of each of their industry forces by analyzing the level of rivalry among their competitors, the potential for entry into their industry, the power of customers, the power of suppliers, the threat of substitute service and the changes in demographics. The degree of rivalry determines the extent to which the value created by an industry is dissipated through head-to-head competition. Rivals are determined according to similarity of price, segment and proximity (Matthews, 2000).
Hilton Worldwide decreases the degree of rivalry of existing hotels by differentiating their prices for hotel products and services. They have been successful by offering exclusive amenities and services, such as hotel loyalty program, full services for the business and luxury traveler, vacation ownership, and global services to stand out above their competitors. The lodging industry has a high barrier for entry such as a high investment cost and product differentiation. Hilton Worldwide is not intimidated if a newcomer enters the ring since they are a well-known brand name to fit every lifestyle and occasion by their wide range of services.
In addition, they offer 100% satisfaction guarantee, if the customer is not happy with their visit, they will stay free. Therefor Hilton Worldwide has a good strategy to be able to defend themselves against new entrants. The purchase power of customers can propose an opportunity or a threat to a business. Hilton Worldwide's success depends upon the responsiveness to their customers whether or not the customers' needs can be met. Customers shop for value versus actual price, which is a controlling factor in the power of customers.
Hilton has reduced the customer's power by offering vast services and amenities, and offer loyalty programs that rewards the customers for repeat business. Therefore, customers are unlikely to switch because there would be costs involved since they have already invested in Hilton Worldwide. Of the five force factors, bargaining power of suppliers and the threat of substitutes do not seem to have a major influence on Hilton's competitive strategies. The bargaining power of suppliers in the hotel industry appears to be low because of the large number of suppliers in the various hotel locations.
Hilton Worldwide offers complete supply management to their locations. This indicates that no supplier dominates the lodging market competition. Substitutes also constitute only a minor threat in the hospitality industry. This occurs when hotels offer similar or mass products and services (Kim, 2004). Hilton Worldwide has been able to take advantage of the changing demographics worldwide. They have hotels in over 90 countries. They signed various new management and franchising agreements in the emerging market of China.
In 2013, they have the first Hampton opening in Romania and they will be expanding into Russia next year. Although the Hilton brand consistency is important, they give their properties the flexibility to adapt and adjust to their individual environments (About Hilton, 2013). In the US, consumers demand unnatural friendliness in everyone from the cross guarding to the President. However, in some international regions, smiles and chipper service are not the cultural norm; Hampton will face a challenge to deliver their "Hamptonality" service effectively.
The lodging industry is a growing business for the Hilton Worldwide and they show no sign of slowing down. It is a difficult industry to enter compared to other industries requiring a lot less investment costs. However, lodging is a good industry to enter if one has the necessary resources to be able to do so. It seems Hilton Worldwide is doing something right to be able to stay on atop Franchise 500 for the third year in a row (Daley, 2013). Their undying commitment to understand their customers' needs on a global basis seems to be the key against their competitive forces in the lodging industry.
Related Topics