Haig a good or bad commander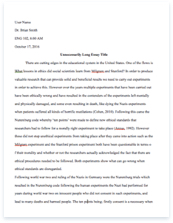 The whole doc is available only for registered users
A limited time offer! Get a custom sample essay written according to your requirements urgent 3h delivery guaranteed
Order Now
General Haig was the commander of the British forces for the Battle of the Somme. Many people blame Haig for how the victory came about; many people have called him ' the butcher of the Somme'. Thousands of men gave their lives in this battle (20 000 British soldiers died) yet only a small amount of land was gained. Some people, therefore, believe that Haig was a very cruel and cold-blooded man who should have never have sent his men over the top. However some people think that this had to happen in order to have a chance of winning the war. So there is a great difference in opinions to whether Haig was a good commander or a bad one.
Haig was 54 years old when he was the commander of the Somme and so he would have been experience but he would also have been old-fashioned. The tactics of war had changed, but Haig had not. He still believed in the 'war of attrition' (to kill as many of the Germans as possible). Though some people argue that he was only doing what he knew like many other people at the time. Another argument against him was that he hadn't had very much experience of warfare before the battle of the Somme.
He had been the cavalry commander in the Boer war, but this was different to the Somme and so trench warfare was new to Haig; He did not understand how to fight a war with infantry. His one tactic was to fight over and over again. ' (Source K) He also had other ideas on how to win the war. He thought that through grit and determination you could win, and although this would increase the soldier's confidence, they couldn't just depend on that. He also thought grit and determination was the way to capture machine guns. Haig's ideas were very idealistic because he had a strong faith in God and believed that He was on his side, and because of this everything would be fine.
Haig also failed to learn from his mistakes he had made in the past. Neuve Chapelle before the Somme was a small trial run. Both sides could have learnt from this. The Germans learnt to build very deep dugouts and to have better defences. The British should have learnt to have more of the right shells and to use more accurate guns. Unfortunately Haig didn't learn from this and use the same tactics in the Somme. It shows us that he hadn't learnt in source D because at the battle there was 'a shortage of heavy guns vital for the destruction of deep dugouts' and that it was successful because on some sectors, the Germans evacuated the whole front line trench. '
Haig lived 40 km away from the trench so it would have been not possible for him to know this and so he wouldn't know what to do. He wouldn't have cared when he sent his men over the top because he never visited the trenches to experience what they experienced. On the first day thousands of soldiers lost their lives in the battle but he carried on still without reaching a breakthrough in the next 142 days. Other people will disagree with this as they think he was a 'hero' and the result of the battle was a victory.
They say that there were little other alternatives. Source A portrays Haig's army as 'patriotic heroes' and this is the message that is received back home, although it isn't reliable as nothing clear is known. Source B (i) backs Haig's importance for the battle of the Somme and says how necessary it was to take action and why he needed to. It appears that this is quite reliable but it is written by one of Haig's generals. In some parts Source D backs up Haig as Middlebrook claims that although it was easy to cut the wire in some places you needed to be very skilful in others.
Source F that is a piece of propaganda supports Haig as a good commander. It isn't very reliable though as it is one-sided and is vague about how successful this attack really was. It also says that the good picture that Haig was getting was exaggerated and it explains why the attacks continued. Source h was written by a German general, which gives it a different viewpoint. He remembers that 'as a result of the Somme fighting we were completely exhausted on the Western Front.
If the war had lasted our defeat seemed inevitable' o this shows that maybe General Haig's plans were working after all and it also justifies him sending in more troops because the Germans would soon be defeated. This source is reliable, but also isn't as it is only one Germans point of view and maybe that did not apply to the whole side. Source N shows us that he was put in a very difficult position, as trench warfare was new to him so he could not apply his old ways. The main objective was to win the battle, achieve victory, so stopping the attacks would oppose this.
He needed to take the pressure off the French so he couldn't waste time worrying about reducing the number of soldiers that died. He also believed that God would lead his army to victory and so it was the vital sacrifice. He had criticisms for continuing with the attack even though so many lives were being lost, however he had a lot of pressure from the public and the politicians. There was also a communication problem, Haig was under the impression that they were winning the war, as Charters gave him positive information to make him feel better and have less pressure.
He was never at the front line, so he would not know what was happening. It could be said that the Somme was actually something that they could learn from to help them win the war, and that it had turned the army in to excellent, experienced soldiers. We could say that it was easy for him to have changed his methods and views, but it must have been hard to use the methods that had never been used. Though judging what Haig did, a huge amount of men were killed, and many families must have been affected, so I don't think that it was right what Haig did to sacrifice people because of his religious beliefs and idealistic ideas.
Related Topics