What is a lab report: best examples on Primetimeessay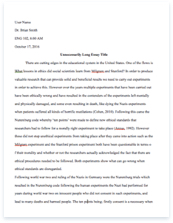 The whole doc is available only for registered users
A limited time offer! Get a custom sample essay written according to your requirements urgent 3h delivery guaranteed
Order Now
Sooner or later all students face the necessity to conduct a scientific experiment and deliver a report about their research. Being a part of multiple scientific disciplines, empirical researches performed by students have to be documented in a proper manner. This task is usually generated to indicate how the experiment was carried out and what outcomes were obtained. Yet, a decent laboratory report example contains more than just numbers. This paper shows student's comprehension of various theoretic hypotheses or concepts as well as an ability to use their analytical skills and critical thinking. What you need to do is to lead your readers through the research proving its credibility. Use the following tips to learn how the abstract should be written for your sample lab report.
Writing lab report can constitute a serious problem for unprepared students. Due to the aims of the research and the scientific field in which it is performed, requirements can differ greatly. If your professor provides you with format for lab or structural demands, it's a big advantage. But it often happens that you need to figure out how to deliver this type of work by yourself. In such a case, don't hurry to push the panic button! If you need professional assistance with preparing a decent paper, the following guidelines may come in handy. These are the basic components of a typical laboratory report that can be a great assistant when it comes to structuring information logically and coherently.
How to write laboratory report?
When it comes to formatting peculiarities, a typical lab report should consist of several logically interconnected sections with a coherent structure. This typical outline can be applied to various scientific subjects and disciplines. An outline is important as it helps your readers understand the meaning of the experiment plus how it was conducted. A common structure of an example laboratory report often also includes the following sections:
Title
Start your title page with the title of your experiment plus your name. If this paper is written in collaboration with other students, don't forget to mention your partners. As for your title, it has to be informative and concise – up to ten words. You should also state the name of your instructor plus the date when the experiment was carried out or submitted.
Abstract
This part requires a laconic and independent summary of the whole work. While it comes at the beginning of your paper, it has to be written last. You should provide a profound summarization of four crucial aspects of your research in this section. First of all, you should mention your objectives and why you are conducting this experiment. Then move on to clarifying the significance of your paper, results you have obtained, and the conclusions you have reached. It's also possible to include a brief reference to the methodology applied throughout your research. But you have to be careful not to get too overwhelmed as this abstract has to fit into one paragraph of approximately 150 words.
Introduction
You may have guessed that in this section you are supposed to introduce the topic of your research. Additionally, this is where you are to provide all the necessary background theory on the researched issue – previous studies, objectives of your research, plus the theoretical hypothesis that you intend to prove. Your professor expects you to demonstrate your personal comprehension of the topic, how you plan to investigate your problem, and why. Your explanations have to be explicit and outline the connection of your experiment with the theoretical framework of your research. One of the most widespread methods of presenting your paper is to start with general theory slowly narrowing it down to the specific problem in question. Keep an eye on the progression of the flow in your report as it has to remain logical and clear. Plus, this is only the introductory section, not the entire work, so make it up to a point.
Methods and Materials
If you assume that your readers aren't aware of how to perform such an experiment, this section will ensure that they will manage to duplicate the process with the help of your instructions. This part of your laboratory report should explain the process of conducting your experiment in sufficient detail. It's important to indicate the applied experimental design, independent/dependent variables, and everything that is needed to carry out a similar experiment. But this part shouldn't justify the chosen methodology. You have to enumerate your steps accurately and provide the list of all materials, graphs and figures used during the experiment.
Results
The results section presents the statistics acquired in the course of your experiment. These should be both the descriptive information and the statistics gathered after the research was finished. You can introduce obtained numerical data in the form of a table or graph. But you shouldn't include the raw data or interpret the meaning of your findings in this section. A table is a useful tool when it comes to precise and structured describing of new information. It's also a good idea to label statistical data into relevant categories. Moreover, if you include two or three sentences to explain the meaning of the table, it will focus your readers' attention on the necessary issues.
Discussion or Analysis
Perhaps the crucial part of your work, this discussion section has to provide your calculations and conclusions. Based on the collected numerical data, an objective interpretation of the outcomes has to be delivered. This information should be visibly connected with the principal idea of yours. You are also allowed a certain amount of freedom in comparing the results with the expectations you have mentioned in the introduction. Explain whether you have achieved your goals or what have one wrong. To make your analysis more thorough, you can compare it with similar experiments to deduce their divergences and similarities. It will be relevant to mention how the experimental apparatus can be improved during the time when you understand the experiment.
Conclusions
The principal goal of the concluding paragraph is to outline the results and justify in what way they are related to the hypothesis. As you have to provide the justifications of the entire work, your conclusions are expected to be rational plus supported by sound reasoning and solid evidence. It's a useful tip to state the purpose in your conclusions that you are 100% sure about. In addition, you can discuss plausible implications of the outcomes, further research, or effective methods of improving drawbacks of the applied procedure.
Additional Sections for Paper
For your lab report to look trustworthy, you need to base your theoretical information on reliable sources. And every time you refer to these publications, the original sources have to be indicated. This section contains a list of references to all sources and studies you cited in your paper. Typically, they are listed in alphabetical order but referencing styles may vary. The most widespread is the APA or MLA citation styles that determine how your citations have to be organized.
This part includes various pictures, graphs, raw data, and other additional materials and methods that haven't been included in the paper. You can organize this additional information into separate appendices with an understandable classification or categorization. Make sure to make references to your appendixes in the lab report course as demonstrates your in-depth approach and significant theoretical background.
Example Laboratory Report
Download
Related Topics