Evaluation Essay Writing Sample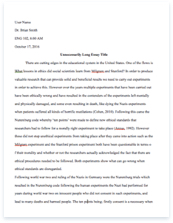 The whole doc is available only for registered users
A limited time offer! Get a custom sample essay written according to your requirements urgent 3h delivery guaranteed
Order Now
Prompt: Write an essay evaluating the difference between helicopter and free-range parenting styles.
Parents adore and admire their little ones more than anything else in this world. They would take care of them, make them an educated person; they'll make them understand the difference between what is good and bad and will undertake everything that is in their favor. However, there is no exact definition or benchmark set for care, love, and protection for the children. Hence, the same has led to the birth of many concepts of with two of them being very crucial – Helicopter and Free-Range Parenting.
Evaluation of both and passing a verdict is a hard nut to crack as both of them are subjective aspects. However, their pros and cons should be understood clearly as the same can help in offering insights and details of both the styles.
As a helicopter hovers all over the land, parents do the same with their child. Right from their guidance in their child's favorite sport to make a food choice, they are everywhere with them. Under this style, both the parents and child team up well and there is a strong bond between both of them. They keep on pushing their child ahead thinking to achieve success in this competitive world sooner. The child, on the other hand, feel safe and assured of a quality life.
But everything comes with a cost! Under the above-mentioned style, parents physically tag with their child everywhere and anywhere. Be it a game, concert or an event; they are there. When the child grows up and becomes an adult, he can't judge a specific criteria or situation on his own and take a decision. There can be serious lack of self-confidence and absence of the ability to learn from own mistakes. Being frustrated with the lack of various capabilities, the child might feel angst towards his parents for controlling him in his early age.
There are oodles of advantages and disadvantages related to free-range style as well. People like to live independently, and when this choice is given to them in their childhood, it helps in nurturing them and make them wise. When we take free-range style under evaluation, we get to learn about one of the most important aspects of it – failure. Quite surprising but failures are necessary for life. When you don't have someone helping you everywhere or there is no proper guidance given to you in your endeavor, you usually fail. However, it is important to note that when there are few negative outcomes of our undertakings, it teaches us a plenty of things. The same learnings can help in the future to keep failures at bay.
As with helicopter style, the free-range style also has its own disadvantages. One of the biggest disadvantages is a disconnect. When the adults leave the judgment of everything in the hands of their children, they do not interact with them on those things. This introduces an emotional disconnection in their relationship which grows with the span of time. Another concern of this style is the difficulty to even make a guess on what's the right age when a child is independent enough to make his/her right decision. Lack of interest in the safety of child could lead him to a wrong path, and it is crucial for parents to keep a check on the same.
So, how to accept or decide one style? There is no one answer to that query. However, based on the evaluation, one can understand that it is indispensable to keep a balance between both the styles. It is essential that parents should not interfere in almost every decision and step that their little ones take. At the same time, it is on them to ensure that their child doesn't take any wrong decision or if he is taking a major decision, they should be there to consult them.
In conclusion, no parenting is bad. It is on the parents' shoulders to evaluate the difference between over-controlling and controlling less than what is required. Once the optimal balance is achieved, it could help the adults to be worry free about their kid and the aid the little ones to assured of a safe, healthy and 'wise' growth.
References
From tiger to free-range parents – what research says about pros and cons of popular parenting styles | theconversation.com
http://theconversation.com/from-tiger-to-free-range-parents-what-research-says-about-pros-and-cons-of-popular-parenting-styles-57986
The Pros & Cons of Helicopter vs. Free Range Parenting | Teenrehab.org
http://www.teenrehab.org/the-pros-cons-of-helicopter-vs-free-range-parenting/
The Pros and Cons of Free Range Parenting | imom.com
http://www.imom.com/the-pros-and-cons-of-free-range-parenting/#.WaO1FNHhWUk
Related Topics