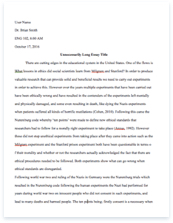 The whole doc is available only for registered users
A limited time offer! Get a custom sample essay written according to your requirements urgent 3h delivery guaranteed
Order Now
You need to be aware of both types of communication in a health and social care setting. For example; in a doctors surgery there are lots of leaflets that people can look through for information, this is verbal communication. But if they were to go to the doctor about this problem they would need to see the doctor on a one to one basis. In this situation, the doctor needs to be aware of this own interpersonal interactions.
This means that he has to notice things like his body language because he has to appear open and comfortable to the service user because that will make them feel calm and they will feel like they can trust him. They may also want to think about their tone of voice. Because if a service user goes to them with a problem, and they talk in a patronising tone, the service user may feel like they don't want to talk to them anymore because they may feel intimidated, or they may think that the doctor may judge them about their problem and ultimately they may feel uncomfortable talking to the doctor.
When an adult talks to a child in a health and social care setting, they need to think about a number of interpersonal interactions to make it easier for the child to understand what they are trying to communicate. For example; if the adult wants to sit with the child to read a story, they need to think about noise levels because if the child is near other children that are playing, and being noisy. They may not be able to concentrate and they might get distracted by the other children, so you might consider taking them to a quiet place that isn't too far away, but is a quiet and comfortable place to sit.
Proximity could also play a part in this, because especially when reading a story with a child, children often like to be close to someone, so they might want to sit on your lap to read or even to sit close to you. It will also be better to sit closer to the child because if the noise levels are a little high then they will be able to hear you better, and you won't have to raise your voice and risk scaring them/ the other children.
Another health and social care professional that may need to concentrate on their method of communication, is a social worker. For example, if they had to talk to a service user about a sensitive issue, then they would have to think about where the best place to have the conversation would be. Weather it was in an office, or a room in the service users house, it would have to be a quiet, light room that the social worker, and the service user would feel comfortable talking in.
Related Topics